Jim Denison
| Denison Forum
| Thursday, August 15, 2019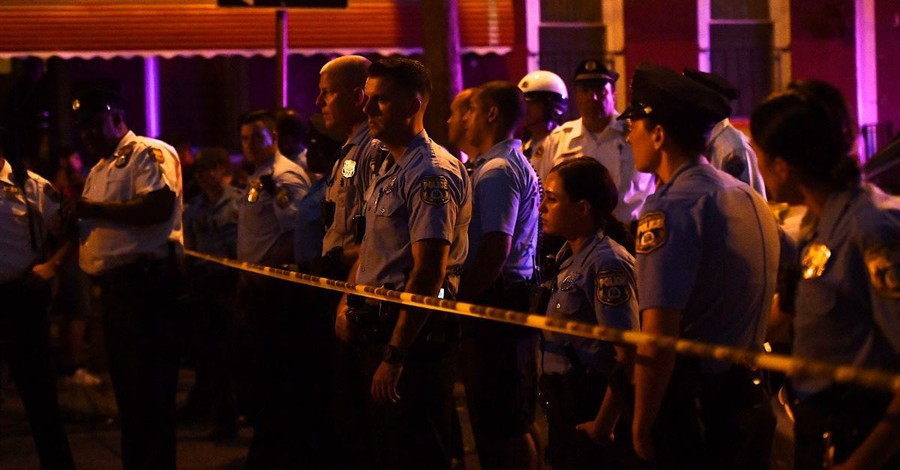 That's the sentiment of a woman protected by police officers amid an unfolding crisis in Philadelphia last night.
Officers went to a house to serve a state narcotics warrant when they came under fire. Nearby daycare centers with dozens of children inside were evacuated. Women were escorted from the building where the suspect was located. Police urged residents to avoid the area. 
Some of the officers responding to the incident had to escape the building through windows and doors. Six officers were injured, but the Philadelphia mayor said they have been released from the hospital and are in "good spirits." SWAT officers helped evacuate two other officers and four women who had been trapped inside the home. 
After almost eight hours, the suspect surrendered just after midnight. The city's police commissioner identified him as Maurice Hill, age thirty-six, and stated that he has an extensive criminal history. 
The death of Officer Andre Moye, Jr. 
Much attention has been focused recently on those killed by police officers. Scrutiny has especially centered on allegations of police misconduct. 
But much less attention has been paid to officers who have died in the line of duty. 
As the Officer Down Memorial Page (ODMP) notes, "When a police officer is killed, it's not an agency that loses an officer, it's an entire nation." The ODMP lists seventy-three line of duty deaths this year, 163 last year, and 908 in the last five years. 
One example is Officer Andre Moye, Jr. with the California Highway Patrol. He conducted a traffic stop in Riverside, California, last Monday. As he completed paperwork to impound the vehicle, the suspect retrieved a rifle from it and opened fire. 
Officer Moye was mortally wounded but was able to radio for assistance. Officers responded and engaged the suspect in a prolonged shootout. Two other officers were wounded before the suspect was killed. He was an active member of an outlaw motorcycle gang and had previously served ten years in prison for attempted murder. 
Officer Moye is survived by his wife, parents, and siblings. 
"Give justice to the weak" 
It takes a special kind of courage and dedication to put one's life on the line daily for people he or she does not know. That's the commitment made by each and every police officer protecting us today. What happened last night in Philadelphia could happen to any of them. They know that, but they choose to serve us despite the dangers they face. 
In contrast to the declining public trust in many of our institutions, Gallup reports that 85 percent of Americans have confidence in our police. That's good news. While all people in all professions should be held accountable for their actions, those who are willing to die for us especially deserve our gratitude and support. 
Such service is a prominent theme in Scripture. We think of: 
Police officers are doing a biblical work: "Give justice to the weak and the fatherless; maintain the right of the afflicted and the destitute. Rescue the weak and the needy; deliver them from the hand of the wicked" (Psalm 82:3-4). They serve us as "God's servant for your good" (Romans 13:4). 
Three vital responses 
Psalm 101 has been called "A Police Officer's Prayer."
In it, the psalmist testifies, "I will walk with integrity of heart . . . I will know nothing of evil" (vv. 2, 4) and commits himself to the security of others: "Morning by morning I will destroy all the wicked in the land, cutting off all the evildoers from the city of the Lord" (v. 8). 
If all Americans made the commitments in verses 2 and 4, police officers would not need to risk their lives fulfilling verse 8. 
To this end, Christians should make three commitments today. 
One: Pray and work for spiritual and moral awakening. 
During the Welsh Revival (1904–05), police formed quartets to sing in churches since there was no one to arrest. Imagine a nation in which everyone loved God passionately and their neighbor as themselves (Matthew 22:37, 39). Then pray earnestly for such a movement in our time. 
Two: Intercede daily for police officers and their families. 
We are told to pray "for kings and all who are in high positions" (1 Timothy 2:2). Ask God to protect those who protect us and to give their families peace and encouragement. 
Three: Find a practical way to express your gratitude to the police officers you encounter. 
Tell them you are praying for them and standing with them. Thank them for their service and promise your support. 
I don't know that the next life they save will be yours, but I don't know that it won't.
For more from the Denison Forum, please visit www.denisonforum.org.
The Daily Article Podcast is Here!
Publication Date: August 15, 2019
Photo Courtesy: Getty Images/Mark Makela/Stringer
---
---