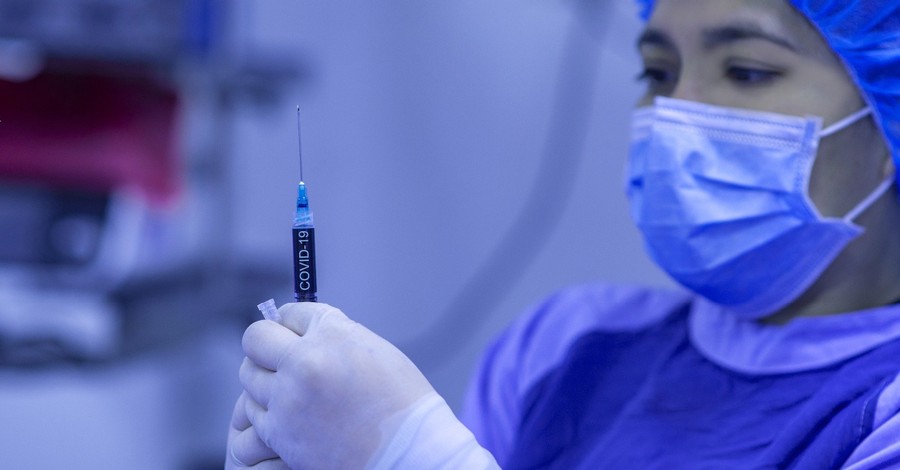 You may not remember the name of Sandra Lindsay, but future generations will. The intensive care nurse received America's first FDA-approved COVID-19 vaccine last December 14 in Queens, New York. As Smithsonian Magazine reports, this event "marked a turning point in fighting the pandemic that has killed more than 535,000 Americans. And it made history."
Now that history will be preserved for generations to come. The first (now empty) tiny Pfizer-BioNTech vial has been acquired by the Smithsonian's National Museum of American History. It will be displayed along with Lindsay's vaccination card, her scrubs, and her hospital ID.
This announcement comes as we mark the one-year anniversary of the pandemic today.
Nearly a fourth of Americans have lost a friend or family member
On March 11, 2020, the World Health Organization declared the COVID-19 outbreak to be a "pandemic." On that day, confirmed worldwide coronavirus cases stood at 125,000, with reported deaths at fewer than five thousand. A poll conducted at the time found that 44 percent of Americans considered the threat of the virus to be "exaggerated." Nearly everyone (88 percent) predicted that fewer than ten thousand Americans would ultimately die from the disease.
This morning, Johns Hopkins confirms that more than 118 million people have been infected, more than 29 million of them in the US. More than 2.6 million people have died, including more than 529,000 Americans.
And nearly a quarter of all Americans (23 percent) say a close friend or family member has died of the disease.
Of America's 19,502 towns and cities, only thirty-seven have a population exceeding the number of Americans who have died of COVID-19. On a tragic anniversary unlike any other in our nation's history, where can we turn for hope in heartache and strength in suffering?
Hope for those who have died
God's word offers hope beyond human comprehension for those who have died in Christ.
At the grave of Lazarus, Jesus assured his dead friend's grieving sister, "I am the resurrection and the life. Whoever believes in me, though he die, yet shall he live, and everyone who lives and believes in me shall never die" (John 11:25-26).
When a Christian dies, they don't. When they take their last breath here, they take their first breath there. They close their eyes in this fallen world and open them in God's perfect paradise. They are well and they are home.
This is because, "If we live, we live to the Lord, and if we die, we die to the Lord. So then, whether we live or whether we die, we are the Lord's" (Romans 14:8). Now and forever.
Hope for those who are hurting
While millions have died of this horrible disease, many millions more are grieving their deaths. In addition, a third of COVID-19 survivors have "long-haul" symptoms. Fever, cognitive confusion, debilitating exhaustion and fatigue, difficulty sleeping, heart rhythm abnormalities, breathing issues, and other symptoms can arise, sometimes weeks or months after the initial diagnosis. Some "long-haul" patients are still struggling with such symptoms months later.
In addition, economic trauma persists for millions who have lost their jobs or otherwise experienced financial setbacks because of the pandemic. The negative effects of school closures are expected to be "profound and generational." "Pandemic trauma" is afflicting millions of Americans. Survivor's guilt is a growing issue for many. And more than thirty million frontline workers continue to risk their lives to serve us with sacrificial courage.
To all who suffer, God promises his presence and empathy (cf. John 11:35). Jesus feels all we feel and suffers as we suffer. Theologian Jürgen Moltmann famously described our Savior as the "crucified God."
In addition, to "those who love God" he promises that "all things work together for good" (Romans 8:28). We can know that "the sufferings of the present time are not worth comparing with the glory that is to be revealed to us" (Romans 8:18) and that "this light momentary affliction is preparing for us an eternal weight of glory beyond all comparison" (2 Corinthians 4:17).
"The Lord delivered me out of deep waters"
Tomorrow we'll focus on some ways God is redeeming this tragic pandemic. For today, let's claim the promise that he is.
If you have suffered loss due to COVID-19, I invite you to claim the promises we've discussed. If you have not, I encourage you to share them with those who have. It may be that claiming these promises will lead to a different kind of anniversary—one that marks not our crisis but our transforming encounter with God's grace.
Yesterday was one such day for the author of "Amazing Grace."
I will never forget visiting John Newton's grave in England and reading the epitaph he wrote: "John Newton, clerk, once an infidel and libertine, a servant of slaves in Africa, was by the rich mercy of our Lord and Saviour Jesus Christ preserved, restored, pardoned, and appointed to preach the faith he had long laboured to destroy."
Newton was converted to Christianity during a huge storm at sea and later testified: "That 10th of March is a day much to be remembered by me; and I have never allowed it to pass unnoticed since the year 1748. For on that day the Lord came from on high and delivered me out of deep waters."
Are you in "deep waters" today?
If not, how will you help someone who is?
Publication date: March 11, 2021
Photo courtesy: Fernando Zhiminaicela/Pixabay
The views expressed in this commentary do not necessarily reflect those of Christian Headlines.
For more from the Denison Forum, please visit www.denisonforum.org.
The Daily Article Podcast is Here!
---
---