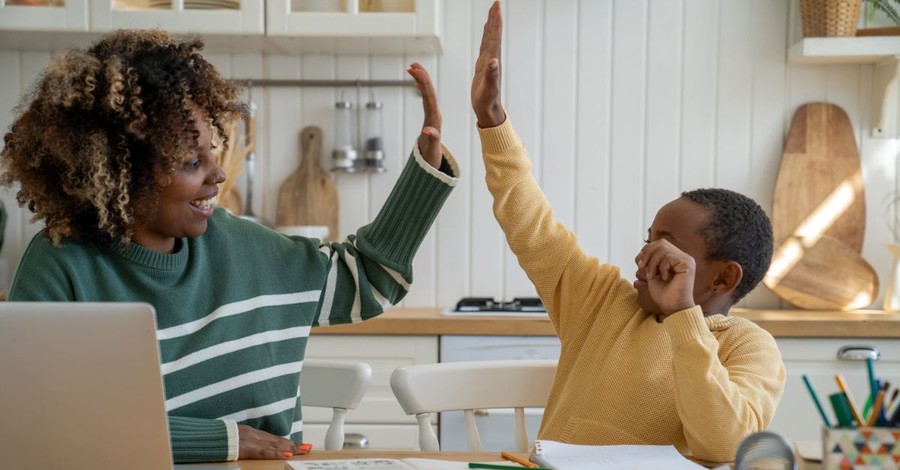 In a recent "X" post that went viral, a young woman lamented:
[I'm] Realizing at 32 that I don't care about building a career or climbing any corporate ladder. All I want to do is make the most amount of money working the least amount of hours possible so I can spend the MAJORITY of my time with my family, living life on my own terms instead of spending 40+ years working for a boss who's paying me what he thinks is "fair."
This woman speaks for many 30-and-40-somethings who wish they'd prioritized marriage and children earlier. As births in the U.S. sink farther below the replacement rate, and the average age of first marriage hovers near an all-time high, a growing number of people are seeing the appeal of a life centered more around family than career, success, or status.
In fact, Gallup's Social Series survey recently found that the desire for larger families is at a 50-year high: 45% of respondents said that three or more children are their ideal, a big change from 20 years ago when only 33% of Americans wanted that many kids. This, however, only makes our nation's empty maternity wards and rock-bottom birth rates more puzzling. What is growing in America is not families but the chasm between the families Americans say they want and the families they are forming.
In a Wall Street Journal article in May, Janet Adamy described how the "gap between women's intended number of children and their actual family size has widened considerably. … [B]y the time women born in the late 1980s were in their early 30s, they had given birth, on average, to about one child less than they planned."
Multiplied by tens of thousands, that's a lot of missing kids. This "birth dearth" has become so serious and undeniable that even mainstream media outlets like The New York Times, The Washington Post, and The Wall Street Journal have finally acknowledged it and even debated ways to reverse it. Adamy thinks that economic and social factors are to blame. Women cannot afford to have as many kids as they want and can't find mature, financially stable men with whom to have them.
These factors cannot sufficiently explain the numerous ways Americans actively opt for child-free lives. For instance, more and more households are choosing pets over children, and our spending on those pets increased by a whopping 30% between 2018 and 2021. More importantly, marriage is rarer than ever, especially among lower-income Americans, even though marriage is the most reliable means of building and keeping the financial stability required for children.
Also, the rate of vasectomies has risen by more than a quarter in the last decade and is easier than ever to obtain. Planned Parenthood of Oklahoma City recently advertised free vasectomies on Facebook with the slogan "Snip away the stress." They were fully booked in two days.
And finally, if, as several writers have asked recently, our lack of fertility can be chalked up to "it's the economy, stupid," how did previous generations manage far higher birth rates in much more difficult times?
Louise Perry offered a better explanation than any of these in an article published earlier this year in The Spectator. In it, she blamed our "progressive" lifestyle:
The key features of modernity—urbanism, affluence, secularism, the blurring of gender distinctions, and more time spent with strangers than with kin—all of these factors in combination shred fertility.
In other words, we are witnessing the domination of a life-script in which children feel superfluous. The way we live, the things we value, the roles we assume, and the priorities we set have made family an afterthought.
We've been culturally conditioned, at nearly every turn, to put other things ahead of marriage and children. We believe that marriage and family "will just happen when it's time." But these things rarely do just happen in our culture, which is why so many find themselves like the woman in the viral video, wishing things had gone differently but painfully aware that lost time can never be reclaimed.
Mega trends like this cannot be changed overnight. Certainly, there are policy moves, like those recently suggested by Brad Wilcox and David Bass of the Institute for Family Studies, that can make change easier. Ultimately, it comes down to individual choices to plan life in a way that centers, rather than marginalizes, marriage and family. That means these things can't be an afterthought, seen as a kind of "capstone" that young people expect to simply fall into place when the time is right. Rather, they must be thought of as foundational realities and, as such, things to pursue and around which other aspects of life should revolve.
This Breakpoint was co-authored by Shane Morris. For more resources to live like a Christian in this cultural moment, go to breakpoint.org.
Photo Courtesy: ©Getty Images/Dima Berlin
Publish Date: October 24, 2023
The views expressed in this commentary do not necessarily reflect those of Christian Headlines.
---
BreakPoint is a program of the Colson Center for Christian Worldview. BreakPoint commentaries offer incisive content people can't find anywhere else; content that cuts through the fog of relativism and the news cycle with truth and compassion. Founded by Chuck Colson (1931 – 2012) in 1991 as a daily radio broadcast, BreakPoint provides a Christian perspective on today's news and trends. Today, you can get it in written and a variety of audio formats: on the web, the radio, or your favorite podcast app on the go.
John Stonestreet is President of the Colson Center for Christian Worldview, and radio host of BreakPoint, a daily national radio program providing thought-provoking commentaries on current events and life issues from a biblical worldview. John holds degrees from Trinity Evangelical Divinity School (IL) and Bryan College (TN), and is the co-author of Making Sense of Your World: A Biblical Worldview.
---
---