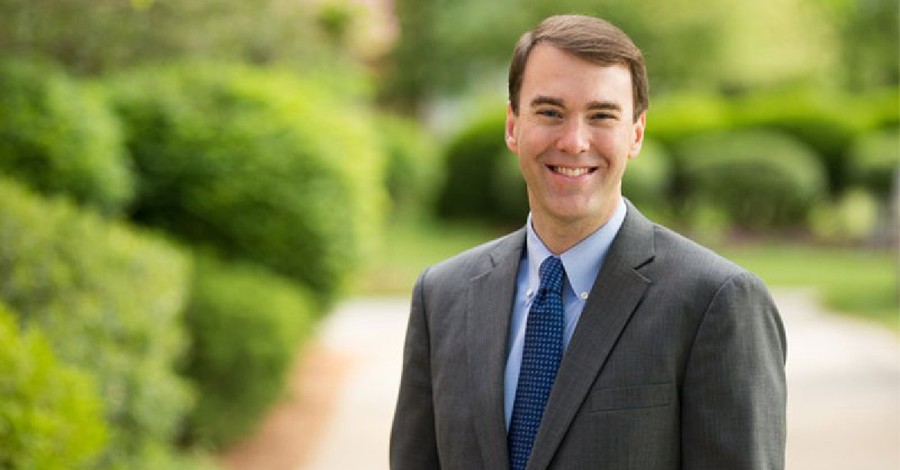 (RNS) — Taylor University announced Tuesday (March 16) that D. Michael Lindsay, outgoing president of Gordon College, will become the next president of the Christian liberal arts school in Upland, Indiana.
Lindsay described Taylor to Religion News Service as a "star within the constellation of Christian higher education."
"I've long admired the institution's commitment to faith learning integration, to its vibrant campus community and to its global reach," he said. "So it was not a stretch to think that Taylor might be an extraordinary place if I had the opportunity to come and serve, and we are delighted to be selected and have the opportunity to come and be part of the extended Taylor family."
The previous president, Paul Lowell Haines, resigned from Taylor in August 2019, not long after the nondenominational Christian university hosted then-Vice President Mike Pence as commencement speaker. The decision had sparked controversy on campus, including competing petitions opposing and supporting the vice president's visit and a vote by faculty to express dissent.
Haines did not give a reason for his resignation, and Taylor's board of trustees said at the time his departure was neither solicited nor encouraged by the board.
That tension isn't unique to Taylor, Lindsay said.
With his background as a sociologist of religion, he said, "What I see happening today is not altogether different from other seasons of evangelicalism activity in the wider culture. I think at Taylor we see the same kind of divergent convictions, differences of opinion and perhaps strong sentiments that we see in the wider culture."
What makes Taylor different, according to the incoming president, is its willingness to engage across those differences. The university has never been seen as political in the same way as larger evangelical schools such as Liberty University in Lynchburg, Virginia.
"They're willing to engage in those difficult conversations and, in many ways, model for the rest of society how we ought to do this, and that, in my opinion, is the great contribution that faith-based institutions can provide," he said.
Manuel Rosado, vice chair of Taylor's board of trustees and co-chair of its presidential search committee, said in a written statement Tuesday that the committee had surveyed the Taylor community before beginning its search for a new president. It was looking for a president who could "articulate a compelling vision for Taylor consistent with its mission," Rosado said.
The board unanimously elected Lindsay, according to the statement.
Board Chair Chris Goeglein, who co-chaired the search committee with Rosado, praised Lindsay's "innovation and creative adaptation."
"A respected Christian leader, Dr. Lindsay has a broad understanding of the complexities facing Christian higher education. His spiritual and intellectual development in cultivating and discipling the next generation of servant leaders is truly a calling," Goeglein said.
Lindsay will begin his new role at Taylor on Aug. 16, according to the statement.
He previously announced his plans to step down in June as president of Gordon College in Wenham, Massachusetts, which he has headed for the past decade. During that time, Gordon has made headlines of its own: In 2016, a professor sued the school, claiming she faced retaliation after publicly criticizing its policy against hiring LGBTQ employees. Over the summer, student leaders proposed curriculum changes to highlight Black experiences and history.
The school also cut its tuition in the fall to make private Christian education more accessible.
Before Lindsay became the president of Gordon, he was a member of the sociology faculty at Rice University in Houston. His book "Faith in the Halls of Power: How Evangelicals Joined the American Elite" was nominated for the nonfiction Pulitzer Prize in 2007.
He earned his doctorate in sociology from Princeton University and graduate theological degrees from Wycliffe Hall at Oxford University and Princeton Theological Seminary.
Previous Taylor board Chair Paige Comstock Cunningham has served as interim president of the university since Haines' departure.
This is a breaking news story and has been updated.
READ THIS STORY AT RELIGIONNEWS.COM.
Article originally published by Religion News Service. Used with permission.
Photo courtesy: ©RNS/Mark Spooner/Gordon College
---
---