Kayla Koslosky
| ChristianHeadlines.com Editor
| Updated: Nov 30, 2018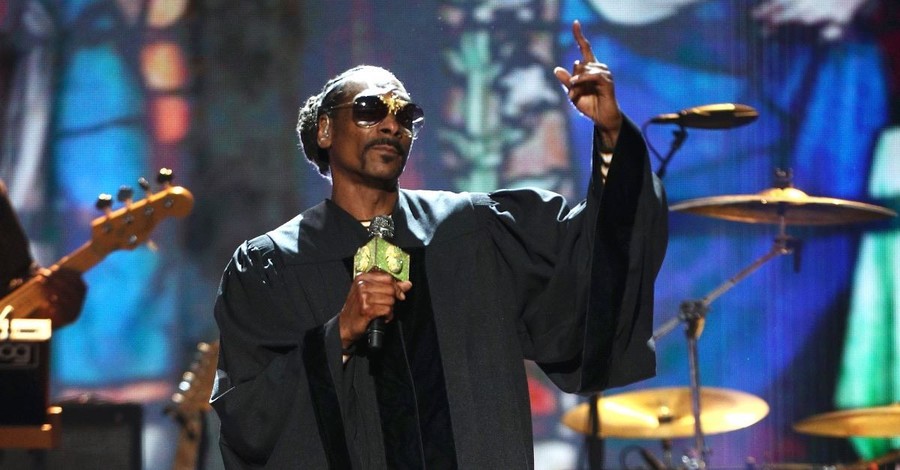 Veteran rap artist Snoop Dogg, whose real name is Calvin Broadus Jr., announced that he was a born-again Christian as he released his first ever gospel album. 
The 17-time Grammy nominated rapper and R&B artist released his album Bible of Love in March of this year which features big names in the gospel music industry including Fred Hammons, the Clark Sisters, Marvin Sapp and Pastor John P. Kee. 
In an interview with the LA Sentinel newspaper, Snoop said the project had always been in his heart, but it took him being tested and feeling like he had a testimony to share to get the project off the ground. He told the Sentinel, "It has always been in my heart, but I had always put it in the back of my mind. So, now I put it on the front of my mind." 
Snoop noted that he was working on a "gangster album" before he started his gospel project, but he felt rushed by the process. When he fell into the gospel album, however, he said he felt a sense of calm. 
Snoop told the LA Sentinel, "When I got to this, I felt a breath of fresh air like there was no stress, no pressure." 
When talking about the album's release with Hollywood Today, the musician noted that his mother was an evangelical Christian, and she had been waiting for a long time for Snoop to answer God's call to make worship music. 
He said about his mother's reaction to the album, "She turned around and looked at me, she was like, 'I'm not impressed. God told me you was going to do this years ago.'"
According to the artists, his mother told him he had spent some much time doing his thing, and now he needed to do His thing. 
According to Belief Net, Snoop Dogg's conversion to Christianity was a surprise to some, since, in 2009 he announced that he had joined the Nation of Islam. Three years later, in 2012 the rapper left Islam and became a Rastafarian. Then in  2016, Snoop began to talk about Christianity. The rapper is now saying that he is a born-again Christian.
According to Belief Net, Snoop Dogg addressed critics of his conversion at the 33rd Annual Stellar Awards earlier this year. After he performed at the gospel music awards show he addressed the crowd saying, "The devil is a liar. I thought the church was supposed to welcome sinners."
"If the church was full of saints it wouldn't be right. So, if you find someone trying to find their way back home, the natural thing to do is to be warm welcoming, open your arms and say 'Brother, we accept you for who you are and what you're going through. Come as you are. We know you've been doing wrong and you want to get right and we want to help you get right.'"
"We're not gonna' throw stones on you when you're trying to get right and walking back into the church house. That's what's running people out the church right now as we speak."
"The only negativity I get is when a question is asked, But I have never been confronted with anybody in the gospel world," the rapper says.
Bible of Love is Snoop Dogg's 16 studio album and debuted at 148 on the Billboard 200 chart and number one on the Gospel Albums chart for seven consecutive weeks.
Snoop is now heading to the stage in his new semi-autobiographical show called, Redemption of a Dogg which tells the story of how Snoop found redemption in the music industry, in his marriages and through Christ.
In an interview with Wendy Williams, Snoop said, "It's the story of, um sort of like, my life."
He continued, "It's the story of an artist, who has to fight for his legacy, fight for his life, fight for his wife, fight for the God that he believes in."
Redemption of a Dogg is currently touring, with its next stop being on March 1, in New Jersey.
Photo courtesy: Getty Images/Frederick M. Brown/Stringer
---
---