Michael Foust
| ChristianHeadlines.com Contributor
| Friday, April 30, 2021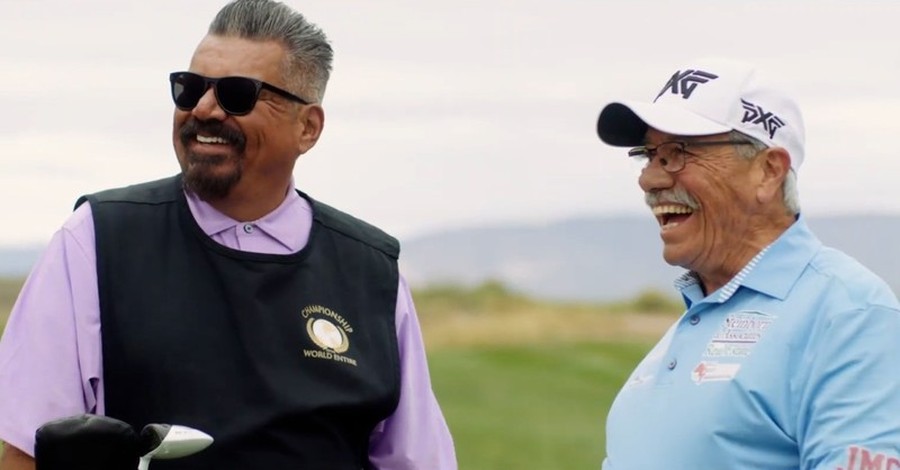 The producer of a new faith-based movie about a 65-year-old golfer says he believes the story can help viewers develop a renewed faith in God. Joe Bullock, the executive producer of Walking with Herb (PG) and the author of the novel on which it is based, says the plot is for Christians and non-Christians alike – although he wrote the book with the unchurched in mind.
The movie tells the story of an aging banker, Joe Amable-Amo, who abandons his father after the death of two family members, including a granddaughter. Amable-Amo then receives a direct message from God – through a fax, a dove and a motorcycle-riding angel – to train for and enter an upcoming professional golf tournament.
At first, Amable-Amo is skeptical that God sent the message, but when he regains his golf skills from yesteryear, his faith is strengthened.
The film stars several well-known actors: Edward James Olmos as Amable-Amo; George Lopez as Herb, a Bible-quoting angel/messenger; and Billy Boyd as golfer Archie Borthwick.
The movie, Bullock said, promotes selflessness, kindness, generosity, love for family, and faith in God.
"I was writing a message for people who might not normally even read a spiritual book," Bullock told Christian Headlines. "I want people to believe in themselves and have faith and know that God is on their side. ... I think a lot of our limitations and doubts and fears are self-imposed. You need to get rid of that. You were made to succeed. Have faith in yourself, [have] faith in God. And if you're doing something worthwhile, help will come from unexpected places."
Tony Award winner and Oscar nominee Mark Medoff wrote the script prior to his passing in 2019. Ross Kagan Marks directed it. Several real-life media golf experts also make an appearance, including David Feherty and Terry Gannon. Television host and personality John Quiñones has a role, too.
"Mark Madoff put in, I think, a more appropriate and exciting ending to the movie than the book has. Mark was an amazing man," Bullock said. "He took the protagonist on a longer journey in the movie than the book does, as far as starting from a darker place and ending in a brighter place."
Olmos and Lopez, he said, were "our top choices" for the roles.
Bullock added that he, Medoff and Marks dubbed the movie the "anointed project."
"We got the best two actors we wanted," he said. "A friend of mine gave us the golf course to use for no charge. We had so many things."
Golf provides a solid backdrop for a faith film because it is a "microcosm of life," he said.
"In just a single round of golf, you'll have highs and lows, good breaks, bad breaks," Bullock said. "Also, as you age, your golf game also ages. You need to learn to play the game a different way as your strength atrophies away. Anybody can play it. You don't have to be big or strong."
The timing for the film's release – following a year of discouragement and loneliness worldwide due to the pandemic – 'couldn't be better," Bullock said.
"I think this is a message that will resonate with a lot of people [and] they will feel good after seeing the movie," he said. "I've had a lot of good comments from people who don't even play golf that got the message."
Walking with Herb is in theaters on April 30, May 1 and May 3. Visit WalkingWithHerbMovie.com. The movie includes no sexuality or violence and only minor language (h-ll 1, OMG 3).
Photo courtesy: ©Rio Road Entertainment
---
Michael Foust has covered the intersection of faith and news for 20 years. His stories have appeared in Baptist Press, Christianity Today, The Christian Post, the Leaf-Chronicle, the Toronto Star and the Knoxville News-Sentinel.
---
---