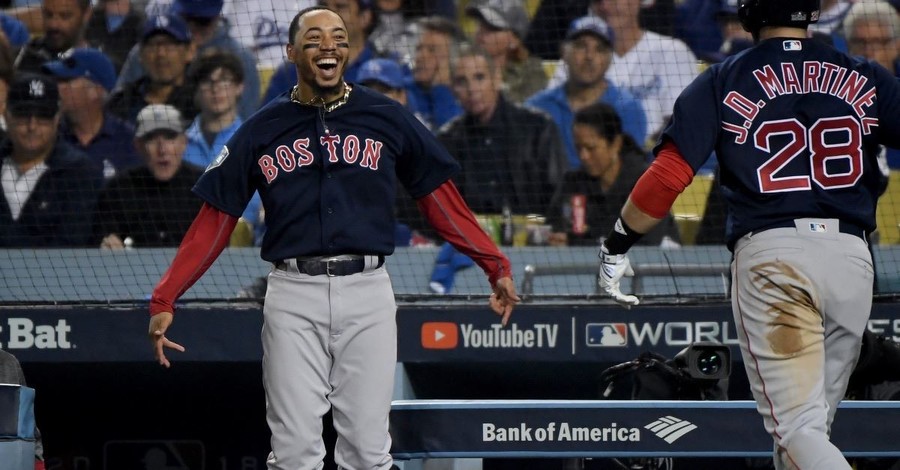 Boston Red Sox outfielder Mookie Betts is almost as well known for his love of food as he is for his athletic abilities. 
According to Relevant Magazine, After the team won Game 2 of the MLB World Series against the Los Angeles Dodgers, Betts returned home to a celebration which included plenty of Dominican food. After realizing that he would never be able to eat all of it, Betts and his cousin made the decision to give it to others who could. 
Only hours after achieving victory in Game 2, Mookie Betts was handing out trays full of food to homeless people outside the Boston Public Library. 
Mike Winter, a local club promoter, was exiting a nightclub when he noticed Betts pushing a grocery cart stocked with trays of food. Winter walked over to greet the baseball star, which brought Betts to the attention of other bystanders who quickly recognized his good deed. When Betts became aware of the attention, he simply walked away, "no pictures, no nothing."  
Winter spoke with Boston's WEEI radio station about his encounter with the kindhearted baseball player saying, "None of the homeless even knew who he was … they were just grateful for what he was doing." He went on to point out Betts' disregard for attention and accolades, stating that "A lot of people are looking for a pat on the back and he wasn't looking for that whatsoever. He was incognito just trying to do good." 
Lou Merloni, an American radio personality and former Major League Baseball player, had this to say via Twitter, "Little birdie told me an amazing story. This was the scene last night around 1am out in front of the Boston Library. Trays and trays of food fed the homeless. The man that delivered the food wasn't looking for attention or praise BUT deserves it. God bless you Mookie Betts."
Little birdie told me an amazing story. This was the scene last night around 1am out in front of the Boston Library. Trays and trays of food fed the homeless. The man that delivered the food wasn't looking for attention or praise BUT deserves it. God Bless you Mookie Betts pic.twitter.com/4Ox7O0edo4

— Lou Merloni (@LouMerloni) October 25, 2018
Photo courtesy: Getty Images/Harry How/Staff
---
---