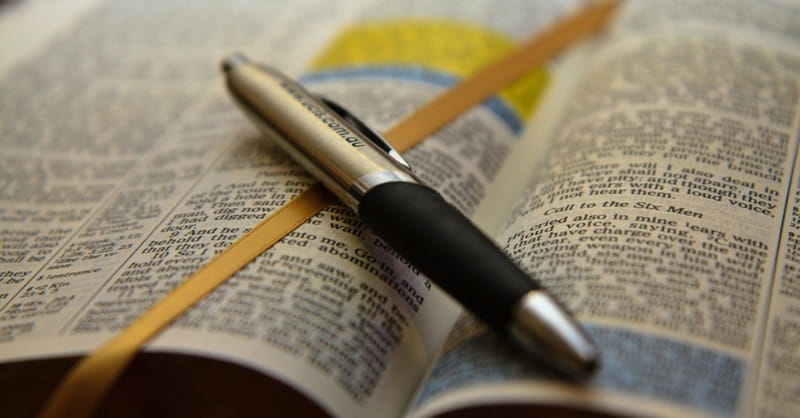 ---
Two editors have released a new version of the Bible in which they have highlighted all the passages in the Old Testament that refer to Christ.
The Blaze reports that Rick Lawrence and Ken Castor came up with the idea for the "Jesus-Centered Bible" from Bibles that print the New Testament words of Christ in red letters.
Working on the Christian belief that Old and New Testaments are intricately linked, Lawrence and Castor decided to highlight all the passages in the Old Testament which refer to Christ in blue letters.
"There's red letters in the New Testament where Jesus speaks — what if we highlighted in the Old Testament with blue letters any place that points to Jesus or is connected to Jesus in the New Testament?" Lawrence brainstormed.
The two editors worked tirelessly, many times devoting 18 hours a day, to find all the places in the Old Testament that refer to Christ and to add brief descriptions to them.
When the project was finished, Lawrence and Castor were overwhelmed to discover that there are nearly 700 references in the Old Testament that refer to Jesus in some way.
In fact, The Blaze reports, there were so many Old Testament references to Christ that Lawrence and Castor had to leave some out so that their new Bible would not be too thick.
"We just discovered, as we went, so many connections to Jesus in the Old Testament. There were so many moments where we just stopped, stared at each other and started crying," Lawrence recalled.
The editors say they hope their new "Jesus-Centered Bible" will help Christians see how interconnected the Old and New Testaments are.
"The Bible on its own is really about Jesus," Lawrence said. "The Old Testament points to the messiah, the gospels describe the messiah and the epistles chronicle what a life centered around — orbiting around — Jesus is like."
Photo courtesy: flickr.com
Publication date: October 13, 2015
Veronica Neffinger wrote her first poem at age seven and went on to study English in college, focusing on 18th century literature. When she is not listening to baseball games, enjoying the outdoors, or reading, she can be found mostly in Richmond, VA writing primarily about nature, nostalgia, faith, family, and Jane Austen.