Kayla Koslosky
| ChristianHeadlines.com Editor
| Monday, March 18, 2019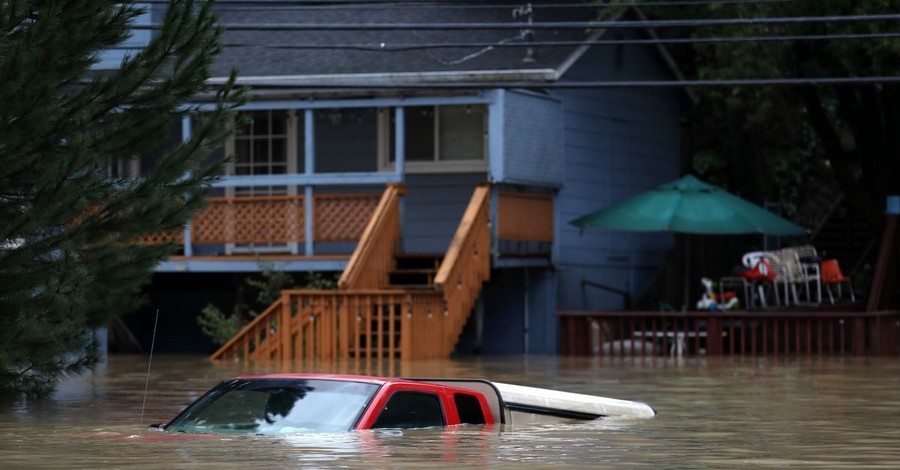 Dangerously high levels of water have forced hundreds of people in the American Midwest to evacuate their homes.
According to NBC News, Mid-Western states including Nebraska, Iowa, South Dakota and Minnesota were flooded after temperatures began to rise above the freezing mark, melting the record-breaking amount of snow on the ground and heavy rain began to fall over the states, overflowing rivers.
Reportedly, 300 rivers in the Midwest are currently at or above flood levels. According to the National Weather Service, the Missouri River at St. Joseph reached as high as 26 feet on Saturday, making it just a foot below "major flooding" level. The river is expected to reach 29.3 feet by Wednesday or Thursday, as more rain is expected in the area, USA Today reports.
The floods have left severe damage behind, NBC News reports. Reportedly, several river levees were breached on Saturday slowing evacuation efforts in eastern Nebraska and western Iowa and washing out bridges – including one straddling the Elkhorn River – and roads in the two states. Levees were also breached along the Platte River near Omaha, Nebraska and the Missouri River near Mills County, Iowa, leading to mandatory evacuations being issued in those areas.
According to NBC News, the flooding came after record-setting amounts of rain and snow began to wash over the land bringing the Missouri River and several others to record heights. NBC News reports that the towns of Waterloo and Fremont were already completely submerged over the weekend, with the water levels only expected to rise throughout the week. 
It has been reported that two people have already been killed in the flooding in Nebraska and two others are missing. 
Officials say that one man, a farmer, was attempting to help people stranded in their cars, when he was swept away by the current, killing him. His body was later recovered downstream. The second person killed was an elderly person who refused to leave their home before the flooding.
Search and rescue teams are currently on the ground looking for people. NBC News reports that authorities are using boats and large vehicles to aid them in their efforts to search for and rescue people stranded by the flooding. Reportedly, rescue teams are only operating during the day to ensure their own safety. 
Meteorologist Brian Pierce for the National Weather Service's Quad Cities office in Davenport, Iowa, said he fears that this is not the worst of it. Pierce suspects that the flooding will be even worse in a few weeks when more snow melts and the Mississippi overflows in Minnesota and Wisconsin.
He said referencing the flooding on the Mississippi, "What we're having now is the dress rehearsal for the main event that's going to happen in early April."
Photo courtesy: Getty Images/Justin Sullivan/Staff
---
---