Kayla Koslosky
| ChristianHeadlines.com Editor
| Tuesday, April 16, 2019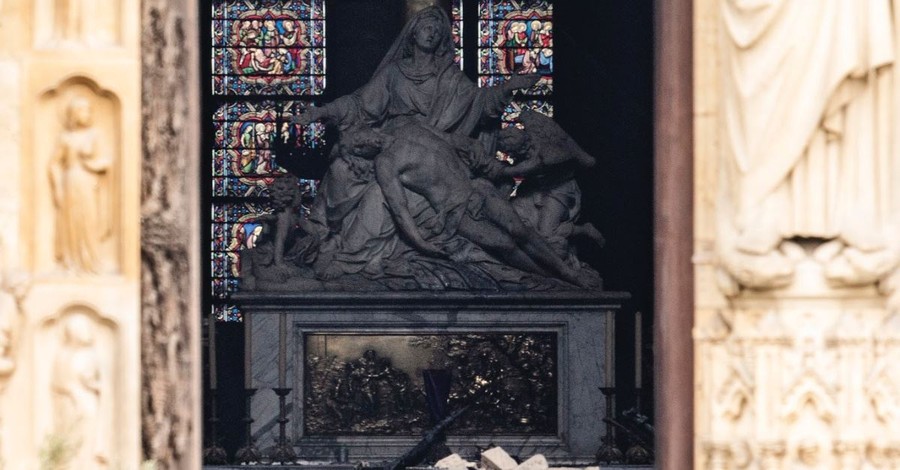 A devastating fire raged through Paris' beloved Notre Dame Cathedral Monday afternoon, destroying hundreds of years of history, but miraculously sparing the crown of thorns believed to have been placed on Jesus' head and a cross at the altar.
According to ABC 6 Action News, the fire – which took 12 hours to extinguish – wreaked havoc on the 850-year-old church but spared the religious relics.
Jarring photos of the standing cross illuminated by firefighters began to surface Monday evening, many calling it a "sign of hope." According to the Associated Press, firefighters worked together to form a human chain around the relic in order to prevent it from being consumed by the massive fire. 
This picture of the cross still standing amid the ruins of Notre Dame is quite the picture of hope. pic.twitter.com/lON2eyDPda

— Kyle Beshears (@kylebeshears) April 15, 2019
Paris' mayor, Ann Hidalgo also noted that the crown of thorns believed to have been worn by Jesus during the crucifixion was saved. 
Hidalgo wrote on Twitter in French, "As early as last night we immediately made the Salle Saint-Jean available at the Hôtel de Ville so that the works could be protected, such as the crown of thorns and the tunic of Saint-Louis."
Dès hier soir nous avons mis à disposition immédiatement la salle Saint Jean à l'Hôtel de Ville pour que les oeuvres puissent être protégées, comme la couronne d'épines et la tunique de Saint-Louis. #le79inter

— Anne Hidalgo (@Anne_Hidalgo) April 16, 2019
Other artifacts and parts of the building that survived include: The Tunic of Saint Louis, the 226-feet twin bell towers, the Cathedral's main bell called Emanuelle, the 13th century rose windows and the original great organ. 
According to Fox 35, 16 religious statues were also spared as they were removed from the Church to be cleaned last Thursday for the first time in more than 100 years.
While many are speculating that a construction project on the 315-foot spire – which onlookers videoed tumbling to the ground in the fire – was the cause of the catastrophe, the cause is yet to be confirmed. 
Photo courtesy: Getty Images/Dan Kitwood/Staff
---
---