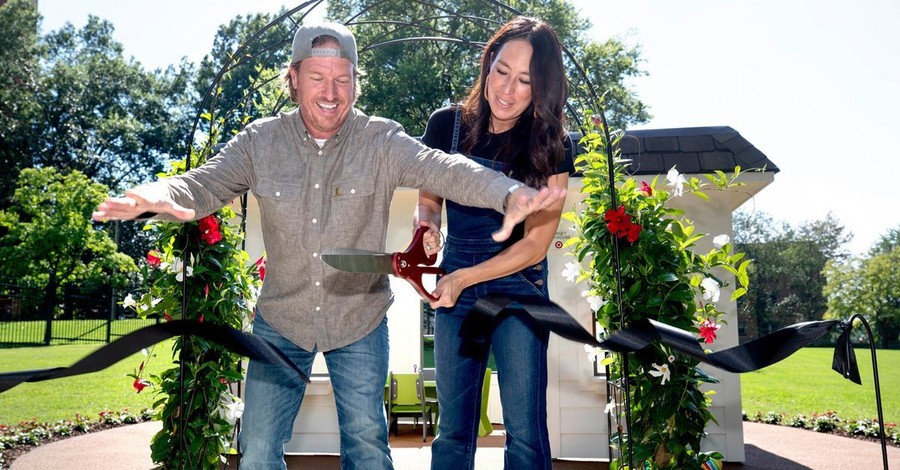 HGTV's Fixer Upper stars Chip and Joanna Gaines have raised $1.5 million for St. Jude Children's Research Hospital, surpassing their original goal of $230,000.
The couple traveled to Memphis Tennessee on Wednesday, June 19, to present their check, along with a newly installed playhouse for the children of St. Jude. Designed by the Gaines themselves, the playhouse was built nearby the St. Jude Target House, a housing facility for families of St. Jude patients.
"When we heard that the space outside of Target House could use a little love, we knew right away that we wanted to create a sweet playhouse for the kids to enjoy," said Joanna during the event, according to People. "There's something so special about spending time together outside and while we're hopeful that these families will not have to stay here for very long, we wanted to create a retreat for them to explore while they are here."
"When we were designing this playhouse, we knew we wanted it to feel whimsical and fun," Joanna added about the playhouse. "That was the inspiration behind details like the colorful flowers in the flower boxes and the sweet kitchen area. Our hope is that this space brings a bit of joy to the families here."
The money for this gift was raised during the social media challenge, #chipinchallenge, where the couple sought to surpass the $230,000 they raised for St. Jude in 2017, CBS 6 reports. Chip and Joanna partnered with a host of other celebrities such as Lauren Daigle, Drew Barrymore, Alex Rodgriquez, Jennifer Lopez, Kevin Love, Kacey Musgraves, Jessie James Decker, and Florida Georgia Line.
Richard Shadyac Jr., president and CEO of ALSAC, the fundraising organization for St. Jude Children's Research Hospital spoke about everything Target has offered St. Jude families, from Target House to its hosted events and surprises.
"To see [the kids'] faces light up as they challenge their friends to a game of lawn bowling or explore the new playhouse designed by the incredible Chip and Joanna Gaines—it's truly unforgettable, and we're all so grateful."  
Photo Courtesy: St. Jude
---
---