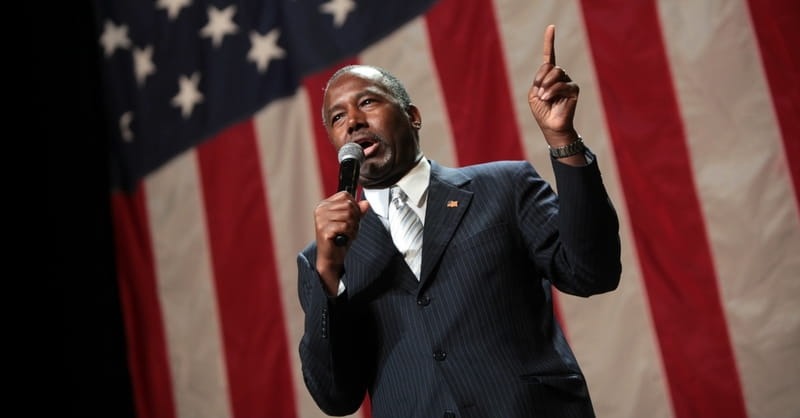 ---
A young man who was a volunteer for Republican presidential candidate Ben Carson's campaign has passed away after injuries he incurred when a campaign vehicle suffered a crash in Iowa.
According to Charisma News, Ben Carson suspended all campaign activities on Tuesday to be at the Omaha hospital where 25-year-old Braken Joplin was being treated.
Joplin reportedly passed away from his injuries around 4:30 p.m. Central Time. The Carson campaign flew Joplin's parents to Omaho to be with their son.
In a recently-released campaign statement, the Carson campaign said:
Earlier today in Iowa, a van transporting three campaign volunteers and a Carson campaign employee hit a patch of ice and flipped on its side where it was struck by another vehicle. Three of the passengers, including the campaign staffer driving, are currently being checked out at Cass County Memorial Hospital in Atlantic, Iowa. One volunteer is being transported to the trauma center at the University of Nebraska Medical Center in Omaha, Nebraska.
Dr. Carson has spoken with the family of the volunteer being transported to Omaha, as well as the attending physician. Dr. Carson has cancelled all remaining campaign events today and will be traveling to Omaha this afternoon to be with the family during this difficult time.
Dr. Carson is asking people to join him in prayer for all the individuals and families involved.
Charisma News reports that Carson was campaigning in South Carolina when he was notified of the crash. He immediately suspended all campaign activities and rushed to Omaha.
Joplin was a student at Texas Tech University and was from Midland, Texas.
"Even after more than 30 years experience counseling parents and family members in the most difficult of times, it never gets easier," Carson stated. "But I find solace in the knowledge of God's redeeming grace, and I pray that Braden's family finds comfort in the mercy of the Lord. Across America today, I ask everyone to take a moment to reflect on the preciousness of life and remember and honor the memory of Braden Joplin."
Photo courtesy: flickr.com
Publication date: January 21, 2016
Veronica Neffinger wrote her first poem at age seven and went on to study English in college, focusing on 18th century literature. When she is not listening to baseball games, enjoying the outdoors, or reading, she can be found mostly in Richmond, VA writing primarily about nature, nostalgia, faith, family, and Jane Austen.