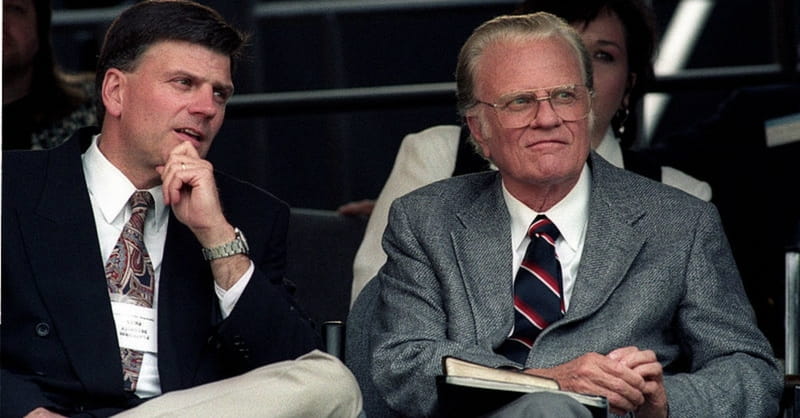 ---
Famous evangelist Billy Graham is nearly ninety-eight years old, but his passion for the Gospel is as strong as ever, according to his son, the Rev. Franklin Graham.
Franklin Graham said that while he travels around the country on his Decision America Tour, many people ask about his father.
CharismaNews.com reports that during Franklin Graham's recent stop in Juneau, Alaska, he talked to those gathered about his father: 
"He doesn't think anybody remembers who he is," Franklin said with a laugh, "so he'll say, 'If you meet anybody who remembers me, tell 'em hello.'"
At a tour stop in Olympia, Washington, Graham said that his father now believes he will live to see 100.
"He's 97 years old. When he was 90, he told all of us he was gonna live to 95. When he approached 95, he moved the goalpost. He said, 'I'm now gonna live to be 100.' ... I hope he does."
Billy Graham has been evangelizing for over 60 years. The ministry he founded, the Billy Graham Evangelistic Association (BGEA), continues the work he began. 
These days, Graham moves a lot slower and his hearing and vision are not what they once were. Nevertheless, he continues to talk about Jesus and to have a daily ministry of prayer. 
"One of the things he enjoys is sitting on the front porch and looking out over the mountains on days when the weather is good and he feels up to it," Franklin shared in a letter to supporters of the BGEA. "He watches news with the help of a large-screen TV. His ministry now is praying, and he looks forward to reports of what God is doing around the world. He always responds by saying, 'Praise the Lord,' as he points upward."
Publication date: July 11, 2016
Veronica Neffinger wrote her first poem at age seven and went on to study English in college, focusing on 18th century literature. When she is not listening to baseball games, enjoying the outdoors, or reading, she can be found mostly in Richmond, VA writing primarily about nature, nostalgia, faith, family, and Jane Austen.