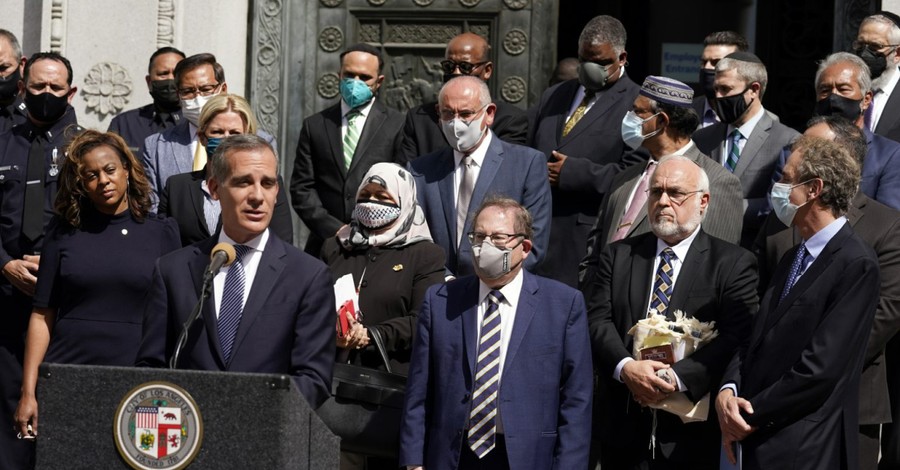 LOS ANGELES (RNS) — The man arrested in connection with the suspected antisemitic attack outside a restaurant has been released on bail as Los Angeles' Jewish community remains on edge after a couple of attacks against Jewish people have been reported in the area.
Xavier Pabon, 30, was taken into custody around 10:15 p.m. Friday (May 21) and was released on $275,000 bond early Sunday, according to jail records.
Pabon was arrested on suspicion of assault with a deadly weapon after the Los Angeles Police Department received several tips from the public, Los Angeles police said in a statement. A U.S. Marshals Service task force assisted with the arrest.
Jeffrey Abrams, regional director of the Anti-Defamation League Los Angeles, commended the police efforts in a statement, saying it "sends a clear message that hate crimes targeting the safety of any group of individuals will not be tolerated."
Police requested enhanced bail because they believe the crime to be "motivated by hatred," according to the statement. Detectives will also seek additional charges for hate crimes, police said.
Pabon is one of the primary suspects in the assault and beating of a number of Jewish men who were outside a sushi restaurant in the Beverly Grove area on Tuesday, May 18.
The incident, which involved punching and kicking, occurred as violence in Israel and Gaza intensified.
Video capturing a confrontation and brawl shows a car caravan of people waving Palestinian flags, with one person shouting, "Israel kills children and women every day. You guys should be ashamed of yourselves."
The Los Angeles Times reported that a witness, who asked to remain anonymous, told the newspaper people from the caravan threw bottles and other items at diners. "They were chanting, 'Death to Jews' and 'Free Palestine,'" the witness told the Times.
Later, another video surfaced showing an Orthodox Jewish man being chased by two cars with passengers waving a Palestinian flag in LA's Fairfax District, according to ABC7 Eyewitness News.
The news outlet interviewed the man, who said those in the vehicles screamed "Allahu Akbar" at him. "This was the scare of my life," the man said.
Through Twitter, President Joe Biden and Vice President Kamala Harris on Monday (May 24) condemned antisemitic attacks across the country.
Since the incidents occurred, volunteers have stood guard on La Brea Avenue, offering protection to the visible Orthodox Jewish population, according to the Los Angeles Times.
"It's a scary time in the Jewish community," Jonathan Lipmicki, 30, told the Times. Lipmicki is among those providing protection for members of the Jewish community in the Fairfax District.
On Sunday, hundreds of people gathered at Beverly Gardens Park in Beverly Hills to condemn antisemitism, according to ABC7. Listed speakers for that event included conservative radio host Dennis Prager and former Miss Iraq Sarah Idan.
"Here to support our people, but the whole idea is to support unity between everybody," Guy Husany, who was at the gathering, told ABC7. "We're not only for Israelis, we're for every nation that we have around. We have people that are non-Jewish here, that are Christians, African Americans, Hispanics. We're very glad to have everybody here. We're not for war, we're for peace. We wanna make sure that everyone can see that."
READ THIS STORY AT RELIGIONNEWS.COM
Article originally published by Religion News Service. Used with permission.
Photo courtesy: ©RNS/AP Photo/Marcio Jose Sanchez, File
---
---