Hugh Hewitt
| The Weekly Standard
| Thursday, July 8, 2004
July 8, 2004
WHAT DOES South Dakota think of Michael Moore and his slanders on American troops and lies about American motives? We will find out in November, because South Dakota's Senator Tom Daschle has embraced Moore -- literally.
That's what Time magazine reported this week. "Two weeks ago, at the Washington premier, Moore sat a few rows behind Daschle," the magazine's cover story recounted about the D.C. opening of Fahrenheit 9/11. "Afterward, says Moore, 'he gave me a hug and said he felt bad and that we were all gonna fight from now on.'"
There are three great blogs covering the Tom Daschle-John Thune senate race--coverage that is necessary because the state's leading paper, the Argus Leader is in the tank for Daschle and hasn't even bothered to report the Daschle-Moore love-fest. The paper's lead political reporter is a long-time Daschle booster whose column on Moore, his movie, and Daschle omits any reference to the Moore-Daschle huggy moment.
But the South Dakota blogs are all over the Daschle endorsement of Moore's assault on America. Daschle v. Thune, South Dakota Politics, and Sibby Online present real reporting, not incumbent boosterism, and their readerships are growing as the race between Daschle and the John Thune heats up.
The influence of blogging on politics is nowhere more obvious than in South Dakota. Tom Daschle has long sold himself as a moderate to South Dakota voters, and has done so with the assistance of a very friendly local press. But now the locals get the news via a stream of serious reporters trawling the national press and internet sites for the real news on the hyper-partisan Daschle. The result is that, for the first time in Daschle's political life, he will have to run on his record, not on what he presents as his record.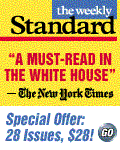 John Thune barely lost a race against incumbent Tim Johnson in 2002, and there was controversy around the vote. This time Thune is running with George W. Bush at the top of the ticket, and, given enough money, he should be able to hold Daschle accountable. The embrace of Moore is just more fuel for the political fire, the smoke of which cannot be obscured by friendlies in newsrooms. Reporters everywhere are getting a message: Agenda journalism isn't safe anymore. If you spin the facts, there are bloggers waiting to expose your partisanship. And the candidate you have been covering for.
Hugh Hewitt is the host of The Hugh Hewitt Show, a nationally syndicated radio talkshow, and a contributing writer to The Daily Standard. His book, In, But Not Of, has just been published by Thomas Nelson.
---
© Copyright 2004, News Corporation, Weekly Standard, All Rights Reserved.