Dr. John K. Crupper
| Crosswalk Contributor
| Wednesday, December 7, 2011
Just before Thanksgiving, CNN made an urgent call to Freddie Scott II on his cell phone. At the time of the call, Scott was traveling to the Tennessee Baptist Children's Home outside of Nashville to participate in a panel discussion on the role of the church in assisting children at risk.
But truth be told, CNN was not reaching out to Scott because he is a pastor, the founder and president of Unlock The Champion, or a member of Shepherding the Next Generation.
Scott also happens to be a former football star at Penn State, who went on to play more than three years as a wide receiver in the NFL. CNN wanted Scott's response to the Penn State child abuse scandal.
The interview was brief, but as the author of the book The Dad I Wish I Had, Scott had much more to say on the topic at the panel discussion that followed.
As the panel members addressed various ways to assist children at risk, including ways to reduce child abuse and neglect, Scott refocused the group: "My lens has been focused on the family because that is what God focuses on. If we can get the model of family to reflect what God created, it fixes all this other stuff."
Scott posed this question: "What is going on to cause [nearly] 24 million children to be raised without their biological dad in their home?" Scott answered his own question and gained agreement from attendees as he explained that too many young men and women are simply not prepared for important life roles such as parenting. Sadly, this lack of preparation, compounded by the isolation that often exists in single-parent homes, can lead to an increased risk of abuse and neglect.
Modeling is something we all experience – for better or worse. For those of us who are fortunate to have received good modeling, we are better prepared for important roles like parenting – understanding what to expect and where to go for help. For others, this lack of preparation can perpetuate the sad cycles of crime, teen pregnancy, and child abuse and neglect that plague our nation.
But there are programs that can help young families – teaching young mothers how to handle stress and protect their children and encouraging young fathers to play a more active role. Programs like voluntary home visiting for at-risk young mothers have modeling built in and as a result, are effective in cutting child abuse and neglect in half.
A week after the panel discussion in Tennessee, I attended a press conference in Dayton, Ohio, where two evangelical pastors took a strong, public stand on ways to reduce child abuse and neglect. Specifically, they discussed voluntary home-visiting programs.
Rev. Don Solin explained that some quality home visiting programs, where trained nurses coach new parents on effective ways to deal with infants and young children, have had a dramatic impact on family members beyond reducing the number of incidents of child abuse and neglect. Children involved in these programs were much less likely to be involved in later crime; their fathers were more involved with their families, and their mothers were a third less likely to be dependent on welfare.
The pastors emphasized the pressing need for such programs, citing sobering statistics.
"The numbers show that more than 34,000 Ohio children were confirmed victims of abuse or neglect in 2009," said Rev. Lawrence Long. "That's about 90 kids abused or neglected every day."
With child abuse and neglect cases at an endemic level, the results of home visiting are hard to ignore.
Back in Tennessee, during the discussion portion of the panel, Freddie Scott II was asked if the current trends of crime, fatherlessness and abuse and neglect could be reversed. His answer was met with nods of agreement: "The harvest we wake up to tomorrow is entirely dependent on the seeds we sow today."
"Speak up for those who cannot speak for themselves" (Proverbs 31:8).
Over 700,000 U.S. children were victims of abuse or neglect in 2009, and over 1,600 children died as a result. This is equivalent to approximately 1,900 children abused or neglected every day. What happened at Penn State should help us find our voice and embrace the opportunities we have as citizens to seek the good of our neighbor. When we speak up on behalf of children at risk of abuse and neglect and help their young parents, we are sowing seeds of hope that, God willing, will mean a safer and healthy future for the next generation.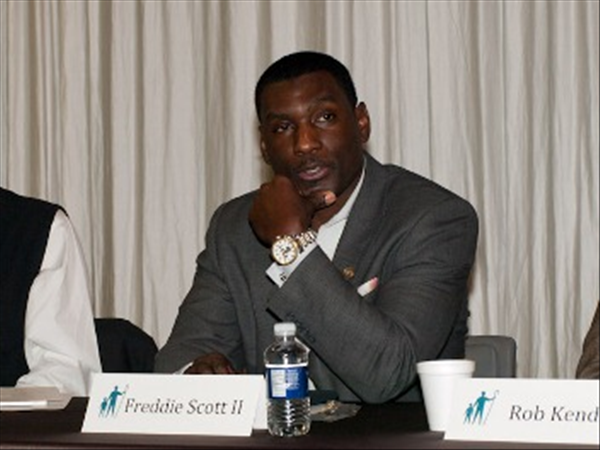 Photo: Freddie Scott II, addressing a group gathered to discuss the role of the church and children at risk. The panel was hosted by the Tennessee Baptist Children's Home in Brentwood and sponsored by Shepherding the Next Generation.
Dr. John K. Crupper is an ordained Southern Baptist minister who served in pastoral ministry for 14 years and is now the national director of Shepherding the Next Generation, a non-profit based in Washington, D.C.
Publication date: December 7, 2011