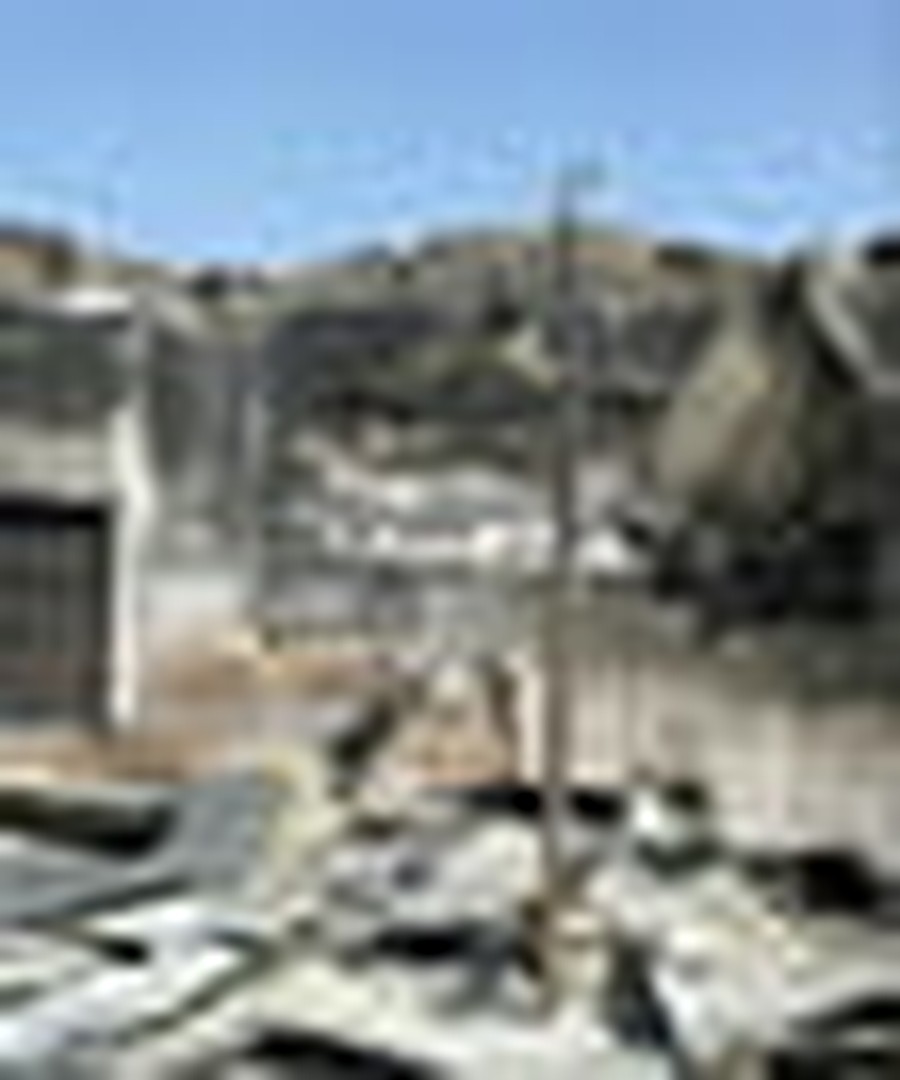 Photo: The ruined interior of the Deeper Life Bible Church in Geidam, Yobe State (Compass Direct News)
GEIDAM, Nigeria, December 2 (Compass Direct News) – In Nigeria's increasingly dangerous northeast, Muslim extremists in this town in Yobe state helped members of the Islamic terrorist sect Boko Haram destroy five church buildings last Saturday (Nov. 26), while previously in neighboring Bauchi state Islamic radicals killed four Christians, including three girls.
Boko Haram members' weekend rampage in the Yobe state town of Geidam destroyed all Christian-owned businesses, as area Muslims pointed them out for the sect raiders, according to local Christians. Five of the eight church buildings in town were ruined, and the violence displaced about 700 Christians, sources said.
When Compass visited the town on Tuesday (Nov. 29), only two of the eight pastors in the town remained. The other six pastors and their families had fled.
The Rev. Amos Ajeje, 48, vice chairman of the Geidam chapter of the Christian Association of Nigeria, told Compass that local Muslims assisted Boko Haram members in carrying out the attacks on Christians. He said the attack by Boko Haram, which seeks to impose a stricter version of sharia (Islamic law) than that already in place in northern Nigeria and expand it to the rest of the country, had driven all other Christians from town.
"There are no more Christians in this town," Ajeje said. "All shops belonging to Christians have been looted and then destroyed by these Muslims. Many of these Christians who fled into bushes when the attack was going on have never returned."
The Rev. Bitrus Mshelbara, pastor of the Church of Christ in Nigeria (COCIN) at Geidam, confirmed that local Muslims led the Boko Haram members to the church buildings and Christian-owned businesses.
"The Muslims in this town were going 'round town pointing out church buildings and shops owned by Christians to members of Boko Haram, and they in turn bombed these churches and shops," he said.
Destroyed in the attack were worship buildings belonging to St. Patrick's Catholic Church, Emmanuel Anglican Church, Living Faith Church, Deeper Life Bible Church and Cherubim and Seraphim Church. These buildings were located in the Geidam areas of Kafela, Akodiri Street, and Low-Cost Housing Estate.
"Boko Haram members came in a convoy of cars last Saturday at about six o'clock in the evening," Ajeje said. "They were well-armed. They attacked the police station. They exchanged gunshots with the police and overpowered them. After this they broke into the First Bank and removed money there, before they were joined by Muslims here to bomb churches. That is how the five churches were destroyed."
Because of the attack, the three remaining churches in town were unable to hold worship services on Sunday (Nov. 27), he said.
"Our church members who ran away when the attack took place could not come back, so it was not possible for us to conduct worship services on Sunday," Ajeje said. "Our fate is hanging in the balance because we do not know what will happen next."
Pastor of an Evangelical Church Winning All (ECWA) congregation of about 120, Ajeje added that Boko Haram members set fire to a local government building and the town's high court.
Ajeje's ECWA church building was among the three remaining in Geidam.
"We thank God that no one was killed, but I must say that this has brought fear to Christians since we are a minority here," he said. "In all we just have about 700 Christians in the town, and all are dependent on their small businesses to survive. With these businesses now destroyed, how will they survive if they remain here? I guess that must be the reason they have not returned since fleeing the town on the day of the attack."
Mshelbara told Compass that his COCIN church building is standing only because of the pleas of a Muslim neighbor boy.
"My church was spared because of a son of my Muslim neighbor who was among the local Muslims that accompanied Boko Haram members as they burned down churches," Mshelbara said. "He pleaded with them not to set fire on our church because burning down our church will affect their house, as their house shares walls with our church building. More so, our neighbor the Muslim was sick and was in his house at the time. Based on the pleas of the young Muslim man, our church was spared."
At Emmanuel Anglican Church, Mshelbara said, a church program was underway at the time of the attack.
"But they were alerted, and they all escaped by jumping over the fence constructed around the church premises before Boko Haram members got there – you can see the destruction yourself," Mshelbara said, pointing at the charred church building.
Christians at the Deeper Life Bible Church in the Low-Cost Housing Estate area also escaped, he said.
"Deeper Life members were holding an evening service, too, when the attack by Boko Haram was going on," Mshelbara said. "They too were alerted, and they all escaped from the church before it was destroyed."
Peter Mgoni, secretary of the Geidam ECWA church, said the Muslims looted shops and churches before burning them.
"Boko Haram is an anti-Christian movement out to establish sharia in Nigeria," he said. "This is the reason they attack churches, just as they attack government institutions. They know that they cannot establish sharia without first crippling the government, and that is the reason they attack the police, after which they now come for us Christians by destroying our churches and businesses."
Gargari Killings
In neighboring Bauchi state, 48-year-old Samaila Darabo called the members of his household together for the evening family devotion in Gargari village on Nov. 17. He led them in the reading of the Bible and prayer, and shortly afterwards they went to bed.
At about 2 a.m., he was suddenly awakened by his barking dogs. He stepped out of his room only to be confronted with bright lights from different directions around his compound. Stunned, he blindly pushed away part of the mud-brick walls closest to his room. Climbing over the fence and bolting out, he escaped to alert other neighbors about a raid on the village.
The assailants were later identified as local Muslim extremists who came in groups to attack the village on Nov. 18. Darabo's escape and warning are credited with saving the entire community except for some family members in three residential compounds. Darabo lost his 12-year-old daughter, Laraba Samaila, and his wife, Rifkatu Samaila. She was 48.
In another home, the Muslim extremists killed 11-year-old Gloria Zakka and 7-year-old Martha Zakka, daughters of Zakka Jumba, Darabo's brother. After attacking these and another residential compound of the Christian community in Gargari in the Bogoro Local Government Area, the assailants withdrew.
Six other people were injured in the attack, including relatives of Darabo's other brother, Harunna Jumba.
"I climbed a fenced wall just beside the door to my room, and in the process a part of the wall collapsed with me," Darabo said. "The collapsing wall forced some of the attackers to move away from the spot, and this gave me the opportunity to escape."
After alerting neighbors, they quickly contacted soldiers in nearby Gobbiya village, he said.
"By then, the attackers had already left, having set fire on my house and that of my brothers," he said. "They killed my wife, Rifkatu, and my daughter, Laraba. They also attacked some of my family members with machetes and shot them too. My brother had two of his daughters, Gloria and Martha killed. That is the grave where we buried the four of them you are seeing over there."
Receiving hospital treatment from injuries sustained in the attack were 2-month-old Matwi Mathias, Esther John, Rebecca Zakka, Yelshi Zakka, Sarauniya Samaila, and Mummy Zakka.
Aminu Gida, 38, told Compass that he was awakened by sounds of gunshots and the cries of children and women that night.
"The men who attacked us are Muslims whom we know live just across the river north of our village of Gargari," Gida said. "They came in groups that night and started the attack from the western part of the village."
Yakubu Lawal, 58, said attacks on Gargari village began as far back as 1991 and have become more regular. This year alone, he said, the community has been attacked about four times.
"The first attack was on June 28, when at about 10 a.m. six Christian girls from the village who were returning from their farms were attacked by a group of Muslim attackers," he said. "They took one of the girls away and raped her in turns before leaving her to die in the bush."
The girl survived and was found days later, he said. Two young Christian men were also attacked the same day while working on their farm, and the assailants also stole two cows, Lawal said.
The second attack on the village, Lawal said, came on July 6, when seven members of the community returning from Bogoro town were ambushed by another group of Muslims.
"Three of them were killed – Yohanna Godiya, Appollos Godiya and Rhoda Gashon," Lawal said. "The remaining four were injured in the attack – the wife of the village pastor, Mrs. Talatu Karmus, and Rahila Gashon and Ruth Gashon. The fourth victim of the attack was a 6-month-old baby."
On Oct. 8 at about 8 p.m., four members of the Christian community were returning from the neighboring village of Gobbiya when they were attacked by another group of Muslims, he said. They escaped unhurt, but before the Muslims withdrew from the village they set fire to the house of Joseph Ezekiel.
Ishaku Gambo, 58, pastor of the village COCIN congregation, told Compass the attacks have crippled worship. The church had an average attendance of about 200 at Sunday services; now only about 105 show up, he said.
"The reason is that some members have to keep watch over the village while church service is going on," he said.
Gambo urged the Nigerian government to urgently find a lasting solution to attacks on Christian communities in northern Nigeria.
Another Village Attacked
In neighboring Tudun Wada Gobbiya Kazar village, Christians have been forced to flee, with more than 60 residents now living in Gobiyya town as displaced persons, Christians said.
Tudun Wada Gobbiya Kazar village was last attacked on Oct. 1, when its Christian village head, Bitrus Ramako, was killed. A member of the local ECWA in Gobbiya, Ramako was killed at about 10 p.m., area Christians said. Muslim assailants set fire to his house after killing him and then raided the entire village, forcing the Christian villagers out, they said.
Solomon Jingina, 41, pastor of the ECWA Church in Gobbiya, told Compass the displaced Christians are living outside their village without any form of assistance. Jingina said there is an urgent need for the Nigerian government to intervene.
"These 60 members of my church are now homeless, and they cannot return to the village because of the incessant attacks on them," he said. "I want to appeal for the Nigerian government to address this problem of attacks on Christians, as this is threatening the peaceful co-existence of the people of this country."
c. 2011 Compass Direct News. Used with permission.
Publication date: December 4, 2011