Ginny McCabe
| Crosswalk.com Contributing Writer
| Thursday, May 23, 2013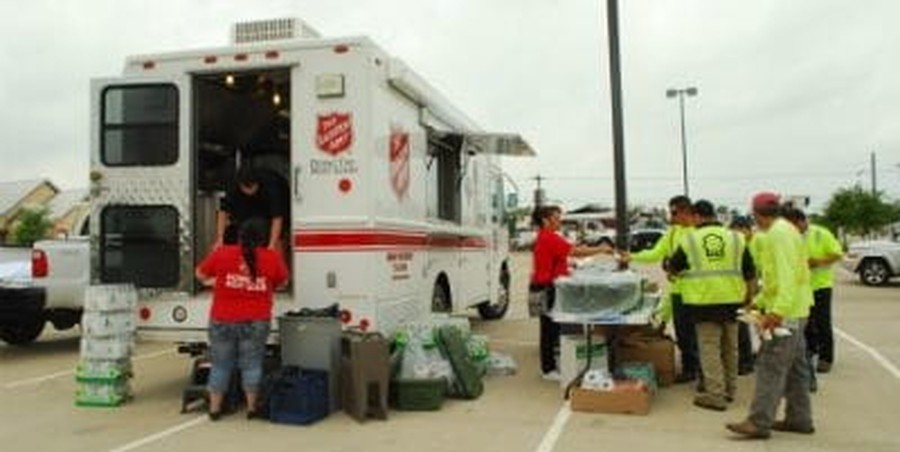 ---
As devastating tornadoes ripped through Texas and Oklahoma, faith-based organizations have been among the first responders to offer physical, emotional and spiritual assistance to disaster victims. EF-4 tornadoes (the second most severe classification as ranked by the National Weather Service) with more than 200-mph winds tore through neighborhoods in Texas and Oklahoma, leaving mass destruction and loss of life.
On Wednesday night, May 15, the Texas storm killed at least six people and destroyed hundreds of homes and more than 50 businesses as it ravaged through overnight. In all, a wave of 16 tornadoes struck the region. The city of Granbury in Hood County appeared to be the worst hit, with other tornadoes touching down in the surrounding counties of Tarrant, Dallas and Parker. Granbury is about 40 miles Southwest of Fort Worth.
On Monday, May 20, a mile-wide twister blasted through Oklahoma, leveling homes, businesses and schools. On Tuesday, the confirmed death toll was reported at 24, including children.
"Our prayers are with all of those who are suffering because of this massive storm," said Samaritan's Purse president Franklin Graham, who also serves as the president and CEO of the Billy Graham Evangelistic Association. "We are going to stand by them and do everything we can to help them recover physically, emotionally and spiritually."
Many faith-based organizations, including Samaritan's Purse, have mobilized to offer aid in both Texas and Oklahoma.
Two Disaster Relief Units from Samaritan's Purse were deployed before dawn on Tuesday and headed to Oklahoma from North Wilkesboro, North Carolina. The organization is providing emergency assistance as well as cleaning and repairing damaged homes. Teams left with tractor-trailers that were stocked with heavy-duty plastic, chainsaws, generators, tools and other equipment. The units also will serve as command centers for the response.
Samaritan's Purse also provided relief in Moore, Oklahoma, after a tornado destroyed more than 1,000 homes in the area in 1999. That storm included the highest winds ever recorded near the earth's surface, at 302 miles per hour, and killed 41 people.
In regard to their Texas efforts, Lloyd Blackwell, program manager, Samaritan's Purse, arrived in Granbury, Texas, on Thursday. He has been coordinating relief efforts on the ground, With more than a hundred volunteers per day, he and his teams have been tarping roofs, cutting trees, cleaning up debris and helping homeowners collect any personal property that they may be able to salvage.
"It damaged a lot of homes, and a lot of the homes hit were Habitat for Humanity homes," Blackwell said. "We are making great progress and bringing hope to the homeowners here."
He said the area where Samaritan's Purse is working has about a hundred homes that have been damaged or destroyed. About 20 volunteer leaders from the team are doing assessment, leading teams and helping with volunteer coordination. There have been 50 work orders written.
"At first, obviously, the people are in shock and denial, sometimes anger." Blackwell said. "As they see people coming to help them, strangers they don't even know, there's some hope. Not only for now, but for the future, too. That's what we try to do is to bring hope to them and let them know that somebody loves them."
To volunteer with Samaritan's Purse, go to www.spvolunteernetwork.org. Donations can be made at www.samaritanspurse.org.
The Billy Graham Rapid Response Team (RRT) is coordinating their efforts with Samaritan's Purse. Launched after 9/11, the RRT has responded to more than 155 natural and man-made disasters since 2002.
The Oklahoma deployment comes on the heels of major storm damage in Granbury, Texas, where RRT is also ministering.
RRT officials said that Hurricane Katrina (2005) and the earthquake in Haiti (2010) have been two of the longest deployments. However, recent disasters like the Sandy Hook Elementary shooting and the fertilizer plant explosion in West, Texas, have increased the need for chaplains with emergency response experience. With more than 1,100 chaplains nationwide, about one-third of the RRT chaplains have a background in emergency response.
World Vision is also helping to meet immediate needs in Granbury with relief supplies and emergency kits. On Wednesday, the organization deployed its first assessment team to the affected communities in Oklahoma as search and rescue crews finalized their efforts to find survivors amidst the rubble.
"While it's an enormous relief to hear that fewer people lost their lives than initially reported, the degree of damage and destruction is incredibly severe," said Phyllis Freeman, World Vision's national domestic disaster response director, who is part of a team that traveled to Moore. "We already know the supplies won't be enough to meet the need, but our staff are moving in to bring as much help, comfort and encouragement as possible."
She said World Vision has a strategy of pre-positioning of relationships and much needed supplies. Some of those supplies include personal hygiene and family food kits, clean-up or flood kits, paper products, blankets, diapers and other items that are identified by churches and other organizations that are needed or asked for products. World Vision also concentrates their efforts on the re-building process.
In expectation of the need, on Tuesday, the organization sent a 53-foot truck trailer filled with relief supplies to the area, The trailer is serving as a mobile distribution warehouse out of which World Vision is distributing vital relief supplies to families hardest hit by the storms.
"It makes a difference when someone knows that we're there, along with the others who are responding to this tragedy," added World Vision's youth and community engagement organizer, Rafael Munoz.
In 2012, World Vision's Domestic Disaster Response team provided relief for more than 47,000 people, including more than 30,000 children. This year, World Vision continues to assist the most vulnerable affected by Hurricane Sandy in New York and New Jersey and has provided relief and rebuilding supplies to those affected by tornado damage in Hattiesburg, Mississippi. To support World Vision's efforts, visit www.worldvision.org or text "TORNADO" to 777444 to provide a $10 donation.
"Generous donors nationwide provide the resources that allow us to pre-position supplies so that we can move quickly when disasters like these storms happen," Freeman said. "But our supplies are getting low, and hurricane season officially begins June 1. We're eager to restock so we can move as quickly the next time as we did this past week."
Philip Burn, divisional communications director at the Texas divisional headquarters of The Salvation Army, said The Salvation Army went into immediate action about an hour after the tornado hit in Texas. He personally arrived on the scene on Thursday.
Volunteer disaster teams have been on site in Hood County to provide services in the wake of last week's devastating tornadoes in North Texas. Three disaster canteens (mobile kitchens) from the Dallas/Fort Worth area were deployed and have been providing refreshment, hydration and spiritual and emotional care to survivors and first responders. Each mobile kitchen has the capacity to serve 2,000 to 2,500 meals per day. Two canteens went to Granbury and one went into Cleburne.
One area that received much needed help from several of the relief aid organizations including The Salvation Army was a trailer park that was just south of Cleburne.
"From what I understand, there had been very little media coverage there and very little agency assistance. It must be right at the beginning of the tornado trail when it touched down. It was a low-income area with a 44-unit trailer park. Five or six of those units had been completely destroyed."
On Thursday, Burn said, The Salvation Army provided those victims with dinner and food assistance. On Friday morning, they served them breakfast. Volunteers returned on Friday afternoon with two food boxes for each family.
"The residents had been saying that they really didn't need meals as much as they needed food to replace the groceries that they had lost. Obviously, they had been without power for a long time. So, The Salvation Army was able to come in and replenish all of those groceries."
Monetary donations are encouraged as the organization strives to meet the most critical needs by mobilizing staff and offering supplies. Donations may be given online at www.SalvationArmyUSA.org or by calling (800) SAL-ARMY (800-725-2769).
In other initiatives, The Knights of Columbus Oklahoma State Council has been organizing relief efforts in and around Moore to assist those displaced or otherwise negatively impacted by the storm. In addition, the Knights of Columbus Supreme Council sent an initial donation of $10,000 in support of the Oklahoma Knights' response.
Matthew St. John, communications project coordinator of the Knights of Columbus, said: "We are trying to respond as quickly as we can. We are sending $10,000 to our folks in Oklahoma to fulfill immediate needs. We are also establishing an Oklahoma relief fund, where people can donate. A hundred percent of those proceeds go directly toward the relief efforts in Oklahoma."
As it did following Hurricanes Katrina and Sandy, and the explosion in West, Texas, the Knights of Columbus is accepting online donations to assist relief and recovery through Knights of Columbus Charities, Inc., at kofc.org/relief.
Photo courtesy Philip Burn, The Salvation Army
Ginny McCabe is an author, feature and entertainment writer from Cincinnati, Ohio. You may email her at [email protected], or visit http://www.gmwriteon.com/.
Publication date: May 23, 2013