Michael Foust
| ChristianHeadlines.com Contributor
| Thursday, August 2, 2012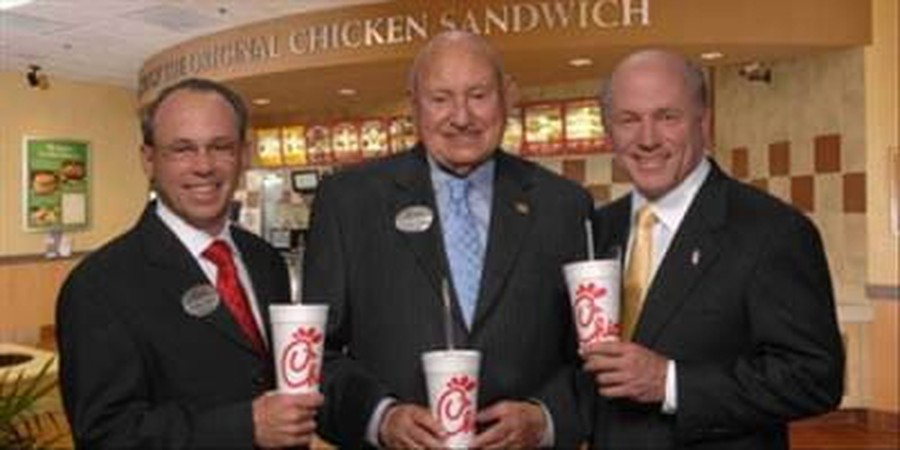 ---
Photo: The Cathy family inside a Chick-fil-A store (Religion News Service, courtesy Chick-fil-A)
NASHVILLE, Tenn. (BP) -- In Rock Hill, S.C., Wednesday, customers were waiting 75 minutes for a Chick-fil-A chicken sandwich, when they could have driven down the road to McDonald's and been in and out in five minutes.
It surely seemed strange to at least a few observers, but the folks in Rock Hill -- and at jam-packed Chick-fil-A restaurants across the country -- were making a statement, standing up for a chain that has been criticized by media members, politicians and activist groups because of Chick-fil-A president Dan Cathy's support for the biblical definition of marriage.
"Chick-fil-A Appreciation Day," as organizer Mike Huckabee called it, may have been more successful than even he envisioned. More than 650,000 people had signed up on Facebook to participate, and it seemed that each one came -- and brought a friend.
In Clarksville, Ind., the parking lot was packed, and cars were parked in the adjacent Lowe's lot. In Kansas City, Kan., a line of at least 50 people stretched outside the doors. That was also the case in Nashville, Tenn., and Ontario, Calif. And in Chicago, Ill., where local politicians had spoken against the restaurant, dozens stood outside the doors, waiting just to get inside. At some Chick-fil-As, such as in Dyersburg, Tenn., the number of people in line outside the doors was 100 or more.
In some locations, police were on location to direct traffic, with cars backed up on main roads. Churches, too, were getting involved. In Salisbury, N.C., Cornerstone Church cancelled its Wednesday evening services so members could support the restaurant, the Salisbury Post reported. But at Bellevue Baptist Church in Cordova, Tenn. -- as well as at a host of other congregations -- church officials were ordering Chick-fil-A food to serve at their weekly Wednesday evening meal.
For most if not all day Wednesday, #chickfila was trending on Twitter. Some people even were pledging to eat at the restaurant for breakfast, lunch and dinner.
Heading into the day, Huckabee said the event was not about gay marriage -- as some had made it to be -- but about free speech and religious liberty. A business owner, he said, should be able to state basic Christian belief without being castigated. He stood by that on his radio show Wednesday.
"We're finding out that people in America still believe that every American -- every American -- has a right to an opinion," Huckabee said on his radio program. "You don't have to agree with it. You don't have to like it. But you ought to respect that people have that wonderful right. You don't have that in North Korea. You don't have it in Iran.
"And I guess if the mayors had their way you wouldn't get it in Boston, Washington, Chicago or San Francisco," he added, referencing city mayors who have spoken out against Chick-fil-A.
Chick-fil-A, which has more than 1,600 restaurants, long has had a passionate base, led in part by families with young children who appreciate the family nights and the indoor playgrounds available at various locations. Support also is strong among Christians who support the company's values and the fact it is closed on Sundays. Of course, people also enjoy the food.
The national debate over Chick-fil-A began when Baptist Press re-posted a North Carolina Biblical Recorder story in which Cathy, asked about the company's support of the traditional family, said "guilty as charged."
"We are very much supportive of the family -- the biblical definition of the family unit," Cathy said. "We are a family-owned business, a family-led business, and we are married to our first wives. We give God thanks for that."
A radio interview with Cathy, recorded several weeks earlier, then came to light. In that interview, Cathy said, "As it relates to society in general, I think we are inviting God's judgment on our nation when we shake our fist at Him and say, 'We know better than You as to what constitutes a marriage.' I pray God's mercy on our generation that has such a prideful, arrogant attitude to think that we would have the audacity to try to redefine what marriage is all about."
A media storm then ensued, with some gay groups calling for a boycott of the company. The Human Rights Campaign -- the nation's largest gay group -- began labeling the restaurant "Chick-fil-Hate." The mayors of Chicago and Boston implied they would block construction of new restaurants, although they eventually backed down. One Chicago alderman called Cathy's remarks "bigoted" and "homophobic."
Huckabee said he launched Chick-fil-A Appreciation Day to stand up for a company that seemed to be held up to a different set of standards by society. Companies often support gay marriage, Huckabee noted, and little attention is given by the media or by the activist groups. Cathy, Huckabee said, simply affirmed what many Christians believe.
Chick-fil-A's supporters took to social media Wednesday to speak up for the company.
"I applaud this man's courage to stand up for his convictions by speaking up for Christ's teachings," Dorothy Cox Neal wrote on Baptist Press' Facebook page. "More people need to be so bold."
Irene Settlemyre Brooks wrote, "Praise God that a godly man like Mr. Cathy has awoken the Christians to make a stand. We have been silent too long. God will bless his company."
Pam Parr of Plano, Texas, sent Baptist Press an email saying Cathy "has the right to be true to his convictions, just as gays can chose to live the way they want based on their morals/beliefs."
"I am weary," Parr wrote, "of people trying to force their views on others -- Mr. Cathy didn't say he wouldn't serve anyone in a respectful manner because they were gay now did he? If he treats everyone with Christian love, what do they care if he doesn't agree with their personal lifestyles? He has just as much right to his belief about what constitutes a family as gay people do. If gay people treat Christians hatefully because of their beliefs, then how are they different than what they accused Mr. Cathy of?"
The company, in fact, issued a statement July 19 saying that it does not discriminate. It said "going forward, our intent is to leave the policy debate over same-sex marriage to the government and political arena" and that its tradition is "to treat every person with honor, dignity and respect -- regardless of their belief, race, creed, sexual orientation or gender." It also noted that it has applied "biblically-based principles" to business management and will continue to do so.
Several colleges and seminaries also got involved in Chick-fil-A Appreciation Day. In Fort Worth, Texas, Southwestern Baptist Theological Seminary paid for about 250 chicken sandwiches, which the seminary family could pick up at the local Chick-fil-A by using a seminary ID.
"We feel it's important to stand with Mr. Cathy and his First Amendment right and his freedom of religion to express whatever views he believes," said Thomas White, Southwestern's vice president of student services and communications. "We also believe it's fine for protesters to come. We welcome them, treat them with kindness and love them even though we disagree with them."
At New Orleans Baptist Theological Seminary, seminary president Chuck Kelley purchased 200 Chick-fil-A chicken biscuits for NOBTS students, faculty and staff. Kelley said he wanted to show support for Chick-fil-A because of the company's consistent commitment to biblical values.
"The Cathys have done a marvelous job of seeking to keep their faith, their personal lives and their business practices in alignment," Kelley said. "Along the way they have been generous and consistent givers to more people and causes than any of us will ever know. They were extremely kind to the NOBTS family in the aftermath of Hurricane Katrina. We stand proudly with them as they stand for marriage as God intended it to be."
The Cathy family's involvement with the seminary dates back to the late 1940s when Jeanette (McNeil) Cathy attended New Orleans Seminary before she married Chick-fil-A founder Truett Cathy. Truett Cathy and his sons, Dan and Bubba, have each spoken at NOBTS events and the company often donates food for seminary functions.
In the immediate aftermath of Hurricane Katrina, Chick-fil-A provided breakfast for the displaced NOBTS faculty and staff members meeting in Decatur, Ga.
Michael Foust is associate editor of Baptist Press. With reporting by Keith Collier of Southwestern Baptist Theological Seminary and Gary Myers of New Orleans Baptist Theological Seminary.
c. 2012 Baptist Press. Used with permission.
Publication date: August 2, 2012