Ginny McCabe
| Contributing Writer
| Thursday, January 19, 2006
Persecution is having such a devastating effect on Palestinian Christians that thousands are abandoning their Christian faith and leaving their homelands. In 15 to 20 years, experts anticipate that conditions will only intensify.
"My specific interest in the plight of Christians living in Palestinian society began eight years ago when I met a Christian lay pastor who, knowing that I was a human rights lawyer, urged me to investigate the human rights abuses directed at Muslims who converted to Christianity," said Israeli attorney and author Justus Reid Weiner, referencing the background for his new book, Human Rights of Christians in Palestinian Society.
"I knew nothing about this, and frankly doubted that anyone would victimize the adherents of the world's largest religion. But as I began to schedule interviews, I quickly learned that most of the Christian victims were reluctant to even meet me. If they agreed to reveal what they had suffered, they insisted that I refer to them by a pseudonym," Weiner explained.
The current statistics are alarming. "The Christian community in the Palestinian areas has shrunk to less than 1.7 percent. Nearly all the remaining 98 percent is Muslim," he said.
Don Finto, pastor and author of God's Promise and the Future of Israel (Regal Books, February 2006), said the persecution is happening primarily within the Palestinian territories.
Generally, Arab Christians within Israel are received and accepted without persecution. The Jewish believers and Arab Christians are having more and more brotherly contact. Arabs within Israel (about one million are Israeli citizens, along with the five-plus million Jews in Israel) are accepted as long as they live peacefully under Israeli government. (There are even Arab members of the Israeli Knesset.)
"Jewish people who are believers - perhaps 7,000 to 10,000 now in 130 different house groups or congregations/synagogues - are mostly tolerated, sometimes persecuted, often severely, especially by the ultra orthodox. The secular (80 percent of Israeli Jewish citizens are secular-cultural Jews, but not religious. They observe Passover and may even close stores etc. on Sabbath, but they are not people of significant faith) usually do not care, and even sometimes are more tolerant of the Jewish believers in Jesus than they are the ultra orthodox who want to control the country," said Finto.
However, he said that the Palestinian territories are another picture altogether. "Bethlehem is no longer controlled by Israel, but by Palestinians, often hostile Muslims who accept traditional Christians who have been Christians for generations (although Bethlehem's Christian population has decreased from 80 percent to about 20 percent according to recent statistics), but if a Muslim turns to faith in Jesus, he may be killed by his own family members. The evangelistic work is going forward, but has to be done very carefully, wisely and under the direction of the Holy Spirit," Finto said.
Weiner has interviewed many of the Christian victims (Palestinian Christians). His findings have revealed that certain pattern of abuses have become apparent. "The worst treatment is often 'reserved' for persons who leave Islam to become Christians," said Weiner.            
He has even witnessed persecution first hand, but said it may often seem hard to assess or control.
"Persecution is very hard to measure. If nobody complains does it mean that there is no persecution. It could, but in the case of the Christians living under Palestinian rule this would not be a reasonable conclusion," said Weiner.
"They live with in an atmosphere of intimidation and denial. This is particularly true of many of their religious leaders. Since Israel withdrew from the Palestinian cities and towns, it has very little influence over the way the Palestinian Authority and its' Muslim population behave. Moreover even humanitarian efforts by Israelis to stand up for Christians can backfire as they may be accused of being Israeli agents, a virtual death sentence in the armed anarchy of the Palestinian streets," said Weiner, who believes that religious persecution is having devastating effect on Palestinian Christians.
"I know of one church that has been attacked 14 times. The pastor was shot and left for dead. In this kind of atmosphere (and partially as a consequence of these attacks), thousands are leaving the cradle of Christianity. According to my estimate, if current trends continue, only the relics and holy sites will be left in another 15 years. The Christian community in Bethlehem will cease to exist," Weiner added.
Finto agreed, "It's so hard for Palestinian Christians to live there in Bethlehem, that they are leaving when they get a chance to leave...Somehow, they are making it very uncomfortable for them, and putting pressure on them to be pro-Palestinian, governmentally."
---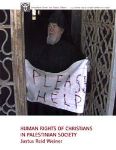 Human Rights of Christians in Palestinian Society: On the heels of the Gaza disengagement, which was intended to empower the Palestinian Authority to improve the lives of its people, few journalists have reported on the acutely trying times facing the Christians residing in areas "governed" by the Palestinian Authority. In his book, Professor Weiner, Scholar in Residence at the Jerusalem Center for Public Affairs, provides an in-depth look into the nearly uninterrupted persecution of Christians throughout the decade since the Oslo peace process began.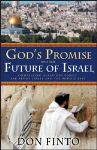 God's Promise and the Future of Israel:  What does Scripture say about the future of the nation of Israel? What is right and wrong about the Messianic Jewish movement? Where do the Arab nations fit into God's plan? How does this all affect the Church and how can the Church fulfill its role in this end-time scenario? Don Finto explores these questions and shows how to navigate the new landscape in this illuminating book.