Compiled by Janet Chismar
| Senior Editor for Faith
| Monday, July 11, 2005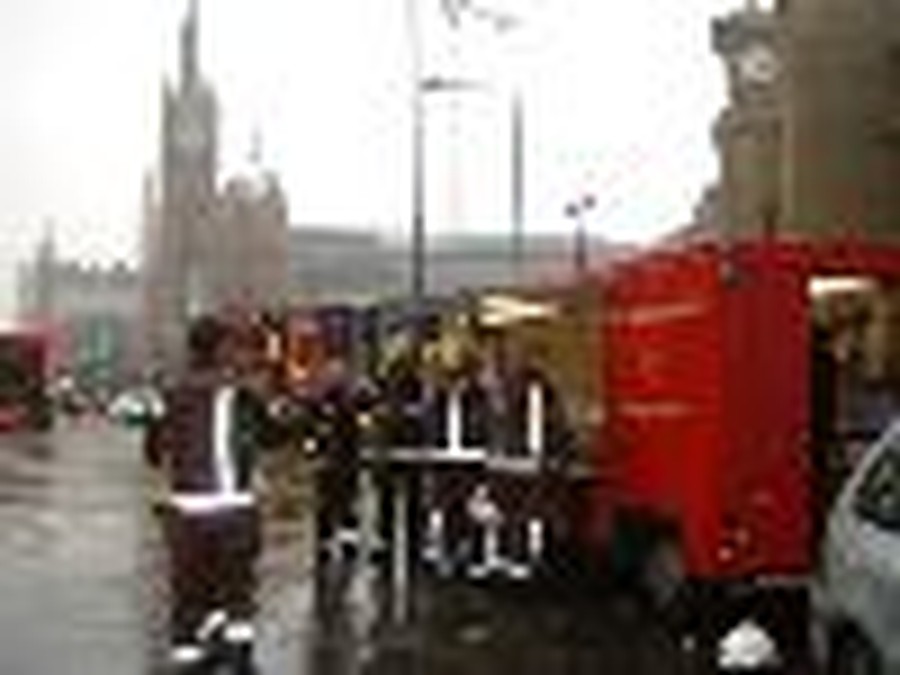 "As soon as I came on the scene and saw the Salvation Army canteen, I knew we were in safe hands,' said the police sergeant manning the cordon near Kings Cross station as Major Nigel Bovey handed him a cup of tea.
Seven hours earlier, just before 9 a.m., the officer-in-charge of The Salvation Army's Faith House, Captain Estelle Blake, felt the explosion in the underground tunnel beneath her Argyle Street center, 100 yards from King's Cross station. "I rushed to the end of the road, where a police officer was cordoning off the area. I said, 'I'm from The Salvation Army, how can we help?'"
Within minutes, the staff at Faith House was serving refreshments to members of the emergency services and the center became a focal point for counseling travelers and rescuers. By 11 o'clock, Captain Blake was working with the staff at a nearby Burger King to provide hot food and drinks to emergency personnel and civilian engineers.
As the investigation and clear-up operation gets underway, Salvation Army personnel in London are offering practical and emotional support to those involved. Some Salvation Army officers (ministers) have accompanied paramedics underground as they recover bodies while others have been on hand to talk to people as they take breaks.
"People who have been in the tunnel have witnessed some very grim, disturbing scenes," said Salvation Army officer Major Anne Read who has been based at Russell Square. "They have been grateful for the chance to talk in confidence about what they've seen."
The Salvation Army, along with other humanitarian organizations and individual Christians around the world, are offering support, prayer and practical help in the wake of London's July 7 terrorist attack.
According to the Associated Press, police have raised the death toll from the subway and bus bombings to 52. Many people are still missing, and hundreds are recovering from injuries.
Reaction in the United States was strong. Rod Parsley, pastor of the World Outreach Center in Columbus, Ohio, said during a phone interview Friday, "How could we get up this morning and not have our hearts extremely heavy over the terrorist attacks on the soil of our good friends?"
The British have stood with us since 9-11, Parsley pointed out. "Tony Blair has stood with this President in the war on terrorism. To have the exhilaration one day of being granted the Olympic games, and then to turn around the very next day to find over 50 people have lost their lives and more than 700 have been wounded. We as Americans remember how that feels and certainly, our prayers and our sympathy go out to them."
Parsley added that the attack should resonate with people around the world, and that "we must be vigilant and we must win this war on terror."
Tony Perkins, president of the Family Research Council in Washington, D.C., wrote: "These attacks are a harsh reminder that the faceless cowards who attack democratic countries simply for being free are still among us. ...The terrorists responsible for these attacks, and those who would plot similar ones, should realize that if you attack any part of the civilized world, you attack us all."
Perkins said that his heart and prayers go out "to our friends across the ocean. Please join me in praying for the victims and their families. Also continue to pray for the service men and women around the world who sacrifice every day so that merciless attacks like this one will no longer be a threat."
The Presidential Prayer Team (PPT) called for all Americans to pray for those injured in the brutal attacks, for the families and loved ones of all the victims, and for the emergency responders and medical professionals who are stepping in to care.
"This morning we awoke to the terrible realization that the war on terror continues with heartless determination," said John Lind, PPT's President/CEO, on Thursday. "As people who pray, we know where to turn, today and every day. We trust in our mighty God and we turn to Him in prayer."
PPT was launched seven days after the 2001 terrorist attacks on America. Its simple mission to pray for America and its leaders caught on, and the organization has grown to 3 million participants. Lind issued an email asking the team for a prayerful response to the London bombings.
"We've seen the powerful and positive impact of prayer on our nation and our leaders," said Lind. "The Bible says in Psalm 46:1-2 that, 'God is our refuge and strength, an ever-present help in trouble. Therefore we will not fear, though the earth give way and the mountains fall into the heart of the sea.' Prayer is a powerful weapon in the arsenal against terror and terrorists."
Dr. Samuel Thomas, president of Hopegivers International, which is based in India, offered his prayers for the victims and their families. "We understand their pain because we face terrorist attacks almost daily from religious fanatics in India. Whenever there is hope for peace and freedom from hunger and suffering, there will always be evil people who want to interject despair. We, as Hopegivers, have a choice. Where there is death and suffering like this, we are committed to responding with hope and tangible love."
Even as the medical treatment and mourning continues, British policy makers are required to think about the response to these awful events. "One of the few consolations of tragedy is that it provides an opportunity to stop and reflect about fundamental issues as well as immediate steps," wrote Simon Barrow, co-director of Ekklesia, a Christian think tank based in Great Britain.
According to Barrow, Ekklesia sees its role as highlighting not just "the religious dimension" of the situation, "but the character of the underlying moral and political choices which have to be faced."
The World Evangelical Alliance (WEA) is calling on its members to pray for the families of those killed and injured by the multiple explosions in London and for a spirit of peace and mercy, "not panic or revenge." The WEA is a global network of 123 nations who each have formed an evangelical church alliance. Nearly 3,000,000 local churches and 380 million Christians identify with these alliances.
WEA supported the "Make Poverty History" campaign that rallied for the G-8 leaders to eliminate poverty in Africa. General Director Joel Edwards said in a press release: "We need to pray earnestly for those who have suffered loss or injury and call on God to bind up the broken hearted. I have found Psalm 46 a great comfort at this time."
Meanwhile, Rev. Samuel Kobia, a Methodist from Kenya and top staff executive of the World Council of Churches, expressed solidarity with the attack victims. The Geneva-based council is promoting a "Decade to Overcome Violence" through 2010-an effort that Kobia described as born out of a "radical rejection of violence."
"Peace is the only way to achieve justice for all," Kobia said. "When, as it seems on this occasion, violence is deliberately targeting civilians and willing to create terror in the population, it could be described as a crime against humanity. There is nothing that can justify the killing of innocent people anywhere.
The Anglican Church in Melbourne joined with the rest of the world in offering the people of London their sincerest sympathy, concern and prayers on the tragedy that hit so brutally last week.
"In these days of electronic communication and frequent overseas travel, incidents such as these touch us all more directly," said Bishop John Wilson, Vicar General of the Anglican Diocese of Melbourne. "To those of faith, I encourage you to pray for the people of London, for those caring for them, for the nation of the United Kingdom, for the world leaders who are gathered there to address issues of poverty, trade and injustice, and for each other as we learn to live in a world where none of us feel safe - and to reach out to those for whom it has been ever thus."