Janet Chismar
| Senior Editor, News & Culture
| Thursday, September 29, 2005
As accusations continue to fly in the aftermath of Hurricane Katrina, it seems evident that our country has a long way to go in achieving racial understanding and harmony. But there is a group of Christians working to instill in young people the very seeds of racial reconciliation.
Barefoot Republic Camp, currently based in Tennessee, was founded to facilitate the development of Christ-centered relationships among campers and staff who represent diverse racial, social and economic backgrounds. Tommy Rhodes, president of Barefoot Republic, says that the camp offers "a glimpse of Heaven to a population of kids in need of the ability to dream of what God can do with their lives."
He explains that the word "barefoot" is a sign of vulnerability, our humanity, as well as a sign of our brokenness. It is only when we admit that we are barefoot, that we are able to comprehend our need and receive God's provision.

Rhodes's passion and the vision for the camp stem from his own experiences growing up in Decatur, Alabama. "It's a small town," he recalls, "100 percent black and white. There was no diversity whatsoever."
His mother was only 18 when he was born; it was one of those situations "where a kid was raising a kid," Rhodes says. "My mom's side of the family essentially raised me age two on and they were Japanese; my grandparents were very instrumental in my life."
Rhodes says it was "kind of odd" growing up in this place where no one looked like his family. "I got the racial slurs and jabs; I was picked on by both the black culture and the white culture. That was how my racial identity was formed. That was the first time I realized I was a little bit different and people were judging me and teasing me based on my appearance, and the appearance of my family as well."
The family also struggled financially. Rhodes's mother worked three jobs, trying to put herself through college, so she could not afford to send young Tommy to the camp his friends attended.
In 9th grade, Rhodes and his mother moved to Nashville, Tenn., where he met a friend who invited him to church. He became a Christian at 16, but admits he was "wandering around aimlessly without any type of discipleship for three years." He felt cynical and bitter about the things he experienced growing up.
At 19, Rhodes finally got to go to camp for the first time, an experience he says  "rocked my world."
  It was the first time Rhodes understood what it truly meant "for God to be our redeemer. It was amazing to see how God used my experiences, my sin, the mistakes I made in my life, the things that I had seen, basically playing the role of victim and then using them to build relationships with kids and share the gospel with them.
That was a powerful summer and that's when God gave me the vision for the camp. At that time, my heart was for lower income kids because I saw myself in the 10-year-olds at that camp and in the 16-year-olds at that camp. I know I really needed someone speaking truth into my life at that time; I wish I had the opportunity. I wish money had not been this obstacle. That was my heart. 
I got three years into my Ph.D. at Vanderbilt University and got married and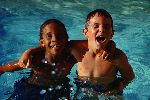 God started doing something in my life. I was 28-years old and God kind of said, "You remember that vision I gave you for that camp? This is the time." But I felt, "No. This can't be the time." I was on the fast track at Vanderbilt. I published a couple of papers. I was having all this success; I was just very comfortable, which is kind of dangerous in our Christian walk.
A friend had bought some property up in Louisville, and invited me up to take a look at it – so we ended up going in together on a couple of lake lots and God said this was the place. From that point, it was a leap of faith.
My heart was for doing this lower income camp. God had obviously put me in different scenarios where I was a victim in some respects. I had seen others who had fallen prey to that as well.  Of course I also had my own prejudices growing up in that small town in Alabama. So while I started seeking other people who had a heart for lower income folks, the vision became much broader. It was really cool to see how God brought other people onto our Board of Directors and onto our planning committees that really had a heart for racial reconciliation. That's when the vision was complete.
Q - How does the camp work to achieve that goal of racial reconciliation? Mainly, by being intentional. That was the advice I had received from my pastor at Strong Tower, which is a multiracial church, and from Paige Pitts who started New Hope Academy, which is a multiracial, interracial, inter-economic school in Franklin, Tennessee. When a lot of other people told me it wouldn't work, they told me you had to be intentional and reflect that diversity from the top down.
We are intentional in having a diverse staff that reflects the vision of the camp; it reflects the diversity we seek in our campers. We intentionally recruit 50 percent of our kids from lower income families, and 50 percent of our kids from upper income families. Racially, as well, we try to intentionally enlist Hispanic churches, and African-American churches.
As we do our recruiting, we are very strategic in who we are inviting to the camp. That doesn't mean we tell someone, "You can't come." It just means that if we see we have a large group of White kids from this church, we make sure we balance that and go out and try to recruit kids from other racial groups as well.
Q – What is on the horizon in the future? What are your goals for the ministry? Next year, we want to do a two-week camp: a week of junior high and a week of senior high. We've played with the curriculum and the program a bit. We've had the junior high and senior high kids combined for two summers and we've had them separate for two summers and I think it's much better to keep the two separate.
We're renting facilities in the middle Tennessee area and basically bringing our program to those facilities, all the while trying to raise capital to build out on the property that we have in Kentucky. Hopefully, we will be on our property in 2007.
Phase one of our development is our first tree house village, which will sleep 48 campers. That will get us on to the land and allow us to do parent-child weekends, which is a huge goal of ours. It will allow us to do staff training more extensively and build community among our staff. It will also allow us to do reunions for our campers, which is another challenge. They go to Barefoot; they have this amazing experience. They are out of their comfort zone; they get to know people from different backgrounds. You see all these walls come crumbling down, but then we don't have a chance to build on that. So we're really excited about having that first tree house village, because then we can start doing things out at the property to bring the kids back together.
The second goal is to get our multipurpose center and a second tree house village built, and we're in the process of partnering with a ministry called Masterpiece, which is an arts camp. We are hopeful, if this partnership goes through, that we'll be able to get through that second phase of development. We'll start having camp throughout the summer – a 10-week program. Right now we are limited financially by the rental overheard.
On our own property, we can do ministry throughout the course of the summer. Then it exists as a retreat center in the off-season, which will help subsidize camp and help raise scholarships for kids. This past summer, about 75 percent of our kids were on some sort of scholarship, whether partial or full. About 50 percent receive full scholarships. We do encourage the kids to do fundraisers through partnerships with parachurch organizations, so they have some ownership as well. We feel that is important.
One of our challenges is getting parents to allow their kids to come to an environment where people don't look like their kids, where it is a little uncomfortable. I think it's important for people to understand this is definitely a growing and learning experience for their children, but it also a very beautiful picture of the Gospel and what it looks like. Jesus was all about reconciling people from different backgrounds. That was a major part of His ministry and His life. We pray that parents will see this as an opportunity to present the Gospel to their kids in a unique manner.
Some parents are hesitant because there are kids from the inner city; there are kids that may be from a state shelter. But when you get all these kids together, you can't pick out which kid is from which neighborhood. It's amazing to see the Holy Spirit work through this atmosphere. It really is a picture of Psalm 133, because it is very good and pleasing to see these kids coming together like that and build those relationships. That's a key thing: challenging parents as well to get out of their comfort zone a little bit. We have an amazing staff; they are all volunteers. They want to be there. Our programming is amazing, whether it is our arts program or extreme sports. We have amazing instructors: people who have won Grammy awards, people who are professional athletes, people who just love kids and want to invest in them.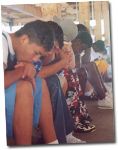 This is a very safe environment in which people can ask questions. There aren't many places in our community – certainly church is not one of them – where we can come together from different races and different economic groups, where we can inquire about someone else and get to know someone else. Obviously, it takes God's grace to be able to do that – being intentional and trying to create that environment in which people can discuss these issues so we can truly be a picture of the Kingdom and truly be one in Christ.