10 Things You Didn't Know about the People Behind The Hiding Place (2023)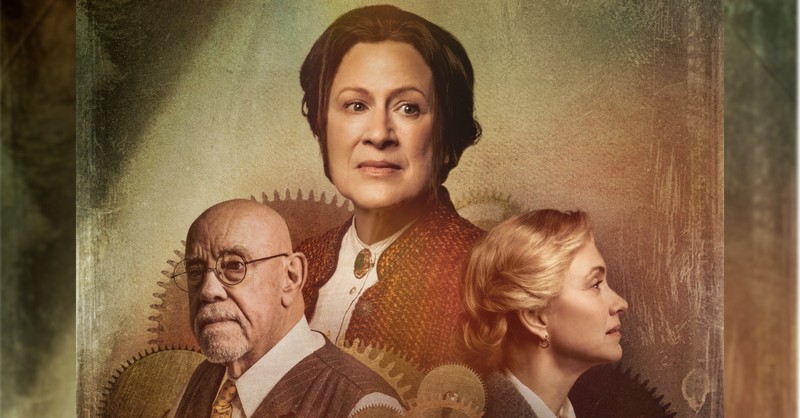 The new movie version of The Hiding Place (2023) has opened to great responses—from a limited release on only two days to new showings on August 9, followed by the international release on August 16. It also has an unusual journey behind its making—one that stretches back almost 50 years.
Here's what you likely didn't know about its production and the people who made it possible.
Further Reading: The Hiding Place: Film Telling the Story of WWII Hero Corrie ten Boom Now in Theaters
Photo Credit: ©The Hiding Place, used with permission.
1. It's connected to the 1975 movie

Many people know The Hiding Place best for its 1975 movie adaptation starring Jeannette Clift George as Corrie ten Boom. Fewer people know that George founded a theater company, the A.D. Players, in Houston, Texas, in 1967.

As noted on the movie's website, this new version of The Hiding Place began when George commissioned playwright A.S. Peterson to write a play adaptation of the book for the A.D. Players. Sadly, George passed away in 2017, two years before the play's premiere in Houston.

Further Reading: 3 Things to Know about The Hiding Place, the 2023 Film Based on the Stage Play

Photo Credit: ©World Wide Pictures

2. It uses actors from the play

Peterson's play (not to be confused with the current-playing musical by Stephen Joseph Burke) appeared to receive great reviews both in 2019 and in 2022 when it was restaged by Rabbit Room Theatre. While not every actor from the 2019 or 2022 production appears in the film, several actors have returned. Nan Gurley played Corrie ten Boom in both productions and returned for the movie. John Conrad Schuck (best known to many for playing Captain Waldowski in M.A.S.H) reprises the role of Casper ten Boom, which he played in the 2022 production.

Further Reading: 10 Holocaust Movies

Photo Credit: ©The Hiding Place, used with permission.

3. It's written by Andrew Peterson's brother

4. It's not the writer's first play

Along with his various books, Pete Peterson has also written multiple plays, including an adaptation of Mary Shelley's Frankenstein and an original Civil War play, The Battle of Franklin. Studio Tenn produced The Battle of Franklin in 2016, and the script has been published. Rabbit Room Theatre produced Frankenstein in 2017-2018; the published script and a cast recording can be purchased online. Rabbit Room Theatre produced the 2022 production of The Hiding Place, and the script is available for purchase. At the moment, Peterson is developing the book for a musical called Lindenfair, with lyrics and music by Liam Searcy.

Further Reading: The Revolutionary War

Photo Credit: Photo by Rob Laughter on Unsplash

5. It's part of the Rabbit Room

Rabbit Room Theatre is part of a much larger project that has become highly respected among Christian artists in the last 15 years. The Rabbit Room was started in 2007 by Andrew Peterson, inspired by an Oxford visit where he saw the Eagle and Child, the pub where C.S. Lewis and his friends met weekly for Inklings meetings. A sign indicated that Lewis and his friends usually met in a backroom called the Rabbit Room. What began as a blog and online store grew into a non-profit that "cultivates and curates stories, music, and art to nourish Christ-centered communities for the life of the world." It has a publishing press, hosts an annual literary conference called Hutchmoot, and a literary journal called The Molehill.

Further Reading: Corrie Ten Boom's Life According to Her Own Words

Photo Credit: Sincerely Media/Unsplash

6. It's produced by a small, committed team

While some historical dramas get made by large corporate teams, The Hiding Place was made by a small group with a personal vision. Following the play's 2019 premiere and the 2022 Rabbit Room Theatre, the Rabbit Room approached Anthony "Tony" and Laura Matula about doing a film version. The Matulas operate MA2LA, a Nashville company that offers many services—from photography to visual design to music videos. Laura Matula, who directed The Hiding Place, is also a writer—she has collaborated with Cori Anne Laemmel on several plays produced at Nashville's The Theater Bug, including their latest work, Shadow.

Further Reading: The Faith of Corrie ten Boom

Photo Credit: ©Getty Images/nicoletaionescu

7. It grew from a surprising opportunity

Various members of the Rabbit Room have been involved in other movie or TV projects—Andrew Peterson helped produce the animated TV show based on his Wingfeather Saga books. However, this is the first time that the group has produced a film under the Rabbit Room name.

Pete Peterson explained in an interview that the inspiration for making a film version of his play began when COVID-19 restrictions in 2020 shut down theater projects. The Rabbit Room rose to the challenge by creating a short film version of Wendell Berry's play Sonata at Payne Hollow, which they showed at the 2020 Hutchmoot. The result got the Rabbit Room team thinking, "What if we could capture theater on film in a way that's really interesting?"

Further Reading: 20 Powerful Quotes from Corrie ten Boom

Photo Credit: Kushagra Kevat/Unsplash

8. There is a reading group connected to it

Rather than separate the play from the original material, the adaptation team leaned into telling people about ten Boom's book. Pete Peterson hosted a virtual reading group discussion of The Hiding Place over four weeks, going through the book chapter by chapter. The reading group discussions were recorded and can still be viewed on the Rabbit Room's Vimeo page.

Further Reading: 40 Powerful Quotes from Corrie Ten Boom

Photo Credit: Unsplash/Anna Pritchard

9. It was designed to be accessible to believers and non-believers.

Pete Peterson observed that a key change he had to make while adapting the material was to recognize ten Boom's book and the 1975 movie were both released at a time when most Americans still had nominal church backgrounds and understood church language. As a result, the 1975 movie "was told in a way that was very Christian, very church-like, very Christian-ese." He strove to tell the story in a way that didn't rely on church language tropes but still communicated ten Boom's faith. The team making the play tested it with various audiences—people interested in Christianity and people who disliked it—to see their reactions. They worked hard "to tell the same story in a way that's able to sneak past the watchful dragons of those who are on guard against all of the Christian-ese." A key success moment came when one actress who was openly antagonistic to Christianity auditioned to play Corrie ten Boom and said afterward that she loved the play because it emphasized Jesus.

Further Reading: Is 'Christianese' Irrelevant or Offensive to Youth Today?

Photo Credit: © Getty Images/aerogondo

10. The Rabbit Room is more than you think