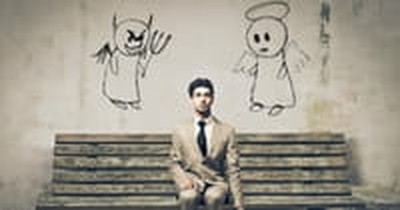 "And when the devil had ended every temptation, he departed from him until an opportune time" (Luke 4:13).
One simple story illustrates an example of an opportune time, "Alexander was trying to save all the pennies that he could in order to buy a baseball bat. But he had a hard struggle. One night when he was saying his prayers, his mother heard him say fervently, 'O Lord, please help me save my money for a baseball bat. And, God, don't let the ice cream man come down this street anymore'!"
Isn't that true of temptation? It takes from us, while at the same time, it looks so appealing. Commentator Klyne Snodgrass states it well, "Mention of the 'schemes' of the devil reminds us of the trickery by which evil and temptation present themselves in our lives. Evil rarely looks evil until it accomplishes its goal; it gains entrance by appearing attractive, desirable, and perfectly legitimate. It is a baited and camouflaged trap." That's important to note: we can miss evil for what it really is until after it has accomplished its purpose. Only by comparing thoughts and actions to God's word can we have the insight to see beyond the circumstances.
Being tempted isn't sin—surrendering to it is. Temptation is also an opportunity to do what is right by turning from it. I Corinthians 10:13 states, "No temptation has overtaken you except such as is common to man; but God is faithful, who will not allow you to be tempted beyond what you are able, but with the temptation will also make the way of escape, that you may be able to bear it." The door of temptation swings both ways—you can enter or exit. If we choose to enter, once inside, we may not see the exit sign so clearly again.
Consider these points:
Photo courtesy: ©Thinkstock/bowie15