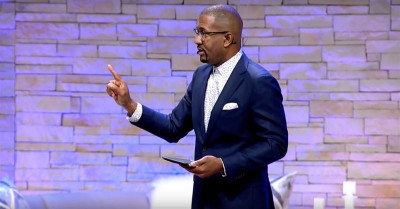 A Dallas church is challenging cohabitating couples to stop living together – and it's offering a free wedding and wedding reception to those who follow through with marriage.
The offer includes free dresses, tuxedos, wedding rings, cake and a wedding reception. It also includes 10 weeks of counseling and the first month's rent for living separately.
"If you commit today, we will have you married in the next 90 days," pastor Bryan L. Carter of Concord Church in Dallas told the congregation Sunday.
The goal, he added, was to give cohabitating couples "a pathway in the honoring of God in your relationship."
"Church is not just about calling up where we're short, but the church is also a place where you can find hope and healing and restoration and redemption for wherever you might be in your life," he said to applause.
It is the fourth time Concord Church has given the offer – or "challenge" – to members. About 60 couples have accepted it and been married.
"This is your time now," he said.
Preaching from Hebrews 13:4, Carter listed five myths of living together before marriage:
Photo courtesy: Concord Church