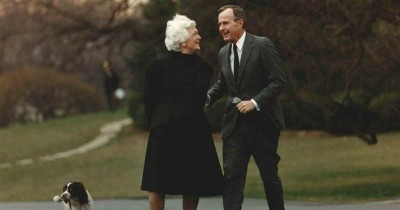 On November 30th, 2018, President George H.W. Bush left this world for his heavenly home at the age of 94. At the end of his life, this 41st president, war hero, and successful man of great character spoke only of his longing to be reunited again with the love of his life Barbara who he was married to for 73 years, and their young daughter Robin who died at age 3 from leukemia.
But though this greatly loved, inspiring couple is no longer with us here on earth, one thing is sure: their incredible influence has made its mark among us. And our world is better because of it.
The legacy, service, strength, and wisdom of President George H.W. Bush will continue to shine through the lives he influenced, and in the nation he loved.
As we remember and celebrate the life of this humble and courageous man, here are 25 memorable quotes about freedom, giving, serving, love, and the humorous side of life.
25 Best Quotes from President George H.W. Bush on Service, Freedom, and Life:
Photo Credit: White House