7 Great Classic Movies Every Christian Teen Should Watch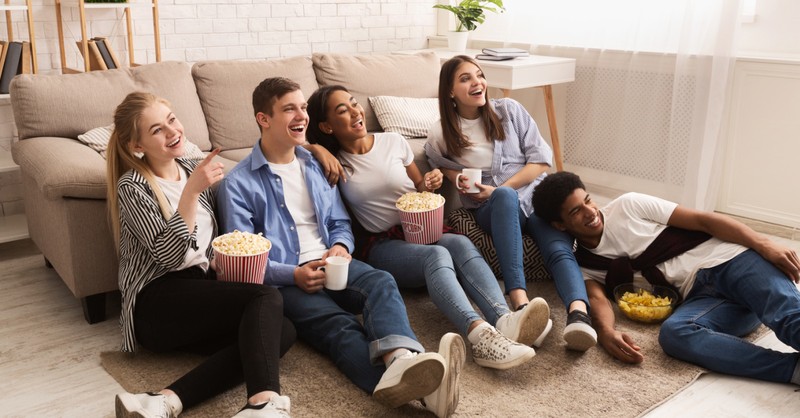 It's not easy finding a movie that will be loved by mom and dad – and that also will be appreciated by their teenage daughter or son.
It's even harder to find ones that meet that criterion while having a positive message, a few biblical lessons and that have stood the test of time.
But we think we've found a few. Mind you, not every teenager will be crazy about all the titles on our list. Most teenagers, though, will enjoy a least a few of them.
In fact, these seven movies are so good – having set records and won awards – that every Christian teenager should check them out.
Here, then, are seven classic movies every Christian teenager should watch:
Photo courtesy: ©Getty Images/Prostock Studio
1. The Hiding Place (1975)

A Christian family in the Netherlands opens their home to Jewish residents during World War II, only to be caught by the Nazis and sentenced to a concentration camp. The film is based on a true story and book of the same name by Corrie ten Boom, who survived the camp but watched her sister die. It was nominated for a Golden Globe and released through World Wide Pictures, a subsidiary of the Billy Graham Evangelistic Association. It includes powerful lessons for teens about bravery, selflessness, perseverance, forgiveness and trusting in God.

Photo courtesy: ©Getty Images/Estradaanton

2. Chariots of Fire (1981)

Eric Liddell, a devout Christian athlete, withstands worldwide pressure and refuses to run in the Olympic 100-meter dash because the event is scheduled on a Sunday. With his gold medal dreams seemingly squandered, he gets a second chance when a teammate offers Liddell his spot in a different event – one that will take place on a weekday. The film was based on the true story of Liddell, who was the son of missionary parents and was a missionary himself. It won four Oscars and includes inspiring lessons for teens about honoring God, withstanding peer pressure, and using your platform to proclaim the Good News.

Photo courtesy: Unsplash/Glenn Carstens-Peters

3. Ten Commandments (1956)

This epic biblical drama ruled the box office in 1956, finishing number one in total gross with $85 million – double the gross of the second-place film (Around the World in 80 Days) – and was nominated for 12 Oscars. It tells the story of Moses, beginning at his birth and ending with his handing the reins of leadership to Joshua. Filmed partially on location in Egypt and at Mount Sinai, it was the highest-grossing religious film of all time until 2004's The Passion of The Christ. Its special effects – particularly, the parting of the Red Sea – were cutting-edge for the time. Directed by Cecil B. DeMille and starring Charlton Heston, it was a remake of the 1923 silent film Ten Commandments, also directed by DeMille. (For a shorter, newer film with a similar message, try 1998's The Prince of Egypt.)

Photo courtesy: ©Getty Images/FilmColoratStudio

4. Les Miserables (Various)

This classic story has had multiple adaptations in recent years, including a musical version in 2012 and a BBC/PBS non-musical series in 2018. (Both are excellent.) If you want something older (and a little more family-friendly), give the 1952 or 1935 films a try. All versions are based on the 1862 novel by Victor Hugo and tell the story of an ex-convict, Jean Valjean, who is shown grace by a Catholic priest after stealing a pair of candlesticks. Valjean makes use of this second chance but is pursued by a policeman who wants him behind bars. It's one of the best-ever fictional stories about second chances, grace and redemption.

Photo courtesy: Frankie Lu/Unsplash

5. The Passion of the Christ (2004)

It launched the modern era of faith-based movies and remains the top-grossing religious film of all time, making $370 million during its run domestically and ending 2004 behind only Shrek 2 and Spider-Man 2. Sure, it was released only two decades ago, but for today's teens, that's right around the time they were born. Directed and financed by Mel Gibson and starring Jim Caviezel, the film tells the story of Jesus' final days and hours before his crucifixion. It was nominated for three Oscars.

Photo courtesy: Getty Images/mbolina

6. Ben Hur (1959)

Two brothers during the time of Christ grow to hate one another after one of them (the Roman prince Mesalla) frames and sentences the other (the Jewish prince Judah Ben-Hur) to slavery. The story is fictional, although it does have a handful of biblical scenes, including one of Jesus being crucified. The film was based on Lew Wallace's 1880 novel Ben-Hur: A Tale of the Christ and won 11 Oscars. Charlton Heston starred in the lead role. It includes solid messages for young people about forgiveness, grace and mercy. (If you're curious, the 2016 remake isn't as good, but it's still worth a watch.)

Photo courtesy: ©iStock/Getty Images Plus/Roman Valiev

7. It's a Wonderful Life (1946)

A businessman named George Bailey contemplates suicide after facing financial trouble, only to have an angel, Clarence Odbody, intervene and show George how the world would have been worse if he had never been born. This Christmas classic starring James Stewart was nominated for five Oscars, including for Best Picture. (The Best Years of Our Lives won that year, if you're curious.) It includes multiple lessons for today's teens about family, love, selflessness, compassion and grace. Most of all, it reminds us of the priceless blessings all around us and the many ways a single life impacts others for the better.

Photo courtesy: ©Getty Images/RKO Pictures/Handout