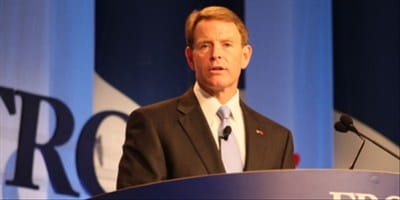 Nearly 2,500 political and social conservatives gathered in Washington, D.C., for the annual Values Voter Summit September 14–16. Co-sponsored by the Family Research Council (FRC), AFA Action, American Values, the Heritage Foundation, Liberty University and the Liberty Council, grassroots activists from across the nation met to promote its agenda of pro-family values, the economy and other issues important to conservative Christians.
FRC president Tony Perkins opened the summit by amending the event's theme of "Limit government, reduce spending, champion traditional values and protect America" by adding at the end -- "No apologies: In God We Trust."
In a moment to parody the Democratic National Convention (DNC) of its indifferent attitude towards the submission of God in its party platform, Perkins called for a voice vote approving the mention of God in the events deliberations and confirming Jerusalem as Israel's capital.
In a roaring chorus of "yeas," Values Voter attendees overwhelmingly affirmed the mention of God as well as standing with Israel and its capitol of Jerusalem.
With a giant gavel raised in the air, Perkins also amended the theme of the annual gathering and announced, "A motion has been made to include no apologies in 'God we trust.'"
The event launched as outbreaks of anti-American violence spread in at least a dozen nations throughout regions of Asia and Africa. Islamic extremists blamed a YouTube film, which Muslims believe insults the Prophet Muhammad.
A number of speakers reflected on the killing of four Americans in Libya to illustrate the threats to freedom of speech and the growing influence of Islamic extremists both in the U.S. and other parts of the world.
GOP VP Nominee Headliner
Republican vice presidential nominee Rep. Paul Ryan joined a long list of conservatives who addressed values voters Friday and Saturday. Ryan criticized President Barack Obama's foreign policy record while anti-American violence spread across the Muslim world.
Protesters planted in the audience interrupted Ryan's address twice. Just moments into Ryan's remarks one female protestor screamed, "Corporations are not people!"
"Thank you so much," Ryan quipped. "I appreciate your support. Thank you so much. I appreciate it." Attendees energetically chatted "U-S-A, U-S-A, U-S-A" to drown out the protester.
As security dragged the woman out of the ballroom, Ryan refocused his attention on President Obama criticizing his foreign policy.
"In the all-important election of 2012, values voters are also economic voters," said Ryan. "This election will hold the incumbent accountable for his economic failures and affirm the pro-growth agenda of Mitt Romney. It is true that President Obama, he had a lot of problems not of his own making. But he also came in with one-party rule and the chance to do everything of his own choosing. The Obama economic agenda failed not because it was stopped, but because it was passed. That's a key distinction."
Religious Liberty and Threats of Terrorism
The summit provided discussion panels and breakout sessions for participants ranging from a variety subjects such as "Economic Inequality: Reconciling Capitalism and Compassion" to "Preparing for the Coming Economic Earthquake."
Retired U.S. Army Lt. Gen. William Boykin, executive vice president of the Family Research Council, recalled an address he was scheduled to give in February to the cadets at West Point. Three atheist groups and the Council on Islamic Relations, however, protested his appearance because of his outspoken faith and the engagement was canceled.
"These people are following to the letter the Marxist model," said Boykin. "America is moving rapidly to Marxism under the influence of these people who call themselves 'progressives.' Their leading advocates and front groups are organizations like the ACLU and the Southern Poverty Law Center."
Boykin went on to explain why he believes Christianity being singled out around the world. "Because Christianity is the true light," said the 36-year military veteran. "It is the most powerful beacon of light in the world."
Nonie Darwish shared her conversion story of denouncing her Muslim faith to become a Christian. Darwish was born in 1949 in Cairo, Egypt, and her father served as commander of the Egyptian Army Intelligence in Gaza, which was under supervision of Egypt. A devout Muslim, she arrived in the U.S. years later, when she became a Christian and began attending a non-denominational evangelical church. About a year after the September 11, 2001 attacks, Darwish began writing columns critical of Islamic extremism and the silence of moderate Muslims.
"As long as the Arab world and Muslim world hold onto sharia, we will never have freedom and democracy," said Darwish. "Most Muslims are angry because they are working against their own humanity."
The Liberty Institute participated in a "Religious Hostility in America" panel discussion.
Featured panelists included Liberty Institute Senior Counsel Mike Johnson, Lt. Gen. William Boykin (Ret. U.S. Army), former Commander of Delta Force, Fox News' Todd Starnes and Angela Hildenbrand, a Texas student who was threatened with incarceration because her valedictory address included a prayer in Jesus' name. Following a federal court of appeals victory restoring her rights, this fall Liberty Institute launched in her honor "The Angela Project" to empower students and to stop the widespread assault of religious freedom in public schools.
"The elimination of God from the Democrat Party platform is consistent with the obvious strategy of the current administration to remove God from the public arena altogether," said Johnson. "Although the mention of God was wedged back in, it is disappointing that the delegates were so divided on the issue and that the announcement evoked such a negative reaction from the convention crowd."
Gary Bauer, a former presidential candidate and president of American Values, discussed the crisis state of Middle East affairs "under the disastrous course of appeasement and miscalculation that has marked America's recent approach to foreign policy."
"The Arab Spring is yielding bitter fruit," said Bauer, along-time expert and advocate for a strong partnership between the U.S. and Israel. "On Sept. 11, 2012, Islamic extremists felt empowered to act against the United States and took the life of an American patriot, U.S. ambassador to Libya J. Christopher Stevens and three other embassy staff, despite U.S. taxpayer monies that were expended to free Libya from the Gaddafi regime and despite the constant apologies for U.S. ideals and freedoms."
Other speakers at the Values Voter Summit included Gov. Bob McDonnell (R-Va.), Gov. Jan Brewer (R-Ariz.), House Majority Leader Eric Cantor (R-Va.), former Senator Rick Santorum (R-Pa.), Rep. Michele Bachmann (R-Minn.), Sen. Jim DeMint (R-S.C.), Sen. Rand Paul (R-Ky.), Rep. Jim Jordan (R-Ohio), Virginia Attorney General Ken Cuccinelli, U.S. Senate candidate Ted Cruz, Lt. Col. Oliver North (USMC, Ret.), actor Kirk Cameron and radio host Dennis Prager, among many others.
Russ Jones is a 25-year award-winning journalist and correspondent. He is co-publisher of various Christian news sites such as ChristianPress.com, OxfordFamily.com and a media consultant to a number of political and cause-oriented campaigns. He is also a freelance correspondent for the American Family Radio Network, a regular contributor for ReligionToday.com, Crosswalk.com and various Christian TV networks. Jones holds degrees from the University of Missouri-Columbia and St. Paul School of Theology. Russ is married to Jackie and together they have four children. He may be reached at [email protected] or Facebook.com/russjones.
Publication date: September 18, 2012