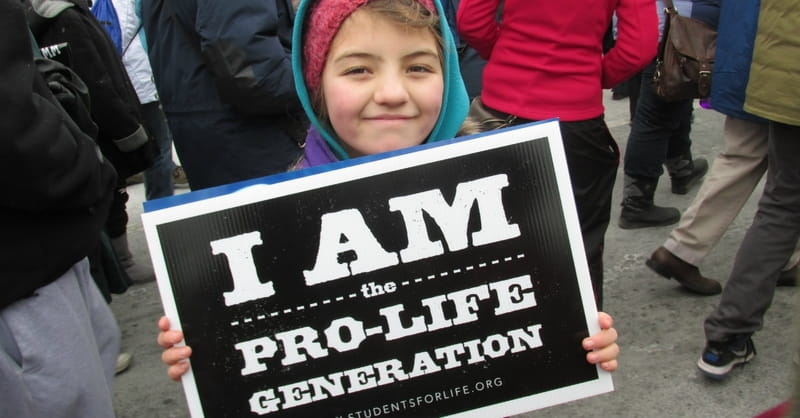 ---
A looming winter storm shut down most of the nation's capital Jan. 22, but the forecast did not stop thousands of pro-life advocates from taking to the streets in the 43rd annual March for Life.
"It's inspiring to see so many people here, even with Snowmageddon bearing down on us," said Carly Fiorina, the lone presidential candidate at the event.
Snow flurries sprinkled the air as Fiorina wrapped up her speech at the pre-march rally. By 1 p.m., marchers lowered their heads against the wind and snow as they began their ascent from the National Mall to the Supreme Court building. But even in the subfreezing temperatures, the marchers raised their signs and banners high and kept their voices loud. Advocates from Seattle, Florida, Kansas, Canada, and even Puerto Rico came to support the unborn and brought energy to the large crowd. They chanted, "Hey, Hey, Ho, Ho, Roe v. Wade has got to go," and, "Hey, Obama, your momma chose life!"
Kevin Masterson was indifferent to the pending blizzard. He flew in from Wichita, Kan., to join in the march for the fifth year in a row: "If I get snowed in I'll just call out of work on Monday."
Catholic schools and dioceses, a mainstay at the annual event, turned out in droves. But evangelical leaders made it clear they wanted to increase their efforts in the pro-life movement.
"We are grateful for [Catholic] leadership on this issue of life," said Jim Daly, president of Focus on the Family "It's taken us a while to join the party."
Russell Moore, president of the Southern Baptist Convention's Ethics and Religious Liberty Commission, said the Supreme Court's Roe v. Wade decision in 1973 overwhelmed many Christians. "Evangelicals were not ready for an abortion culture," he said.
In the last 43 years, that abortion culture has led to the death of more than 70 million unborn babies.
Moore said abortion is a social-justice issue that has weighed heavily on the hearts of Americans for a long time. After years of roadblocks in the fight against abortion, he said the narrative is slowly shifting toward a pro-life agenda: "I think the pro-life movement is better than almost any other wing of social conservatism when it comes to being persuasive with people."
Focus on the Family partnered with Moore and other evangelical organizations this year to create a supporting event called Evangelicals for Life. The new partnership among faith leaders aimed to increase pro-life activity among evangelical Christians.
Daly said pro-life advocates have more bite than ever before, and he wants more evangelicals involved: "I think people are struggling with the moral consequences of taking the life of a child."
Since 2010, 282 pro-life bills became law at the state level. And earlier this month, Congress brought a measure to the President Obama's desk that would defund Planned Parenthood, America's largest abortion provider.
"Defunding Planned Parenthood is at the center of the debate for the first time in 40 years," said Marjorie Dannenfelser, president of the pro-life Susan B. Anthony List. "Now our folks are on offense. … This is one of those causes that you cannot stop."
Courtesy: WORLD News Service
Photo courtesy: Wikipedia
Publication date: February 1, 2016