Terry Eastland
| The Weekly Standard
| Monday, October 31, 2005
WELL, THAT'S MORE LIKE IT. In Judge Sam Alito, President Bush has chosen a more plausible High Court nominee. Make that a much more plausible nominee. His legal qualifications are exceptional, his character widely attested. And having spent 15 years on the U.S. Court of Appeals for the Third Circuit, he has demonstrated an approach to judging that clearly identifies him as a judicial conservative.
Two points are worth noting on day one of this nomination. The first is Alito's legal experience. His many years on the Third Circuit mean that he knows the labor of an appellate judge, which of course he'll continue to be, only now at the highest level. But early in Alito's career he had plenty of trial work--first as a young prosecutor in the U.S. Attorney's Office in New Jersey, and then, some years later, as the head of that office. He knows what it means to investigate a case, to go before a grand jury, to charge or not charge, to prosecute beyond a reasonable doubt. Furthermore, there are the six very different years Alito spent in the Justice Department. From 1981 to 1985 he served in the Solicitor General's office, where he worked on appeals to the Supreme Court, arguing a dozen cases. And from 1985 to 1987 he was the chief deputy in the Justice's Office of Legal Counsel, which William Rehnquist and Antonin Scalia headed during the Nixon and Ford presidencies, and which has the critical job of advising the president and the departments on legal issues. (An aside: I happened to work at main Justice from 1983 to 1988, and Alito's reputation then was that of a bright, hard-working lawyer of even temper and reserve. He came into the department as a career employee, but his exemplary work impressed his superiors, who recommended him for his presidential appointments as U.S. Attorney and to the Third Circuit.)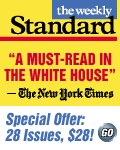 The second point concerns the confirmation process. Much has been said in the last few days about how, in the wake of the failed Miers nomination, the president cannot credibly ask for an up-or-down vote on his new nominee. Apparently, because Miers withdrew her name and there was no floor vote on her nomination (nor even in committee, as the hearings were aborted), the president must not believe his own talking point, and so it may easily be dismissed. But this argument, such as it is, fails to acknowledge the obvious distinction between the president's power to nominate and his power to appoint. The former is entirely the president's, while the latter is shared because an appointment is made only if the Senate approves the nomination. A president can withdraw a nomination at any time since the nominating power is his alone. A president is not forced to force a nominee to go through a confirmation process destined to end in defeat. But for nominees that do go through the process--as is the case with almost all nominees--a president can, as Bush has, fairly contend that each one deserves an up-or-down vote. Alito shows every sign of being a nominee who will go through the process--a process that ought to culminate in, yes, an up-or-down vote.
Terry Eastland is publisher of The Weekly Standard.
 
 
© Copyright 2005, News Corporation, Weekly Standard, All Rights Reserved.