Fred Barnes
| The Weekly Standard
| Thursday, September 2, 2004
September 2, 2004
ACTOR RON SILVER has played some amazing roles. He was boxing trainer Angelo Dundee in the movie Ali. He was defense lawyer Alan Dershowitz in Reversal of Fortune. And he played Secretary of State Henry Kissinger in Kissinger and Nixon, a TV film about the final days of the Vietnam war. At the Republican convention, Silver is playing himself in an unlikely role: a passionate supporter of President Bush.
Silver is not a conservative. Until recently, he considered himself a Democrat. He attended the Democratic conventions in 1992 and 2000. He's never voted for a Republican presidential candidate. He's pro-choice on abortion, he's pro-gay marriage, he favors stepped-up stem cell research by the federal government, and he prefers a single-payer health care system like Canada's.
There's another Ron Silver, though, the hawk in dove's clothing. On national security, he was a Reaganite in the 1980s, backing missile defense, the deployment of Pershing missiles in Europe, and the anti-Communist contras in Nicaragua. Silver was, in the vernacular of that time, a Cold War liberal. "I was fairly consistent on this," he says. "We were involved in an ideological battle."
It was by following the logic of his hard-line position that he now finds himself, two decades later, on Bush's side in the struggle against radical Islam. On Monday night, he delivered a ferocious endorsement of the president as the convention got under way. The delegates were waiting for speeches by John McCain and Rudy Giuliani, but Silver brought them to their feet with flurries like this: "The president is doing exactly the right thing. That is why we need this president at this time." That prompted two standing ovations.
Ronald Reagan said that having been an actor often came in handy in politics. Silver used his acting skills to excite the crowd. "I was playing to the room," he says. "I'm an actor. It was opening night, and I wanted to rouse things up." He did. The political odyssey that brought Silver to Madison Square Garden is a fairly recent one, though he'd been gradually trending toward conservatism for years. He had frequently given speeches for pro-choice groups, but he balked when they wanted him to denounce parental consent and a ban on partial-birth abortion. He was an enthusiastic supporter of all three of Giuliani's campaigns for mayor of New York City. After the 9/11 attacks, Silver became an advocate of an aggressive war on terrorism. He appeared on TV debating anyone from inside the entertainment community-or outside, for that matter-who favored a tamer response. And, he says, he began thinking about where this was leading. "I said to myself, 'What are you doing? You're pretty adamant about this. Why don't you bite the bullet?'"
Biting the bullet meant endorsing the reelection of Bush, which he did a few months ago. "I simply have a tremendous degree of faith in this president and where he's leading us."
There was another factor that made it easier to join the Bush campaign. As he watched the Democratic presidential primaries, Silver says he thought, "Oh, my God, where is my party going? What the hell are they doing?" Silver considered himself a JFK-Harry Truman-Scoop Jackson Democrat. Howard Dean and his antiwar views, adopted by the other Democratic candidates to one degree or another, repelled him. "They were very, very distant from the mainstream," Silver says.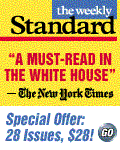 A few weeks ago, Silver was asked if he'd address the convention. He agreed, told speechwriters what he'd like to say, and soon got a draft of a speech that reflected his ideas. It contained strong words which sounded all the more powerful because of Silver's fierce delivery. For example, his message to terrorists was: "We will never forgive. Never forget. Never excuse!" The exclamation point was in the text. Calling himself "a well-recognized liberal," Silver zinged entertainment celebrities who noisily oppose repression but "are usually the first ones to oppose any use of force to take care of these horrors that they catalogue repeatedly." He said Bush's "unwavering leadership" is advancing freedom and democracy.
With Hollywood dominated by Bush-bashing liberals, backing Bush may not have been a great career move. Silver hasn't been offered a new role in 10 months, but he's not screaming blacklist. "I really have no evidence to make that connection," he says. "But if I don't work for another year, then I'll have another story to tell."
At a convention party here, life and art came together when he encountered Kissinger, whom he'd played unflatteringly in Kissinger and Nixon. Kissinger hadn't liked the portrayal, but he told Silver, "I've changed my mind." "Why?" Silver asked. "What's happened since then," Kissinger explained, presumably referring to harsher criticism of himself more recently. "You made me look pretty good."
Fred Barnes is executive editor of The Weekly Standard.
---
© Copyright 2004, News Corporation, Weekly Standard, All Rights Reserved.