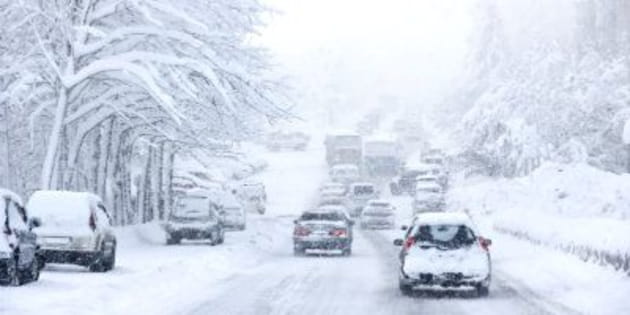 ---
After spending Tuesday night, Jan. 28, stranded at Covenant Presbyterian Church in Birmingham, Ala., pastor Bill Boyd overhead a child sum up the ordeal with much more enthusiasm than any of the adults in the room: "Mommy, that was so fun. When are we going to do that again?" Most people were far less sanguine about the icy weather that wreaked havoc across much of the South this week, closing schools and highways, grounding flights, and contributing to at least a dozen deaths from traffic accidents and one mobile home fire.
"There are still some places today that you can't get to, but we're all coming out of it now," Boyd told me Thursday as he retrieved his wife's abandoned car from a road not far from their home. Boyd spent Tuesday night with about 65 stranded friends and strangers at his church. Despite the frustrations that rained down on the city along with the snow, Boyd said he was encouraged by how many Christians turned the situation into an opportunity to serve: "You kind of start to go back to daily life, hopefully with a renewed perspective of the gospel."
Two of the hardest hit cities were Atlanta and Birmingham, where 2 inches of snow Tuesday turned to ice that coated roads as schools and businesses closed almost simultaneously.
Commutes normally measured in minutes stretched into hours. One Atlanta woman's 12-mile trip home took 16 hours. Another woman gave birth while stuck in traffic. And between Atlanta, Birmingham, and Hoover, Ala., at least 8,000 students spent the night at their schools, with police and the National Guard rescuing dozens more from stranded buses as temperatures dipped into the teens. Motorists took shelter anywhere: at fire stations, grocery stores, and churches.
In Birmingham, a forecasting mistake led state planners to send snow-clearing vehicles south of the city, where the icy conditions were expected. Businesses and schools, including Covenant's, operated as normal Tuesday morning. But by the afternoon, the roads were a mess and people were stuck. Covenant sits on a major artery across from Samford University, and cars lucky enough to move at all were sliding off the road.
Staff at Covenant's day school realized they wouldn't be going anywhere any time soon, so they cooked spaghetti, chicken tetrazzini, rolls, and hot chocolate—enough for 100 people—and posted signs on the road inviting people inside. As the afternoon wore on, Boyd said he heard a stranded 3-year-old tell his parents on the phone, "I'm fine. Can I spend the night here?"
And spend the night they did, church members and strangers alike, with nursery staff putting rooms together "like a hotel," Boyd said. Men with 4-wheelers—the only transportation that could safely navigate the streets, even by Wednesday—brought one women and her infant from their car at midnight. Another woman walked 5 miles before reaching the church. "She was dehydrated and really not fully with it," Boyd said.
The situation was the same, on a much larger scale, in Atlanta, where officials had ample warning from forecasters but chose not to ask people to stay home from work and school. Commuters clogged roads, as everyone tried to get home at the same time. Thousands didn't make it and spent the night trapped in their cars. Ewan Kennedy, pastor of Church of the Redeemer, a Presbyterian Church in America congregation, was one of the people stuck on a road that quickly turned into a parking lot. He spent hours knocking on car windows and offering to help push people up a steep hill.
Although people were trapped, they had their smartphones and access to social media. Facebook groups soon popped up for shelters, for people stranded, and for people to share stories about their good samaritans. Once people began offering to help, Kennedy said, the effort snowballed and "a lot of Christians began to take the initiative." That's how a few stumbled into Redeemer's parking lot at midnight, emailing the church asking for shelter and a restroom.
"We initially told them to go bang on the office door to wake up our sleeping elder," Kennedy said. "We couldn't rouse him." So, church leaders on the phone told people where to find a hidden key. It was about 4 a.m. when elder Phil Drake, also stranded by the storm, discovered he was not alone. "I just kind of stepped in the room and flipped the light on, and there sat a lady in a chair,'" Drake told me. "It was a shock, and hopefully I didn't act too weird."
When morning dawned the next day, sunny, clear, but still below freezing, motorists found themselves just as stuck as the night before. Redeemer member John Camp, 27, and his wife Alex, 25, walked half a mile to pick up a woman and her 5-year-old daughter, friends of friends, who had spent the night in their car near the Camp's one-bedroom apartment. "We ended up having a lot in common with them, but we didn't know that at the time," John said.
For those who opened their homes or their churches, the storm offered an opportunity to grow, especially for suburban congregations not used to stepping out of their comfort zones. In Birmingham, one Covenant member remarked with amazement how many people bunking down in the church were strangers. Ministering to people they didn't know helped church members reconnect with Christ's command to love others. "It's truly engaging to see people use their gifts that way," Boyd said. "It's kind of a recalibration in a lot of ways for the body of Christ."
The storm helped Alex Camp rethink the hospitality potential of her one-bedroom apartment: "Yeah, they slept on the floor and on our couch [Wednesday night]. But it was better than the restaurant or their car, and they were so thankful for it. It's been a good reminder to myself that we can serve the Lord now with what we have … and we don't have to wait until we're 30 or 40 or have a three-bedroom house."
And churches weren't the only places Christians reached out to offer help during the storm. When stranded workers at a Birmingham Chick-fil-A returned to work, they handed out free sandwiches on highways and kept registers closed while cooking breakfast the next day. Chick-fil-A is often criticized for voicing its owners' Christian values. But franchise operator Mark Meadows and his Birmingham team lived those values, and people made the connection.
Georgia Gov. Nathan Deal took responsibility Thursday for the problems in Atlanta. And Charley English, director of the Georgia Emergency Management Agency, lamented that he didn't respond to forecasts until it was too late. "I made a terrible error in judgment," he said.
But through the opportunities government and forecasting mistakes provided, Christians in Atlanta and Birmingham learned a valuable lesson. "It makes you ask, re-ask questions: Alright, what's the purpose of having a building if you're a church? Why do you have a kitchen?" Boyd said. The unexpected service opportunity reminded the congregation that people don't just have needs during so-called disasters.
"There's an opportunity for repentance in certain areas and to exercise greater faith as well," Boyd said.
Courtesy World News Service. Used with permission.
Publication date: February 3, 2014