Sharon Jayson
| USA Today
| Wednesday, April 30, 2014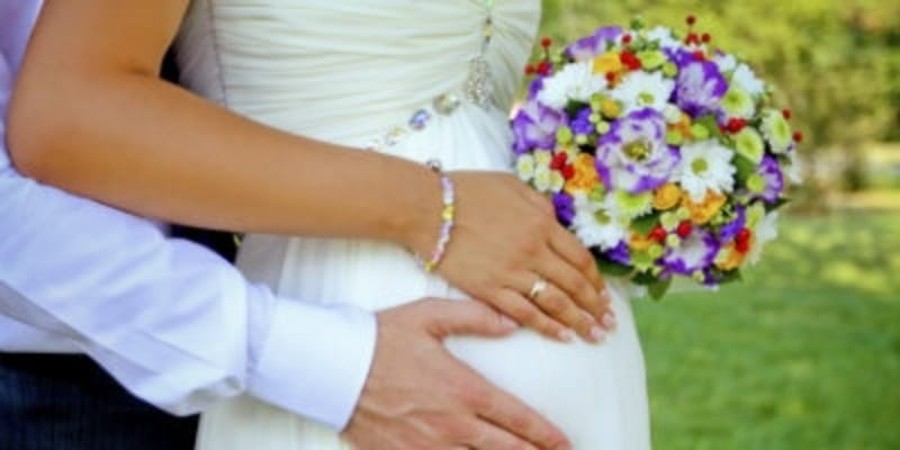 ---
A carefully planned destination wedding finally brought Sheila and Jared Elliott to the altar after twists and turns that included the births of two daughters, the deaths of his parents, and buying a house and car for their growing family.
"Things don't always go in order as planned," says Sheila Elliott, 29, a banker. "We had talked about marriage before I got pregnant. We were already working in that direction when it happened."
Although the couple from Prior Lake, Minn., weren't living together when she got pregnant, they bought a house and moved in together a few months before their older daughter Lexi, now 3, arrived.
"At the time, everything was good, and we had a good relationship the way it was without getting married, and we kind of just waited until the time was right," says Jared Elliott, 39, a machinist.
The Elliotts are among a growing number of couples whose reaction to a surprise pregnancy isn't a fast track to wed. The "shotgun wedding" — a hurry-up union before a birth — is rapidly becoming a relic of the past.
New studies by researchers at Cornell, Duke, Brown and Louisiana State universities, as well as the Census Bureau and National Center for Health Statistics, document the steep decline in such marriages and how socio-economic, racial and ethnic differences affect relationships.
About two-thirds of couples who had a premarital pregnancy in the early 1960s got married in a rush. That share fell to just about a quarter by the early 1990s, research shows. The latest analyses by researchers from those federal agencies — not yet published — suggest a drop to single digits as more couples opt to live together rather than marry and don't want a child to rush them into marriage.
Among new findings:
* 27 percent of women whose first premarital pregnancy was in the 1970s experienced a "shotgun marriage," compared with just 7 percent for pregnancies since 2000.
* The percentage of unmarried pregnant women who marry within three years of conception has fallen by half since the 1970s, from 51 percent to 25 percent.
* The share of single pregnant women who cohabit by the time of the child's birth rose from 8 percent in the 1970s to 28percent today, while the share who married by the birth fell from 29 percent to 8 percent.
* 56 percent of all births involving unmarried couples during the 2000s were to men and women living together, representing just over 20 percent of all U.S. births.
Such changes are the result of a variety of influences, from family and friends to characters on TV or in the movies and how celebrities start families, suggests Robert Thompson, director of the Bleier Center for Television & Popular Culture at Syracuse University in New York.
"A generation ago, having a child without being married was controversial," he says. "Now the culture has proven there are lots of people out there raising children without being married."
"When these things happen in mainstream popular culture, they send a signal to the society that this is normal," Thompson said. "I'm talking less about celebrities because celebrities aren't normal. But when it happens to characters on shows like 'Friends' or 'Ellen' or 'How I Met Your Mother,' it sends the message this is now normal and something people do and an option you can decide upon. That is what I think popular culture's biggest power is."
Last month, "Today" show anchor Savannah Guthrie announced that she and Michael Feldman married and that she was four months pregnant. But Guthrie made it clear theirs was not a shotgun wedding.
"We set the wedding date, I bought my dress, and then I found out," she told viewers.
Most births (59 percent) are still to married parents, said Jonathan Vespa, a demographer at the U.S. Census Bureau and lead author of a study that finds living together as a reaction to an unexpected pregnancy now surpasses shotgun marriages by 3-1.
His analysis of the most recent federal data — based on 6,187 women who had a premarital pregnancy that led to a live birth — concludes that the best odds for marriage come during the shotgun period, before the birth.
The study found that a woman's greatest likelihood of marrying during a premarital pregnancy is within four to six months of conception. Women who don't marry by the time their child is born may be unlikely to do so in the subsequent two years, the data show.
New research by sociologist Daniel Lichter of Cornell University finds that unmarried pregnant women are three times more likely to cohabit than marry. Lichter's focus in this study is pregnancy's effect on a relationship — whether it "dissolved or deteriorated or whether it segued to a more committed relationship."
The study he co-authored, published online in the journal Social Science Research, finds that among those living together at conception, 7 percent had split up by the birth; 14 percent had married and almost 80 percent were still living together.
Each of these new studies shows that more educated women are more likely to marry.
"A half-century ago, most women married first, then had children, regardless of how much education they had. Since then, most women — except those with a bachelor's degree — have changed how they form families, and now have children outside of marriage," said sociologist Christina Gibson-Davis of Duke University.
"Women with a B.A. did not change their family formation behaviors — they still have kids within marriage — but since nearly everyone else changed their behavior, women with B.A. now look different from everyone else."
A study she co-authored, based on federal data spanning 1995 to 2010 from 8,951 first-time mothers, online in May in the Journal of Marriage and Family, finds the percentage of first-time mothers who were married at the birth dropped by one-third, from 68 percent in 1985-1989 to 46 percent in 2005-2010. Over the same period, the percentage of first-time mothers who were living with the baby's father at the birth tripled, from 10 percent to 30 percent.
Fresh research Gibson-Davis will present next month, based on 2.5 million birth records in North Carolina between 1990 and 2012, shows that while shotgun marriage has declined, it's not yet obsolete.
"No one thinks for a moment there's a man out there with a shotgun telling a trembling young father-to-be 'You must marry my daughter,'" she said. "But for young white women under 25, shotgun marriage births are still 16 percent of all married births."
(Sharon Jayson writes for USA Today)
Courtesy: Religion News Service
Publication date: April 30, 2014