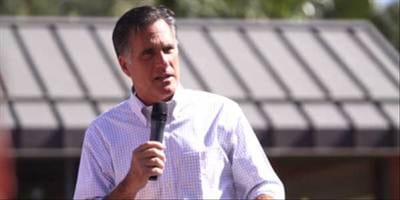 ---
Photo: In this file photo from April 20, 2012, Mitt Romney speaks to supporters at a rally in Tempe, Ariz. (Religion News Service)
(WNS) -- Balloons fell on new Republican presidential nominee Mitt Romney and his family on Thurs., Aug. 30, the final night of the Republican National Convention, and GOP delegates danced in their seats.
"Mr. Chairman and delegates, I accept your nomination for president of the United States," Romney announced, formally putting the primaries behind him.
The evening was an emotional, personal pitch of Romney to hesitant voters watching at home. Home videos played of a young Craig Romney pointing a hose at his dad, Mitt, as he tried to film his son. In perhaps the most moving part of the evening, a couple from Romney's Mormon church in Massachusetts recounted how he spent time with their teenage son as he was dying.
"How many men do you know would take time out of their busy lives to visit a terminally ill 14-year-old and help him arrange his affairs?" asked Pat Oparowsky, the mother. "We will be forever grateful to Mitt for his love and concern." She and her husband, Ted, walked off the stage holding hands to a standing ovation.
Tom Stemberg, the founder of the office supply chain Staples, which Romney's Bain Capital helped launch, spoke about Romney's business experience. Romney's lieutenant governor in Massachusetts, Kerry Healey, defended his time as governor. His secretary of workforce development, Jane Edmonds, an African-American and self-described "liberal Democrat," endorsed him and emphasized that he placed women in prominent positions in his administration. U.S. Olympic medal winners hailed Romney's work in turning around the Salt Lake City Olympics in 2002.
Then the night's "mystery speaker," Clint Eastwood, appeared to endorse the governor, delivering a rambling talk without notes, as the red light blinked telling him to get off stage. But the crowd went wild for him. Earlier this year the actor-director appeared in Chrysler's viral Super Bowl ad "Halftime in America," which many took as an endorsement of a second term for Barack Obama. Eastwood, instead, said Thursday that it was time for a "businessman" to take the reins.
For the second night in a row, the campaign addressed an issue that it has studiously avoided: Romney's Mormonism. His faith played well with the crowd, and with the media. Romney's assistant pastor in Massachusetts, Grant Bennett, spoke at length about their work leading their Mormon congregation and Romney's faith. Bennett said Romney "didn't discuss questions of theology" but rather defined his faith as good works.
"He found the definition of religion given by James in the New Testament to be a practical guide," Bennett said, quoting, "'Pure religion is to visit the fatherless and the widows in their affliction.' … Mitt taught faith in God, personal integrity, self-reliance, and service to our fellow men." Bennett described Romney as "deeply good."
After the denizens of speakers, the freshman star Sen. Marco Rubio of Florida, the son of Cuban immigrants, set the table for Romney's prime time speech in his easy, winning style.
"No matter how you feel about President Obama, this election is about your future, not his," Rubio said. He criticized the nation's growing regulations and national debt. "These are old, big government ideas that have failed every time and everywhere they've been tried. These are ideas that people come to America to get away from." Rubio appealed to voters to bring in leadership on behalf of "Americans who haven't yet been born," and to a deafening roar introduced Romney.
Romney echoed Rubio's optimistic themes. "We Americans have always felt a special kinship with the future," Romney said. "Now, for the first time, the majority of Americans doubt that their children will have a better future."
He ticked off the major issues — including a rare mention of school vouchers — without getting, as his vice presidential nominee Paul Ryan put it earlier in the day, "granular." He promised to create 12 million jobs. He promised to protect religious freedom.
"President Obama promised to slow the rise of the oceans and to heal the planet," Romney said. "My promise is to help you and your family."
Again appealing to the undecided voter, he said, "You know there's something wrong with the kind of job he's done as president when the best feeling you had was the day you voted for him."
Cardinal Timothy Dolan delivered a benediction to close out the convention. Kids and delegates kicked the hundreds of loose balloons around and snatched signs for souvenirs while TV crews packed up their gear to head to Charlotte, N.C. — where the Democratic National Convention starts next week.
c. 2012 WORLD News Service. Used with permission.
Publication date: August 31, 2012