Rachel DiCarlo
| The Weekly Standard
| Thursday, October 21, 2004
October 21, 2004
THE PRESIDENT'S REELECTION CAMPAIGN is getting a big boost from a powerful Christian group that has enlisted dozens of entertainers on its behalf to convince young evangelicals to vote.
The group, Redeem the Vote, functions as the religious community's answer to MTV's secular Rock the Vote initiative that spurred many young voters to the polls in 1992. Back then, 18 percent of Bill Clinton's 43 percent of the vote came from people between 18 and 35-years-old. Exit polling showed a significant portion of that was a result of Rock the Vote.
"We're doing the same thing to involve evangelical young people," Redeem the Vote founder Randy Brinson says.
The organization is touring battleground states like Ohio, Pennsylvania, Wisconsin, and Florida with Christian rock groups, who put on concerts featuring individual bands and two- and three-day long multi-band music festivals or "Christian Woodstocks," like the Lifeline music festival in Wisconsin and Celebrate Freedom in Dallas, Texas.
Before registration deadlines passed, performers implored concert attendees to stop by voter registration booths set up at the concert venues. Now, the emphasis is on encouraging them to cast their ballots 12 days from now.
Tour stops are not only in states with coveted electoral votes--there are concerts planned in states that are not as hotly contested, like Tennessee, New Jersey, and New York, where higher voter numbers can help the candidates in the popular vote.
Sixty-thousand to 100,000 people have attended each of the music festivals, with a few thousand going to the smaller ones, and about 30,000 have registered to vote. Another 40,000 have signed up on Redeem the Vote's website. The numbers are significant, especially after the 2000 election when dozens of electoral votes came down to just a few hundred ballots in places like Florida and New Mexico.
Redeem the Vote has also persuaded Jim Caviezel, who played Jesus in Mel Gibson's The Passion of The Christ, to appear in a webcast, entreating all Christians to vote. The actor never explicitly endorses the president, but in the webcast he reminds viewers that Bush shares their opposition to abortion, same-sex marriage, and judicial activism.
"In this election year Americans are faced with some of the most important issues in the history of our country," Caviezel says. "In order to preserve the God-given freedoms we hold dear, it's important that we let our voices be heard."
Caviezel's message has been disseminated to 20,000 churches and in millions of emails Redeem the Vote is sending to evangelical Christians, whose information was obtained from the marketing firms responsible for making The Passion a box-office smash. The response so far has been overwhelming Brinson says. "People are getting in touch with us and asking us how they can get it for their church."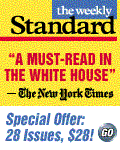 The group bills itself as nonpartisan though and doesn't advise people how to vote, although the moral issues they say should be considered align more closely with the president's positions.
Bush strategist Karl Rove has long contended that Bush would have won the popular vote if 4 million Christians had shown up at the polls four years ago. Republicans traditionally capture 70 percent to 80 percent of the evangelical vote.
Brinson says he sees a parallel between the evangelical vote and the African-American vote. "The two parties have these huge voting blocs that seem to be monolithic, but are very diverse," he said. "For years the Republican party wrote off African-Americans because they weren't able to make inroads with them, while the Democrats took them for granted. I see that with the evangelicals. Republicans have been taking them for granted, while the Democrats have written them off."
His group is hoping to change that pattern on November 2.
---
Rachel DiCarlo is an editorial assistant at The Weekly Standard.
---
© Copyright 2004, News Corporation, Weekly Standard, All Rights Reserved.