Mark D. Tooley
| Weekly Standard
| Wednesday, May 10, 2006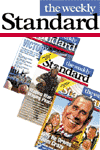 May 10, 2006
ON THE RELIGIOUS LEFT, the great hope these days is that the Religious Right is melting down over Global Warming. Liberal evangelical activist Jim Wallis rejoiced about the crack-up in a recent column, claiming that "the Religious Right is losing control" thanks to environmentalist evangelicals. Wallis, head of "Sojourners" and author of God's Politics: Why the American Right Gets It Wrong and the Left Just Does Not Get It, is predicting a "sea change" among evangelicals since the Religious Right has "now lost control of the environmental issue."
The reason for Wallis's optimism is the newly-created Evangelical Climate Initiative (ECI), endorsed by 86 religious leaders, which declared early this year that "human-induced climate change is real" and which urged legislation limiting carbon dioxide emissions. Those endorsing the ECI were mostly academics from evangelical colleges, with the notable exception of mega-church pastor and best-selling author Rick Warren. The New York Times and other media outlets lavished much attention on ECI's stance.
Absent from the ECI endorsement was the National Association of Evangelicals (NAE) and its long-time Washington representative, Richard Cizik. An enthusiast for environmental causes, Cizik is prominently included in Vanity Fair's May 2006 "Green Issue," which features the cover-line, "A Graver Threat than Terrorism: Global Warming." Inside is a full-page shot of Cizik, clad in clerical black and walking barefoot across the water, back-dropped by an apocalyptic and no doubt very hot landscape.
Vanity Fair reports that Cizik often cites Revelation 11:18's ostensible warning that God will "destroy those who destroy the earth." "Amen to that," Vanity Fair concludes.
WHY HAS THE ECI GOTTEN SO MUCH PLAY? Evangelicals have become the Republican party's largest and most reliable voting constituency, thanks in large part to concerns about abortion and homosexuality. If environmental issues can divide these voters, it might spell doom for the Republican coalition.
So Jim Wallis is excited. "The Evangelical Climate Initiative is of enormous importance and could be a tipping point in the climate change debate, according to one secular environmental leader I talked to," he writes. Concern about the environment, he hopes, will lead to an evangelical embrace other issues of the Left.
All of which hopes are somewhat dampened by the National Association of Evangelicals' decision not to join the ECI. According to Wallis, Cizik and NAE president Ted Haggard, a Colorado mega-church pastor, attended environmental seminars and have experienced an "epiphany" on climate change. They were fully onboard with the issue.
That is, Wallis laments, until the "Religious Right reared its head." Twenty-two of the "Right's prominent leaders" publicly asked the NAE not to adopt a position on climate change. "Global Warming is not a consensus issue," warned conservatives, including Focus on the Family's James Dobson, Prison Fellowship's Charles Colson, and the Southern Baptist Convention's Richard Land. (This statement was also signed by the then-interim president of the Institute on Religion and Democracy, for which I work.)
"We are evangelicals and we care about God's creation," read the Dobson-Colson-Land letter. "However, we believe there should be room for Bible-believing evangelicals to disagree about the cause, severity, and solutions to the global warming issue." The letter urged NAE to foster "unity" in the Christian community.
NAE President Haggard wrote to the Dobson-Colson-Land group that the NAE executive committee recognized the "ongoing debate regarding the causes and origins of global warming" and understood the "lack of consensus among the evangelical community on this issue." NAE staffers were directed to "not exceed in any fashion our approved and adopted statements concerning the environment," as found in a 2003 document called "For the Health of a Nation: An Evangelical Call to Civic Responsibility."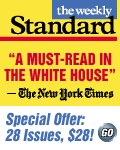 No doubt the NAE was responding to Dobson, Colson, et al. But their response also reflected the truth that evangelicals do not have a clear scriptural or historical teaching on Global Warming--as they do on an issue such as same-sex marriage.
After the NAE vote, Cizik withdrew his signature from the Evangelical Climate Initiative, telling Christianity Today that he wanted "to display an accommodating spirit to those who don't yet accept the science on the severity of the problem." Undoubtedly the organizers of the ECI were disappointed about the absence of the NAE, which represents 45,000 churches.
UNDETERRED, Wallis insists that the Religious Right has been able to win with its "wedge issues" only when it could "control a monologue on the relationship between faith and politics." He wants to deflect evangelical attention away from abortion and homosexuality and towards Global Warming and poverty, focusing on an expanded welfare and regulatory state and reduced U.S. sovereignty in the world.
But contrary to Wallis's hopes, it does not appear that most mainstream evangelicals are likely to flip politically as a result of Global Warming. Those who argued against NAE's adopting a Global Warming stance, like Dobson and Colson, head popular para-church ministries with hundreds of thousands of supporters. In contrast, almost all of the ECI signers are academics from seminaries and Christian colleges.
Among many evangelical academics there is an ongoing self-consciousness and about their evangelical identity. Some of them want to disassociate themselves from the traditional Religious Right and its seeming preoccupation with issues of personal morality. Embracing legislation to reduce carbon emissions, backed up by a few vague scripture verses, has become an easy way to disassociate from old evangelical stereotypes.
According to Wallis, "biblically-faithful Christians" are soon going to turn against the Religious Right and instead follow his Religious Left. Instead, it seems more likely that an easy acceptance of apocalyptic warnings about a burning planet will ultimately confirm, not overturn, the political leanings of conservative evangelicals.
---
Mark D. Tooley directs the United Methodist committee at the Institute on Religion and Democracy.
© Copyright 2006, News Corporation, Weekly Standard, All Rights Reserved.