Katherine Britton
| Crosswalk.com, News & Culture Editor
| Thursday, September 11, 2008

September 11, 2008
When Sen. John McCain picked Gov. Sarah Palin as his running mate, something happened among conservative evangelicals. They got excited about voting.
A two-part email survey by Crosswalk.com showed that support for the Republican candidate jumped among conservative evangelicals after he announced Sarah Palin as his running mate. A follow-up survey found that this support remained unchanged even after news surfaced of Palin's daughter's pregnancy. The survey also polled voters on the importance of a candidate's religion and asked them to rank hot-button policy issues.
More than 4,000 Crosswalk users nationwide participated in these surveys.
"The religious conservative voting block is increasingly influential and it would be difficult to over emphasize the importance of this constituency in the 2008 elections," said Chad Nykamp, Salem Web Network Director of Marketing, who oversaw the survey.
"Bottom line, for McCain to win he is going to need the support of Evangelicals and it appears that he will have it. It would also be difficult to over emphasize the impact that Sarah Palin has had on this race. Palin energized a previously very unenthusiastic group of Christian conservatives."
The Palin Effect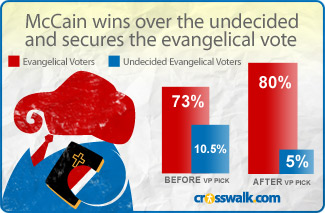 In the weeks leading up to his VP pick, McCain held 73 percent of the evangelical vote. Just one week after announcing Palin as his running mate, that percentage jumped to 80 percent and the number of undecided evangelicals dropped by half.
Obama's retained just 13 percent of the evangelical vote, both before and after the Democratic National Convention in Denver.
More than 35 percent of the 1,771 people surveyed in part two considered a candidate's choice of running mate to have "a lot of influence" on their voting decision. Another 45% said the choice had at least some influence on their vote.
The McCain/Palin ticket also resonated with evangelicals who describe themselves as Independent. Support for the Republican ticket among these voters jumped from 54 percent to 62 percent – an 8 percent increase – after the announcement of Palin's nomination.
Even among Republican evangelicals, voter intentions show a post-VP pick jump. McCain now holds 96 percent of those votes, compared to 91 percent in prior weeks.
The survey also indicates that Palin is indeed appealing to female voters. Previous support showed McCain with a little more than 70 percent of the evangelical female vote, jumping to 79 percent after the VP pick. The percentage of undecided voters in this demographic dropped by 50 percent. Meanwhile, Obama's support among female evangelicals remains unchanged at 14 percent.
Ethnicity demographics showed that support for McCain rose the most among Hispanic evangelicals, where support increased by 14 percent to earn McCain 74 percent total. Support for Obama dropped from 19 percent to 12 percent in the same category.
Among Caucasian evangelicals, the percentage of those voting for McCain rose from 81 percent to 88 percent. The African American evangelical vote for McCain dropped while support for Obama increased – a 2 percent shift from McCain in favor of Obama.
These numbers show McCain/Palin's support among evangelicals to be even stronger than the support President George W. Bush enjoyed in 2004. The so-called religious right appears to have reemerged, with 81 percent of Caucasian evangelicals backing McCain compared to Bush's 78 percent.
Daughter's Pregnancy Earns Increased Support
This new-found support correlating with McCain's VP announcement remained unaffected when news surfaced that Palin's unwed daughter, 17-year-old Bristol, was pregnant. Instead, support actually rose again.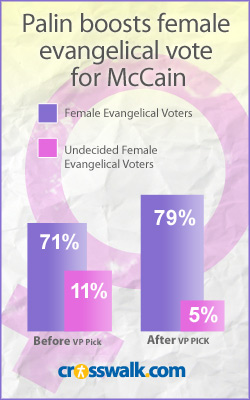 Of the 1,738 people surveyed, only 1 percent said they no longer support McCain as a result of Bristol's pregnancy. Twenty-four percent of evangelical voters said the news actually strengthened their support of McCain/Palin, and 61 percent said their support for Palin was unaffected by the news.
One participant who voiced increased support for McCain/Palin said, "I believe it makes Sarah more real and in touch with normal people. Her reaction, love and support for her daughter and commitment to life have actually caused me to support the Republican party for this election."
Other participants echoed that parents can teach their children, but children will ultimately make their own decisions. Many also expressed frustration at the media attention Bristol's pregnancy has drawn.
Religion Still Matters
As both the Democratic and Republican national conventions proved, religion remains a critical question in the election.
In part one and two of the survey, 76 percents of participants said a candidate's religion affects their vote.
By denomination, Baptists were most likely to say that a candidate's religion mattered, with only 12 percent dismissing it as a voting issue. Catholics were the least likely to be influenced by a candidate's religion, with 46 percent saying it did not influence them. The same percentage of Catholics, however, said it was a factor in their voting decision.
The motivation behind choosing a candidate also stems from religion. Almost 93 percent responded that voting is a Christian responsibility. Eighteen percent, however, said that abstaining from voting is an acceptable option when no candidate is preferred.
Abortion Isn't the Top Issue
In spite of the importance of religion, pocketbook issues rose above social concerns in the minds' of survey participants.
Asked to rank eight issues in order of importance, participants placed the economy of highest significance. Abortion ranked second. Concerns about the war in Iraq and defense issues trumped homosexuality and same-sex legislation, followed by health care, education, illegal immigration, and the environment.
The economy surfaced as the biggest concern and issue for all ages except those over age 65, who placed war and defense issues in the top spot.
"In a way, that's not too shocking, given that so-called 'pocketbook' issues and matters of war-and-peace tend to always dominate the pecking order for voters," said Dr. Paul Kengor, professor of political science and executive director of the Center for Vision & Values at Grove City College.
"However, you might think evangelicals would swim against the tide when it comes to the moral issues. This suggests that evangelicals are not all that different from voters generally, which is an interesting finding that ought to surprise the secular press," he continued.
Editor's Note:
This survey was sent by email to Crosswalk.com subscribers and was not an online poll. Participants included in this survey were chosen randomly and proportionally from a pool of subscribers with verified geographic data from all 50 states. Based on the sampling method and sample size, the estimated margin of error is +/- 1.9%.