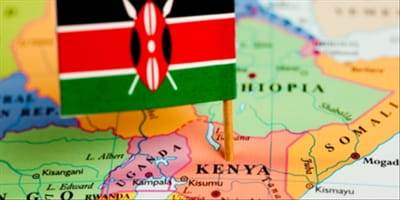 ---
Gunmen carrying grenades and automatic weapons attacked a shopping mall in Nairobi on Saturday, leaving at least 30 people dead. Westgate Mall is an upscale shopping destination, popular with expatriates in Kenya's capital city.
The Red Cross has reported that 30 people have died in the attack, and a Kenyan government official says that at least 100 people are injured. One suspected gunman is reportedly dead after a clash with police.
Al-Shabaab, an al-Qaeda-linked militant group based in neighboring Somalia, has claimed responsibility for the deadly attack in which gunmen targeted non-Muslims.
The militant group took responsibility for the attack on Twitter hours after gunmen entered the mall. "The Mujahideen entered #WestgateMall today at around noon and are still inside the mall," the group posted, according to CNN.
The group's Twitter account, followed by some 6,000 people (including many journalists), had been suspended earlier this month.
Journalist Martin Cuddihy of the Australian Broadcasting Corp was at the scene of the attacks. He reports that authorities are saying as many as 36 hostages are still being held by the gunmen inside the mall.
Marie Harf, deputy spokeswoman for the State Department, said on Saturday that Americans are among those injured in the attacks.
"We condemn this senseless act of violence that has resulted in death and injury for many innocent men, women, and children," she said in a statement. "Our condolences go out to the families and friends of all victims. We have reports of American citizens injured in the attack, and the U.S. Embassy is actively reaching out to provide assistance."
Kenyan police chief Benson Kibue told reporters, "We are treating this as a terrorist attack."
Elijah Kamau was in the mall at the time of the shooting. He told reporters that non-Muslims were targeted by the attackers. "The gunmen told Muslims to stand up and leave. They were safe, and non-Muslims would be targeted," he said.
Jay Patel, another witness, saw gunmen with a group of people on the upper parking deck of the mall. He said that some of the people stood up and left as the attackers talked, while others were targeted and shot.
Christians comprise 83 percent of Kenya's population of 44 million people, with Muslims making up about 11 percent of the population.
59-year old Marcel Hale, originally from France, said he narrowly escaped the attack with his wife. He described a bearded gunman yelling "Allahu Akbar!" (Arabic for "Allah is great!") as he fired shots toward Hale.
"They just came in and threw a grenade. We were running and they opened fire. They were shouting and firing," said Manish Turohit, 18, who hid in a parking garage for hours during the attacks.
The Kenyan government's cabinet secretary for interior and coordination, Joseph Ole Lenku, could only confirm 11 deaths in the mass shooting on Saturday, saying that he is waiting on more information.
"It may go up, but for now, that's the number we have," he said, adding that "security forces had taken control of the situation."
With more than one report of a Somali gunman, some officials are blaming the Somali militant group al Shabaab – also responsible for numerous shootings, bombings and attacks against churches. The group had previously threatened to attack Westgate.
Kenya has sent peacekeepers to neighboring Somalia to help push insurgents out of Mogadishu, Somalia's capital, and help protect the Somali government.
Joseph Ole Lenku urged caution for the moment. "We don't want to speculate for now who made the attack," he said.
Sources say the attack began in an outdoor café located toward the front of the mall. "We started by hearing gunshots downstairs and outside," said Patrick Kuria, an employee at the restaurant. "Later we heard them come inside. We took cover. Then we saw two gunmen wearing black turbans. I saw them shoot."
Kenya's deputy president H.E. William Ruto released a statement on Saturday. "We will bring to account the perpetrators and their accomplices. Our security is important," he said, adding that "the Government will bring the siege to end." Ruto called the deadly attack a "cowardly and dastardly act," and offered sympathy to those families whose loved ones were injured or killed.
Somalia's president Hassan Sheikh Mohamud, too, sent condolences to victims on Saturday.
"These heartless acts against defenseless civilians, including innocent children, are beyond the pale and cannot be tolerated," he said in a statement. "We stand shoulder to shoulder with Kenya in its time of grief for these lives lost and the many injured."
Kristin Wright is a columnist and contributing writer at ReligionToday.com, where she focuses on global human rights issues. Kristin has covered topics such as bride trafficking in North Korea, honor killings in Pakistan, and the persecution of members of minority faiths in Iran. She has visited with religious minorities in Pakistan, worked with children at risk in Mumbai's "Red Light" district, and interviewed individuals on both sides of the Israeli-Palestinian conflict. Kristin recently returned from Turkey and the Syrian border, where she covered the plight of refugees fleeing the conflict. She can be contacted at [email protected]
Publication date: September 21, 2013