Erin Montgomery
| The Weekly Standard
| Thursday, November 13, 2003
THE RECENT FLURRY of media attention surrounding Jessica Lynch--the NBC movie "Saving Jessica Lynch" aired this past Sunday and the former POW's "Primetime" interview with Diane Sawyer aired Tuesday--has many viewers wondering what really happened in the days leading up to April 1, 2003, when a U.S. Special Operations team rescued the 19-year-old supply clerk from Saddam Hospital in the Iraqi city of Nasiriyah.
Mohammed Odeh al-Rehaief, the 33-year-old Iraqi attorney responsible for informing the Marines of Lynch's whereabouts, recounted his story to an audience of reporters at a National Press Club conference Monday afternoon. Dressed in a handsome olive suit, with an American flag pin shining on his left lapel, al-Rehaief began his speech humbly: "I know my English is broken, but I hope you enjoy my story." And what a story it is.
Al-Rehaief's life changed on March 23, the day Lynch's Army convoy was ambushed. Some of the surviving convoy members were brought to the local Baath party headquarters near al-Rehaief's home for processing. Al-Rehaief saw the surviving POWs beaten by a crowd and later that day saw the dead bodies of several members of the convoy paraded in a roundabout a block from his house. Pfc. Lori Piestewa, who'd been driving the Humvee in which Jessica Lynch had been a passenger, was among the dead. On March 26, a refugee who'd witnessed the actual convoy attack told al-Rehaief he had seen a soldier (determined later to be Lynch) being pulled from the Humvee and stomped upon. The next day, al-Rehaief went to visit his wife at Saddam Hospital, where she worked as a nurse. He learned from her that a POW was being held in the cardiac unit and later, from his sister-in-law (a doctor at the hospital) that this POW was a woman. After sneaking into the unit, al-Rehaief saw, through a glass panel, a young woman being interrogated and slapped by a fedayeen officer.
"She's a young lady, a child of God," al-Rehaief said on Monday, as he emotionally recalled seeing Lynch laying helpless in the hospital bed being slapped by her captors. "I have a daughter myself," he said. That sight was enough to make al-Rehaief risk his life and that of his wife and daughter to pay a visit to the Marines. It was a dangerous six-mile walk from his house and after nearly being shot in his first encounter with the Marines, al-Rehaief managed to gain their trust by giving them information about an Iraqi suicide bomber who was using an ambulance to deceive his potential victims. "My proof was the ambulance. [Bombers] use the ambulance to attack the American army," al-Rehaief explained. The Marines requested that al-Rehaief return to the hospital to gather more information about the POW and provide them with detailed floor plans of the hospital.
In the meantime, the fedayeen had ransacked al-Rehaief's home but his wife and daughter were unharmed. On March 30, al-Rehaief returned to the hospital to discover that Lynch was scheduled to have her leg needlessly amputated. He asked his sister-in-law to do her best to postpone the operation. By faking heart palpitations, al-Rehaief managed to return to the cardiac unit. He confirmed that Lynch could be moved and comforted her. "I told her, 'Don't worry,' but she [didn't] understand me. I [said] it a second time, 'Don't worry,' and she gave me little bit of smile." He could not, however, give her any details of his mission.
On his way out of the cardiac unit, he was discovered by the fedayeen who chased him as he drove toward Victory Bridge (Nasiriya means "victory" in Arabic). The bridge was bombed as he crossed it, and al-Rehaief permanently lost vision in one eye from a shrapnel wound. Al-Rehaief barely escaped death after he we was taken into custody by a death squad on his way back to the Marine camp. He eventually made it to the camp, and the rest is now history.
AL-REHAIEF SPOKE VERY BRIEFLY at the conference about his specific role in Lynch's rescue (all the details are there in his new book "Because Each Life is Precious," on which the NBC movie was largely based) and spent the majority of the conference fielding questions from the audience, with the help of a translator. He graciously answered questions from confused reporters who inquired about discrepancies between his book and Rick Bragg's Lynch biography, "I Am a Soldier, Too." "I have not read her book," al-Rehaief said. "I know what I saw, and I am sure about it." The Lynch biography casts doubt on al-Rehaief's story, as she has no recollection of the attorney. "She says that [al-Rehaief] may indeed have helped her," Sawyer said in last night's interview. "If he did, she's grateful, but she simply does not remember him . . ." Lynch also does not recall being raped by her captors, a fact that did not seem to surprise al-Rehaief, who imagines her terrible ordeal could have such an effect.
Al-Rehaief says he has not spoken with Lynch since her rescue. "I think when the time is right, we will meet." When asked if he'd received any appreciation from the Lynch family, he responded, "My thanks is her safety." Another thing al-Rehaief is thankful for is the media. "The media is very important to me. Do you know why? It's through the media that I knew where and when [the fedayeen] came through Nasiriyah." That is, the media kept him and his family safe while they lived in the midst of a battleground. "I pray that the USA finds Saddam Hussein," al-Rehaief said. "Saddam had no respect for any life in Iraq," he added.
"What I saw changed my whole life," al-Rehaief said, summarizing his mission to save Lynch. In exchange for his heroism and help, al-Rehaief, his wife, and daughter were granted "humanitarian parole" by the Department of Homeland Security. He was later granted asylum by the Bureau of Citizenship and Immigration Services. He and his family live in Washington, D.C., where al-Rehaief works for the lobbying firm The Livingston Group; he has also expressed interest in working for the Iraqi embassy.
Erin Montgomery is an editorial assistant at The Weekly Standard.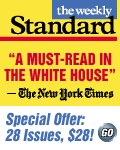 © Copyright 2003, News Corporation, Weekly Standard, All Rights Reserved.