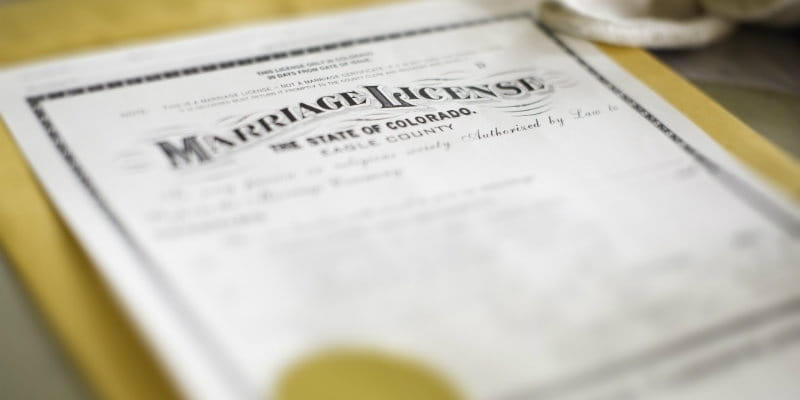 ---
Jennifer Schoenrock, 56, is a mother of four grown children, a grandmother to two, the wife of a disabled veteran, and her family's breadwinner. She works for about $24,000 a year as a deputy clerk in Waynesville, Mo., a small town in the rural Ozarks. She handles court tasks like filing criminal records and certifying marriage licenses. The job helped pull the family from a financial crisis.
Schoenrock describes herself as a "rule follower," but as the Supreme Court appears poised to legalize same-sex marriage nationwide, she has asked herself as a Christian whether she could in good conscience issue marriage licenses to gay couples. She wondered whether her concerns were misplaced. She wasn't a pastor blessing a marriage but a clerk issuing a license and then certifying the marriage. She has a close relative and friends of her children who identify as gay. She wants to love them.
"Is this really a hill you want to die on?" friends asked her. She asked herself: "What good is this going to do anyone else if you lose your job over it? How does this glorify God?" After wrestling with the issue in discussions with her family, she decided she could not issue the licenses to gay couples. She is one of the few clerks nationwide to discuss openly her conscientious objection.
"I want to do the right thing," she said.
Schoenrock doesn't have a problem with civil unions for gay couples. She has a problem with issuing and certifying a license that says "marriage license" on top. She thought of Jesus' words in the gospel of Mark: "Whoever causes one of these little ones who believe in Me to sin, it would be better for him if a great millstone were hung around his neck and he were thrown into the sea."
"These are like my kids," she said, referring to the couples that come in for marriage licenses. "I can't do it."
When couples wanting to get married come into the courthouse, deputy clerks like Schoenrock run through basic questions with them to see if they qualify for a marriage license. The clerk will fill out the basic application, give it to the couple to sign, and then the couple will have an officiant sign the marriage license when they have the wedding ceremony. Then the couple returns the license to the clerk, who certifies the marriage with a seal and stamp.
Gay marriage is not legal in Missouri, yet. Last fall a federal judge struck down Missouri's constitutional amendment that defines marriage as between one man and one woman, but the state attorney general appealed the ruling to the 8th U.S. Circuit Court of Appeals. The marriage law remains in place pending arguments before the 8th Circuit in May.
But first the Supreme Court will decide the issue for states. The high court will hear arguments on the legality of state marriage laws at the end of April and decide the issue by the end of June. The 8th Circuit is likely to wait and see what the Supreme Court does. And at the high court, signs point to the imminent legalization of gay marriage nationwide.
The Supreme Court has issued orders this past fall allowing lower court rulings against state marriage laws to stand. That pattern, coupled with its 2013 ruling striking the federal Defense of Marriage Act, signals trouble for state marriage laws. So, with the caveat that the Supreme Court is always unpredictable, Missouri deputy clerks should have until the end of June to decide how they will handle conscience objections if they have them.
Aside from First Amendment protections for clerks like Schoenrock, Missouri and 19 other states have their own version of the federal Religious Freedom Restoration Act (RFRA). Another 11 have state court precedents following the RFRA legal standard. Indiana Gov. Mike Pence on March 26 signed a RFRA measure into law, and several other states are considering such measures. Press reports have characterized these laws as a cover for businesses to refuse to serve gay customers, which is incorrect. Though the measures may vary slightly from state to state, most merely set the federal RFRA legal standard for state courts considering cases.
The RFRA standard is this: The state government may only impose a "substantial burden" on a person's religious freedom if it has a "compelling interest" and is using the "least restrictive means" to accomplish that interest.
In an objecting clerk's scenario under a state RFRA, the employer should accommodate the religious objector unless the state has a compelling interest in gay marriage and there is no less restrictive alternative to accomplish gay marriage. In other words, if the Supreme Court declares gay marriage a constitutional right, Schoenrock's employer should still accommodate her as long as there is someone else who can administer marriage licenses for gay couples.
Carl Esbeck, a lawyer at the University of Missouri School of Law and expert on religious liberty issues, said the likelihood of courts protecting clerks would depend on a variety of factors: whether the state has its own RFRA statute, and which judge hears the case. He said if he were representing a deputy clerk he would argue the case based on protections in the federal Title VII (which prohibits employers from discriminating on the basis of religion), the U.S. Constitution's free exercise clause, the state RFRA if the state had one, the state constitution, and the state's Title VII equivalent.
"But with the wrong judge, even in a blue pocket of an otherwise red state, you might just lose," he said. "All one can say for certain is: The clerk has good arguments, so long as another clerk is reasonably available to issue the license."
Kellie Fiedorek, an attorney who handles this issue for the Alliance Defending Freedom, is more bullish: "Regardless of whether a state has a RFRA or not, individuals still have state and federal protection." ADF issued legal memos for clerks in most states where same-sex marriages are being performed, informing them of their conscience protections under state and federal laws.
Fiedorek said many states could turn to statutory provisions already in place about deputizing someone else to handle a clerk's duties, provisions that typically apply to when the clerk is sick or on vacation.
It appears no clerks have filed lawsuits over this issue so far, despite the fact that gay marriages are legal in a majority of states now. Fiedorek thinks that might be good news. "Oftentimes employers likely are accommodating their employees and we don't hear about it because there's no lawsuit filed," said Fiedorek. "It doesn't make any headlines because no one knows what goes on in their government buildings."
In Montana, the Yellowstone County Courthouse accommodated an anonymous objecting clerk in December when a federal court legalized gay marriage there. But the accommodation came after some strife in the office. A deputy clerk in Yellowstone County expressed a religious objection to certifying marriage licenses, and county clerk Kristie Boelter said publicly that such clerks would need to find a new job. "If your beliefs are so strong that you cannot do this, a job in my office is not for you," she wrote in a letter to the editor of the Billings Gazette.
Yellowstone County's legal counsel intervened, advising Boelter that the deputy clerk qualified for a religious waiver under the Montana Human Rights Act and that refusing an accommodation would expose her to personal liability. Boelter agreed to accommodate the employee, but only because the office would still be able to process licenses for gay couples without a delay.
Schoenrock said all 14 deupty clerks in her office know how to certify marriage licenses by hand, although the office went digital recently. She thinks others in her office could handle gay couples' licenses. She guesses the clerk's office would process more gay marriages than another similar small, rural town because a military base sits nearby. Still, the Pulaski County clerk's office only issued about 400 to 500 marriage licenses last year, according to Schoenrock, and not all of those came back for certification.
Recently Schoenrock went to her boss, whom she describes as "awesome," and voiced her conscience concerns.
"I thought, 'I owe it to my boss to let her know where I stand,'" she said.
Her boss seemed surprised, according to Schoenrock, and asked whether she was planning on moving on.
"I said, 'I hope not!'" Schoenrock recounted. She launched into describing the United States' "long history" of protecting conscientious objectors.
"I'm not sure she really understood that parallel, and I may not have expressed it very well," she said. Schoenrock left the conversation unsure of what will happen to her if same-sex marriage becomes legal in Missouri. Though her decision would catapult her family into financial hardship, Schoenrock is prepared to resign her job if the office does not accommodate her religious objection. Schoenrock's son will be getting married at the end of June. She's hopeful that she can stay in her job long enough to fill out his marriage license.
Courtesy: WORLD News Service
Photo courtesy: Thinkstock
Publication date: April 6, 2015