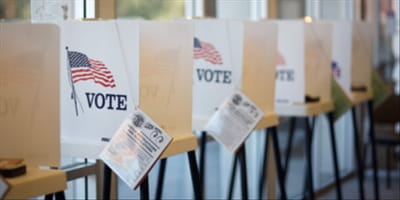 ---
(WNS) -- A light rain falls as a meeting gets underway at Wayland Baptist Church in Baltimore. Thirty-one people file into the chapel and slide into worn wooden pews with a Star of David emblazoned on each end.
It's Monday night, but it feels like a Sunday sermon.
"The power of the election is in your hands," Derek McCoy nearly shouts as the crowd murmurs agreement. "This is our defining moment in history!"
It's not the heat of a presidential election that riles McCoy, who tells the audience he doesn't care which candidate they support: "Vote for Gerald Ford, vote for Harry Truman if you want," he quips. "We just need you to vote against Question 6 on November 6."
McCoy, executive director of the Maryland Marriage Alliance, has been crisscrossing the state for months to stop same-sex "marriage" from becoming permanent law. In March proponents jammed the Civil Marriage Protection Act through the Maryland General Assembly after failing in three previous attempts. The Maryland Marriage Alliance responded by rounding up 162,000 signatures — almost three times the amount needed — by the end of July to force a referendum vote.
I sat down to talk with McCoy at Maryland Marriage Alliance headquarters in Annapolis, 2.5 miles down the street from where state lawmakers dealt traditional marriage a one-vote defeat last spring. McCoy knows about the backroom deals and favors that helped Democratic Gov. Martin O'Malley get his way, but he doesn't dwell on those unseemly facts. Instead, McCoy spends his time talking about how history — and his three kids — will look back on what this generation did to protect marriage. "We have an obligation to the next generation," he said, munching on Cheetos after talking through lunch on a midday radio show in Baltimore.
The marriage battle is a familiar one for McCoy, who spearheaded ethnic outreach in California during the successful Proposition 8 showdown in 2008. He draws from that experience when he says he's not overly worried about being down 6 percentage points (48-42) in the polls entering October. He said many people have been intimidated into silence on the issue, but they will show up to vote on Election Day. "If the election were held today, we are pretty certain we would win," he said.
McCoy and his troops have kept a lower profile leading up to October, but plan to unleash a public ad campaign to explain the issue to voters in the weeks leading up to the election.
In Maryland, same-sex couples already have the same legal rights as married couples, and Republicans offered domestic partnerships earlier this year only to be turned down. Homosexual activists want nothing less than a redefinition of marriage, and they will get it starting in January if voters uphold the law.
In addition to the governor, same-sex "marriage" advocates have had the support of other celebrities, including actress Susan Sarandon and singer Adam Lambert. Baltimore Ravens linebacker Brendon Ayanbadejo came out in favor of the law, but Ravens center Matt Birk — a Roman Catholic with six children — answered with an op-ed for the Minneapolis Star-Tribune in support of traditional marriage. "Not all NFL players think redefining marriage is a good thing," Birk wrote. "Same-sex unions may not affect my marriage specifically, but it will affect my children — the next generation. Ideas have consequences, and laws shape culture."
Birk is a native of Minnesota, where voters will decide in November on a constitutional amendment defining marriage as between one man and one woman. Marriage proponents are also hoping to win in Maine and Washington, two liberal-leaning states.
Traditional marriage has a 32-0 record when being put before voters, but that record will face a serious test in November, and McCoy says all four states are equally important.
The biggest challenge for the Maryland Marriage Alliance is overcoming apathy among supporters. The group is crisscrossing the state, meeting with pastors and voters like those gathered at Wayland Baptist Church.
Dee Powell, director of outreach for the Maryland Marriage Alliance, urged the small crowd to recognize they can make a difference. "We need you to dig deep," she said. "We're 32-0, and I don't want Maryland to be the first state not to vote for marriage."
McCoy, married for 20 years, said he loses sleep trying to think of new ideas to reach people. "If all the Christians would register and vote, we could change every election," he said. "We have to give people a sense of urgency."
c. 2012 WORLD News Service. Used with permission.
Publication date: October 19, 2012