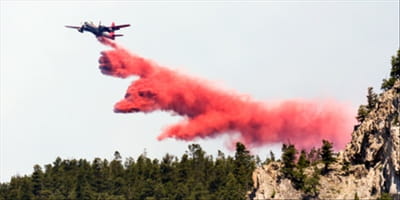 ---
Today marks the eleventh day of the catastrophic Waldo Canyon wildfire in Colorado Springs – a blaze that has consumed more than 17,000 acres and destroyed 346 homes. It was just a week ago that the fire roared into Colorado Springs, triggering mass evacuations.
Progress was seen over the weekend, as cooler temperatures and higher humidity buoyed hopes that full containment might be just days away. More evacuation orders were lifted, and families poured into affected neighborhoods to check on the homes they left behind during the past week.
On Sunday some residents were allowed to return to their neighborhoods for a short window of time. Some returned to homes that had been burned to the ground, while others found their home had survived the blaze. "It's crazy. The house across the street is burned to the foundation and the other side of the street is untouched," one returnee said.
The Red Cross, among other organizations, is occupied throughout the city, working to assist those displaced by the flames. Anne Marie Borrego is a spokesperson for the Red Cross in Colorado Springs. "For us, it's the beginning of the long haul," she says. "When disaster occurs ... we are there so much longer, long after the television cameras pack up and leave."
Faith Survives
In the midst of the devastation, the element of faith in America's unofficial "evangelical capital" is receiving attention. For decades Colorado Springs has been known as an evangelical Mecca of sorts, hosting such organizations such as Focus on the Family, National Association of Evangelicals, and Compassion International, among other non-profit groups.
Carrie Kintz, publicist at Focus on the Family, told CBN that she sees faith in action in the midst of the devastation. "Just watching the way the Colorado Springs community has really come around the evacuees and come around the firefighters really exhibiting what Jesus commands us to do, to love our neighbors as ourselves," she said, "whether it's volunteering at a food bank [or] donating thousands upon thousands of pounds of food and water, it's just been a huge blessing to watch this community rally around its own and make sure that people are taken care of and have place to stay."
For Pastor Brady Boyd of Colorado Spring's massive New Life Church, the devastation has been countered by a powerful response from the city's faith community. "What I love about our church is that I did not have to tell anyone anything or organize [a response]," he said. "They responded without me even saying anything. They took people into their homes. They took food down to the food banks. There were people that were moving horses, livestock out of danger, they've volunteered all that."
Boyd says that the Colorado Springs fire has provided an opportunity for his church to reach out to the community, and help those who are suffering. "We don't wish for these kinds of tragedies, but in these kinds of times this is the church's finest hour," he said. "This is when the church can be the church. Our people from across the city are responding. They already have made up their minds to serve at times like this."
Taking Action
With 32,000 people evacuated and more than 1,500 firefighters battling the enormous blaze, most experts say that full containment of the fire is likely at least 10 days away.
Esther Fleece, director of millennial relations for Focus on the Family, said that she has witnessed a resurgence in faith as a result of the blaze. "I saw so many Christians saying, 'Please pray for rain, we need a miracle, and only God can provide it,' she said. "Even people who are not Christians were saying, 'This is out of our control and I'm going to try to pray. Why not?'" Fleece's organization, Focus on the Family, is now hosting staff from Navigators, another organization whose staff was displaced in the mass evacuation.
Roughly 11 million has been spent so far to fight the ferocious fire. But while progress has been made, the devastation is disheartening, especially for those living close to the blaze.
Mayor Steve Bach of Colorado Springs told Reuters that "there was nothing left in some areas, [just] burned out foundations that were smoldering," "It looked like a nuclear weapon had been dropped. It's as close to hell as I could imagine."
Tony McNeil of Samaritan's Purse arrived in Colorado Springs earlier this week. As a program manager for the Christian relief organization, McNeil described how the group will work to help individuals recover personal belongings from the devastation, as well as repair damaged homes. According to McNeil, the tragedy is hard to observe firsthand. "As you can imagine," he says, "emotions are very high."
Involvement opportunities are available for individuals wishing to assist victims of the Colorado Springs fire. Samaritan's Purse, among other organizations, is working with individuals who have been temporarily displaced in the fire, as well as victims whose homes have been destroyed.
While Fleece did not end up having to evacuate, she, like many civilians living near the fire, was prepared to leave it all behind. "I was packing and I realized that none of this matters," she said. "I just had to pause and say, 'All of this could be replaced.' What matters most is I have my family and my community and my faith, and we're going to go through trials. They're momentary."
Today, she has several evacuees living with her. For Fleece, her personal beliefs are a source of hope through days of risk and anxiety. "The grief is so huge that it's difficult to get through this without faith," she said.
Kristin Wright is a contributing writer at ReligionToday.com, where she covers topics related to human rights, international travel, social justice, women's issues, religious freedom and refugee resettlement. For further articles, visit her website at kristinwright.net. Kristin can be contacted at [email protected].
Publication date: July 3, 2012