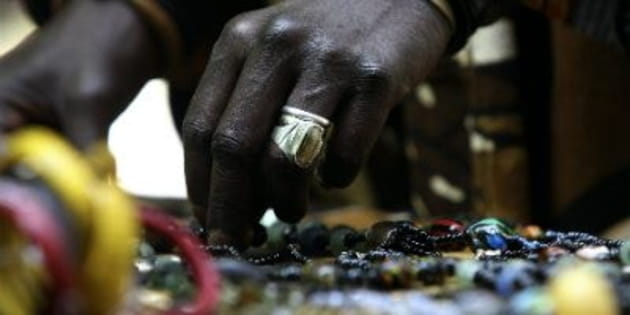 ---
It's 8:30 in the morning and Papillon Enterprise in Port-au-Prince, Haiti, is a hive. The gift shop has customers and two cashiers at the counter, the café is thrumming with smoothie and espresso preparations. But these are just window dressing. The real industry is in backroom workshops, where Papillon employs about 200 artisans, many of them already bent over tables, busy with their craft.
Ceramic bead makers—all in soft brown T-shirts—are working outdoors at picnic tables, shaping bits of clay they pull from large blocks on the ground. In another workspace men and women are cutting flattened cereal boxes into thin strips, not more than one-eighth inch wide, each measured then sliced precisely to be wound into paper beads.
Room after room, the workers are assembling beads into strands, checking the work of others, measuring and mending, forming over time and careful process out of elemental paper and clay and tin beautiful jewelry and housewares. Walk through Papillon with a shopping basket, and you'll want one of everything.
The work to achieve an attractive product line looks repetitive, tedious, eye-wearying—but the workers are talking, listening to music on their iPods, and enjoying a breeze through an open doorway that lets onto a small courtyard draped in bougainvillea.
And this is Haiti.
HAITI IS SYNONYMOUS WITH POVERTY. It's the place where white people go to do good deeds—and penance for the African slave trading that birthed this island nation. Its economic successes historically have been mostly for the benefit of others, while its failures have stayed on the island. And among the world's doomed ideas, Haiti has long been an early adopter: from sugarcane slave plantations and voodoo religion to UN stabilization missions, rampant deforestation, and corruptible foreign aid.
If Haiti's low standing on just about everything in the Western Hemisphere is legendary, so is its present status as an incubator for ever-more foreign aid—and particularly since the 2010 earthquake that left more than 150,000 Haitians dead and 1.5 million homeless.
Western charities—buoyed by the short 90-minute flight from Miami to Port-au-Prince and the no-boundaries way of doing business with a power structure run one minute by elected officials, the next by the Clinton Commission, or the UN—have experimented here. Notable projects that looked too big to fail, with millions of dollars in donations to back them, notably have failed anyway.
One of the most recent boondoggles: a housing village built as part of a $20 million aid package from Canada that sits empty just off Route Nationale #1 about 10 miles north of Port-au-Prince. Rows of two-story duplexes with carports line level paved streets, all solar-powered and intended to resettle some of the thousands of Haitians who've been living in tent camps since the quake. But the village sits on a vast empty plain, far removed from business areas and shops, and out of reach of public transportation. Most Haitians designated to live there have moved elsewhere.
Other examples are longer standing. The United States and other countries ferried so much rice into Haiti after the quake, they put out of business most of Haiti's rice growers. One farmer told me imported rice sells on local markets for about one-tenth the price of locally grown rice.
Millions of bottles of Fiji water (shipped in mostly by the U.S. military from 8,000 miles away) also left unintended consequences: As the empty plastic containers littered the streets, filtration and purification systems that before the quake served two-thirds of Haitians fell into disuse and disrepair. Cholera and other water-borne diseases once uncommon in Haiti have proliferated.
Not surprisingly, donor nations haven't spent what they promised on post-quake Haiti.
According to the latest UN report available (from 2012), those who pledged $4.5 billion in 2010 had delivered only $2.3 billion. The United States pledged $3 billion via USAID but has actually obligated $1.3 billion. Of that, the majority has gone toward funding the operational costs of nongovernmental organizations, or NGOs, rather than directly to Haitian quake victims and consumers, say analysts.
"Sixty percent [of USAID funds for Haiti] goes to firms operating inside the [Washington] beltway, disappearing in a black box," said Jake Johnson of the Centre for Economic and Policy Research (CEPR), a Washington think tank, on the fourth anniversary of the quake Jan. 12.
"There is no doubt the international community saved lives in Haiti following the earthquake," said James English of Texas Christian University, who serves as an adviser to Haiti's secretary of state for the disabled. But "the international community continues to spend millions of dollars on airline tickets, hotel rooms, SUVs and salaries to put people on the ground in Port-au-Prince," he said in a Miami Herald op-ed last month. NGOs have created in Haiti what English calls "a complex and dysfunctional dynamic."
Global aid advocates and economists like Jeffrey Sachs won't be let off the hook for the dysfunctional economies created by aid regimes. The UN's long-touted Millennium Development Goals, that include cutting global poverty by half, come due in 2015. Already critics like New York University's William Easterly (author of White Man's Burden and Tyranny of Experts due out next month) are pointing out that "raising enough money to pay for the right combination of known technical solutions" to poverty hasn't proved the answer.
Sachs has been the darling economist for financiers like George Soros and celebrity philanthropists. But a 2013 book by Nina Munk, The Idealist, examines up-close and in-depth Sachs' vaunted Millennium Villages Project, a dozen model villages set up across 10 African countries with Soros millions—and chronicles their failure to thrive.
In all the world there's no better example of the failure of big aid and formulaic poverty-fighting than Haiti: For more than a decade, donor nations have spent per capita more than double the world average on aid here—more even than in places like Somalia and Sierra Leone—without seeing measurable reductions in poverty.
BUT THERE CAN BE A SILVER LINING to making so many mistakes: savvy entrepreneurs watching and ready to learn from them. One is Shelley Clay, who founded Papillon Enterprise in 2008 after quickly surmising the worth for Haitians of business startups versus charity handouts.
Shelley and her husband, Corrigan, traveled to Haiti in 2007 hoping to adopt. "I soon realized most of the 'orphans' I was seeing had parents," she said. They simply could not afford to care for them.
Clay also realized that the thousands of dollars going to adoption fees would end up in government officials' hands and the bureaucracy, not with poor Haitian families. The more urgent need, she decided, was to help poor mothers earn money so they could afford to keep their children rather than turn them over to orphanages.
Nine months later Clay moved to Port-au-Prince with her husband and went to work in an orphanage. She started classes making bead necklaces with four women. "The necklaces were ugly but people were buying them anyway," she said. "There's so much guilt purchasing, and more with the earthquake, but with it we were employing moms."
Starting Papillon as a nonprofit, Clay used grants—including one from the Clinton Foundation that helped expand her present facilities in Petionville, a hilly suburb of Port-au-Prince—to leverage what's become a for-profit business. At the end of 2010 she sold $100,000 in jewelry, mostly overseas, through her nonprofit overseas exchange, the Apparent Project. In 2013, Papillon had an estimated $1 million in sales.
In that time the company has grown from 40 workers to about 250 today. Many of them Clay hired as she visited orphanages and then tent cities following the quake. Her employees also now include 30 inmates who are rolling beads for two hours a day and getting paid for it. "It's huge," she said, "because in Haiti you can't go to trial without money." She hopes to expand job opportunities in prisons, including a nearby women's prison.
It didn't take Clay long to learn what leads to success. "Our products have to be beautiful," she said. And raising the standard and dignity of work for Haitians is key to that. Most Papillon employees earn $15 a day, an above-average wage, plus they receive health insurance, something unheard of. "I would never be able to buy enough rice to feed these people," she said. "They feed themselves with the money they earn."
Several single mothers who work at Papillon have progressed from having their children in orphanages to owning their own homes and paying the fees to send their children to school.
Clay came into the business with no design training or art-school background, but has learned on the job with the often-underestimated expertise of Haitian artisans. She's also taken advantage of local ingenuity at using materials recycled from the street. With the company's growth, her current challenge is finding upper management: "People coming out of accounting school don't know how to do a spreadsheet here."
Given Haiti's dysfunctional economy, Clay is persistently threading her way through a landscape of NGOs, government entities, and private overseas customers. Papillon goods sold through the Apparent Project are now carried by leading designers like Donna Karan and Chan Luu. Large-scale vendors (including Walmart) want to contract for the company's Christmas ornaments (in 2013 Papillon sold 50,000 of them).
At the same time, Clay partners purposefully with smaller NGOs and faith-based nonprofits like The Global Orphan Project more in line with her own philosophy. This spring the Kansas City, Mo.–based Global Orphan Project (GO) will carry necklaces and bracelets made by Papillon through its GO Exchange, which sells locally made clothing and accessories from Haiti, Uganda, and Ethiopia.
IN MANY WAYS GO's learning curve in Haiti has paralleled what Clay and other entrepreneurs have discovered. Initially working as C3 Missions, the organization set up its first orphanage a decade ago and now has church-based orphan care in 20 countries. But GO officers quickly learned that providing "24/7 residential care" wasn't sustainable and shifted to what they call market-based funding for orphan care. Providing housing for orphans, GO CEO Joe Knittig told me, was "attractively simple and exciting to givers," but "naïvely simplistic."
Perpetual financial charity led to dependency and what Knittig calls "the dignity drain." Better to partner with churches, who make up a vast community-based network in Haiti, provide structural support, but require that orphan care find ways to sustain itself. Using this model GO supports churches and church projects while eschewing its own buildings, a fleet of Land Rovers, or even signs bearing its logo.
Beyond that, GO learned that by focusing on care facilities, "We unintentionally created an incentive for hurting parents and relatives—particularly poor, single mothers—to quit on parenting in the hope that their children could be placed in residential care with the church," said Knittig. By instead focusing on "local church-based communities," the priority became keeping families and communities together to prosper.
"We started as an orphan care ministry. We have become an orphan care and orphan prevention ministry," said Knittig.
Pastor Claude Mondesir is an example of a GO partner. Over the course of 30 years the Haitian, who became a Christian through an American missionary in Cap Haitien, has planted at least four churches and started a school at each. One month after the quake GO partnered with him to open Eben Ezer, a village in Leogane, the quake epicenter. It now houses and schools 95 children, and has one of the only churches in the area.
Mondesir also has developed a knack for spawning business enterprises to support the church-based orphan care. A chicken farm supplies food for the orphanages, but also sells to local markets. It and vocational training with courses in animal husbandry, sewing, and business provide opportunities for orphans ready to "age out" and enter the job market. And when GO needed a place for missions teams to stay in Haiti, it bought property about 10 miles outside Port-au-Prince, but Mondesir built on it a modest hotel now staffed and run by Haitians. It's housed more than 100 overseas missions teams (who pay to stay there).
"Whatever we do has to serve orphan care in some way. It has to feed kids or provide income for them or their caregivers," said Jake Barreth, field director for GO. Another dividend of developing community and enterprise around the church—Mondesir's churches are growing, along with those of other pastors who partner with GO.
Knittig, who left a law practice in Kansas City to become The Global Orphan Project CEO in 2008, said it's important to embrace "organizational sanctification" to work in a place like Haiti. "We don't stick our heads in the sand to avoid the pain of mistakes, or hide mistakes in order to raise more money. We actively look for bad facts in the process of what we do, as these are opportunities to learn, change, and serve children and families better."
The "aid versus economic development" issue to Knittig is "not about how to best guarantee the illusory outcome of ending physical poverty. It's all about dignity in the process of how we serve the poor; about how to best champion family and community with all of the spiritual, intellectual, and financial capital that we can bring to the table."
Courtesy World News Service. Used with permission.
Publication date: February 11, 2014