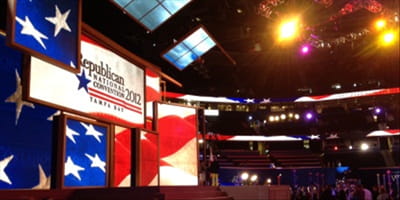 ---
(TAMPA, Fla.) -- An estimated 50,000 people from across the nation are in Tampa, Fla., this week for the Republican National Convention (RNC). As delegates inside the Tampa Bay Times Forum determine the party's platform and confirm Mitt Romney as the GOP nominee for president, thousands more litter the streets outside the convention hall with various agendas.
Christian Outreach
In January, Mark Wood, pastor of Lamb of God Lutheran Church in Lithia, Fla., was listening to National Public Radio one day while driving down a country highway on the way to his church. He heard a report about the 2012 Republican National Convention being in Tampa and admits he was relieved that he lives several miles away from the chaos that was certain to engulf the city.
"Even though I was feeling kind of good about that, suddenly it struck me: 'Wait a minute – the whole world is coming to Tampa,'" said Wood. "The mission field is coming to us. We can't just stay away, we really need to go and engage the opportunity."
Wood notes he began to change his thinking and sought ways to share the Gospel with visitors coming to Tampa. So he sent a letter to his fellow pastors looking for opportunities to plug into what he was sure was an already organized effort. To his surprise, he learned there was no planned outreach.
Wood, a Missouri Synod Lutheran pastor, jokingly acknowledged his denomination isn't known for street evangelism.
"Lutherans are really good at staying under the radar," said Wood. "Even when we don't intend to be."
He went on to say: "Billy Graham once called us the 'sleeping giant.' I think we kind of are. We are in the background doing our thing. We aren't trying to change world, but trying to be faithful."
Besides the caustic pickets of Fred Phelps and his crew from Westboro Baptist Church, to his knowledge there are no other major outreach efforts planned -- not even by the Southern Baptist Convention, who typically is known for its street evangelism ministry.
The ministry team members sport T-shirts with the question: "Who Will Save US?'' He explains the double meaning refers to both individuals and this nation.
So, with thousands of visitors in Tampa, it's Pastor Wood and 16 Missouri Synod Lutherans sharing the Gospel in the rain and winds caused by Hurricane Isaac. But as the three-day Republican convention is in full swing, shortened one day because of the threat of inclement weather, Wood maintains people wrongly assume that a meeting full of conservatives doesn't necessarily mean they know Jesus as Lord.
"Don't put your hope in people, no matter how powerful they are," said Wood. "We don't put our hope in Romney, Obama, or any other person to save us."
The Power of One
Larry Craft drove to Tampa from New York in a van with his family. He spends most of his life on the road doing street evangelism. He is in Tampa for the week intentionally and specifically to share the Gospel, he said Monday during a heavy rain.
"I like to put myself in a position to talk with people who might be searching," Craft said. "It is amazing how many people literally hate Jesus and what He represents."
For 12 years Craft has traveled across the nation as a "tent-making" preacher doing odd jobs to support his ministry and provide for his family.
Craft recalled an encounter he had with a Republican National Convention protester. He said the individual, who remains nameless, seemed to be genuine in his search to answer questions about God.
"He had a lot of questions concerning end times," said Craft. "I think he was feeling some conviction of his soul and about his relationship with God."
Craft said he heads to North Carolina for the Democratic Convention immediately following the close of the RNC.
Counter-Protests
Roughly 1,000 Tampa police officers and up to 3,000 additional law enforcement officers are in Tampa prepared to separate law-abiding protesters from those intent on committing acts of violence.
The first test of police came on the first day of the convention. Law enforcement officials report fewer protesters than expected turned out for a march against the RNC. In all, about 300 participated in the march, only a fraction of the 5,000 police anticipated.
Protesters began about noon Monday after a rally at Perry Harvey Park, but were immediately met with a wall of police decked in anti-riot gear.
Sam Rosenfeld, a blogger on protester management and security sector reform, claims the efforts of anarchists and extreme left-wing groups have increased in recent years.
Typically, an anarchist is someone who rebels against any sort of established order. Tampa police report a pile of contraband, including a stockpile of rocks, bricks and clubs, was found on the rooftop of a downtown building.
A sheriff's deputy, who asked to not be named, said he believed a group of anarchists wanted its contraband to be found to communicate some sort of message.
A press release received by the Tampa Police Department from a group called "Anonymous" reads: "We, police officers and protesters alike, should be standing together to remind our government that they work for us, the people. That it is WE THE PEOPLE who elect them, and we who give them their orders. It is our sincere hope that you allow the demonstrators to do what they come to do, peacefully protest an unjust system. We stand for justice."
CODEPINK, a women-initiated grassroots peace and social justice movement, is a protest group trying to get its voice heard, especially by social conservatives. Several women wore a pink vagina costumes, protesting the GOP's pro-life position on abortion.
"Women's rights are taking a serious pounding from anti-choice legislation to economic inequality to wars overseas that steal resources needed for healthcare and education," said CODEPINK co-director Medea Benjamin. "We'll be at the RNC demanding respect, economic fairness and peace."
Faith and Freedom
Ralph Reed's Faith and Freedom Coalition featured a "who's who" of conservatives during a kick-off rally of the 2012 Republican National Convention week in a packed Tampa Theatre. National and statewide conservative leaders including former House Speaker Newt Gingrich, U.S. Senate candidate Red Cruz of Texas, conservative matriarch Phyllis Schlafly, Gov. Rick Scott, Florida Att. Gen. Pam Bondi, former Gov. Mike Huckabee, and Gov. Scott Walker energized the crowd with messages of faith and limited government.
Jacquelyn Skaf, a delegate from Hawaii and on the Republican Rules Committee, expressed her thankfulness for the strong faith and principled convictions she heard from party leaders.
"I am just so happy to see these warriors and leaders and my heroes of the conservative movement stand up for their faith," said Skaf. "Faith is at the very heart and foundation of our nation."
Russ Jones is a 25-year award-winning journalist and correspondent. He is co-publisher of various Christian news sites such as ChristianPress.com, OxfordFamily.com and a media consultant to a number of political and cause-oriented campaigns. He is also a freelance correspondent for the American Family Radio Network, a regular contributor for ReligionToday.com, Crosswalk.com and various Christian TV networks. Jones holds degrees from the University of Missouri-Columbia and St. Paul School of Theology. Russ is married to Jackie and together they have four children. He may be reached at [email protected] or Facebook.com/russjones.
Photo: Russ Jones
Publication date: August 28, 2012