Terry Eastland
| The Weekly Standard
| Monday, January 3, 2005
MICHAEL GERSON deserves extra pay, or something, for agreeing to spend half a day earlier this month discussing with journalists a subject of some controversy--"Religion, Rhetoric, and the Presidency." If anyone was qualified for such a task, it was Gerson. He is President Bush's chief speechwriter, knows the president's mind better than anyone else in the White House (save perhaps Karl Rove) and--no small thing--shares the president's faith.
Gerson, the White House's resident intellectual, is a graduate of Wheaton College, where he majored in theology. He opened the discussion--part of a conference on religion and politics sponsored by the Ethics and Public Policy Center in Washington--by pointing out actual instances in which Mr. Bush has used religious language. What they illustrate is a rhetoric that seeks to accommodate religious values, embraces religious pluralism and is quite aware of providence.
Accommodation. Bush has included religious language when comforting those who mourn. Thus, at the service at the National Cathedral shortly after Sept. 11, 2001, the president said, "Grief and tragedy and hatred are only for a time. Goodness, remembrance and love have no end, and the Lord of life holds all who die and all who mourn."
Bush has also alluded to religious sources in driving home a point. For example, in his inaugural address, while urging the nation to be compassionate to those in need, he recalled "that wounded traveler on the road to Jericho" and how we shouldn't "pass to the other side." The reference here was to Luke, to the famous story of the Good Samaritan.
Finally, the president has employed references to religion found in our own history. Here, Gerson said, the president aims to show how religion has contributed to social justice. Thus, in Senegal, speaking of the Africans enslaved and boarded there on ships bound for North America two centuries ago, Bush said that they "learned the story of the exodus from Egypt and set their hearts on a promised land of freedom."
Pluralism. Gerson said speeches on the administration's faith-based initiative have also provided occasions for the president to refer to religion. Of course, it would be impossible for him not to bring up religion in that context, since the point of the (accommodationist) initiative is to ensure that religious charities otherwise qualified to compete for social service grants aren't discriminated against.
Yet what's striking about the president's faith-based rhetoric is that it is maximally pluralistic. That is, while recognizing the good that religious charities do, Bush routinely welcomes people of all religious faiths and none at all to fight poverty and other social ills. Bush uses similar, all-inclusive rhetoric in other contexts.
Providence. The notion that God is in charge of all things, including the course of America, is a theological doctrine and a long-standing tenet of the nation's "civil religion." Gerson emphasized that in Bush's mentions of providence, care is taken to avoid "the presumption" of "identifying the purposes of an individual or a nation with the purposes of God." Thus, in the 2003 State of the Union address, Bush said: "We [Americans] do not claim to know all the ways of providence, yet we can trust in them, placing our confidence in the loving God behind all of life and all of history."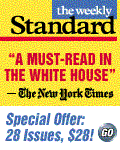 Gerson's articulation of the president's rhetoric on religion won't satisfy those who think that pluralism requires silence on this subject. Nor those who think that only arguments grounded in secular ideas, and not religious ones, should have standing in the public square. Yet it's hard to maintain that Mr. Bush's rhetoric on religion constitutes either a departure from that of his predecessors or an affront to the values of a still religious people.
Meanwhile, even as we stipulate that we do not know all the ways of providence, we can make some decent guesses about Bush's second inaugural, on the calendar next month. Look for an allusion to the Bible or a hymn, a citing of a faith-based moment in American history, some maximal pluralism, and, last but not least, a nonpresumptuous invocation of providence.
---
Terry Eastland is publisher of The Weekly Standard.
---
Copyright 2005, News Corporation, Weekly Standard, All Rights Reserved.