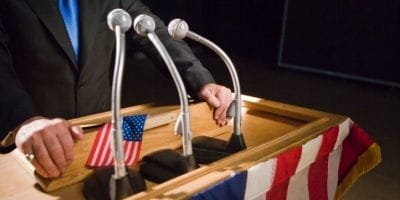 (WNS) -- The two vice presidential candidates traded barbs Oct. 11 in a lively debate that was short on zingers but long on passionate persuasion.
Vice President Joe Biden and Rep. Paul Ryan sparred on almost every issue, with both landing punches and neither taking clear command of the debate at Centre College in Danville, Ky.
The debate was the only one scheduled between the two vice presidential candidates and came eight days after the first of three presidential debates. Last week Mitt Romney scored a resounding victory over President Barack Obama in a performance that energized his campaign and boosted his poll numbers.
Although neither Vice President Biden nor Rep. Ryan scored a clear victory Thursday, both candidates showed the policy knowledge — foreign and domestic — necessary to make voters feel comfortable with them being "a heartbeat away" from the presidency.
Debate moderator Martha Raddatz, ABC News chief foreign correspondent, opened with a question about last month's attack in Libya, which killed four Americans and was initially blamed on protests against an American video mocking Islam. Biden called the attack a "tragedy" but stopped short of admitting an intelligence failure. He also claimed the administration did not know the embassy in Benghazi had requested more security, but in congressional testimony Wednesday on Capitol Hill, State Department officials acknowledged requests for additional security personnel had been denied.
On Iran, Biden downplayed the threat and said the country isn't close to getting a nuclear weapon. "I don't know what world these guys are living in," he said in an exasperated reference to Ryan and Romney.
Throughout the debate Biden, 27 years Ryan's senior, tried to dominate exchanges with interruptions, hand motions, and facial expressions. Though he might have appeared more passionate at times — even growing visibly irritated — Ryan didn't allow the vice president's antics to throw him off. The 42-year-old congressman from Wisconsin took a more measured approach, occasionally sipping water from a glass and watching Biden with amusement.
In one of the most poignant moments of the night, Raddatz pointed out the historic nature of a vice presidential debate between two Catholics and asked both men to talk about how their faith shaped their views on abortion.
"It's not simply because of my Catholic faith [that I'm pro-life]," Ryan said. "That's a factor, but it's also because of reason and science." Ryan told the story of seeing his oldest daughter through an ultrasound after a few weeks of development and affirmed that he believes life begins at conception.
Biden responded by saying he is pro-life in his personal views but he would never "impose" that position on other people. Ryan shot back: "If you believe life begins as conception, that, therefore, doesn't change the definition of life."
The candidates then shifted to the new Health and Human Services mandate that requires religious institutions to include abortion-inducing drugs with health insurance coverage. Biden said the mandate would not force any Catholic institutions to be a vehicle for providing contraceptives. "Then why are they suing you?" Ryan asked.
Same-sex "marriage" and other social issues were not raised during the debate, which was more tightly moderated than last week's presidential face-off.
After President Obama failed to take jabs at Gov. Romney on several perceived weak spots last week, Biden mentioned Romney's reference to "the 47 percent" of Americans who likely would not vote for him four times Thursday night. Ryan responded with a comment about the gaffe-prone vice president that drew the biggest laugh of the night: "With respect to that [47 percent] quote, I think the vice president very well knows that sometimes words don't come out of your mouth the right way."
Biden lobbed repeated attacks about "tax cuts for the wealthy," but Ryan stood his ground, asserting that the absence of tax increases does not amount to tax cuts.
"We think taking 28 percent is enough," Ryan said, noting President Obama wants to tax high-income earners at 44.8 percent. "There aren't enough rich people to tax to make up for their spending."
The two exchanged positions on a host of other issues, but the debate will likely go down as another inconsequential battle in the annals of vice presidential meetings. Now halfway through the debate schedule, all eyes will turn to Round 2 of Obama vs. Romney next Tuesday at Hofstra University in New York.
c. 2012 WORLD News Service. Used with permission.
Publication date: October 12, 2012