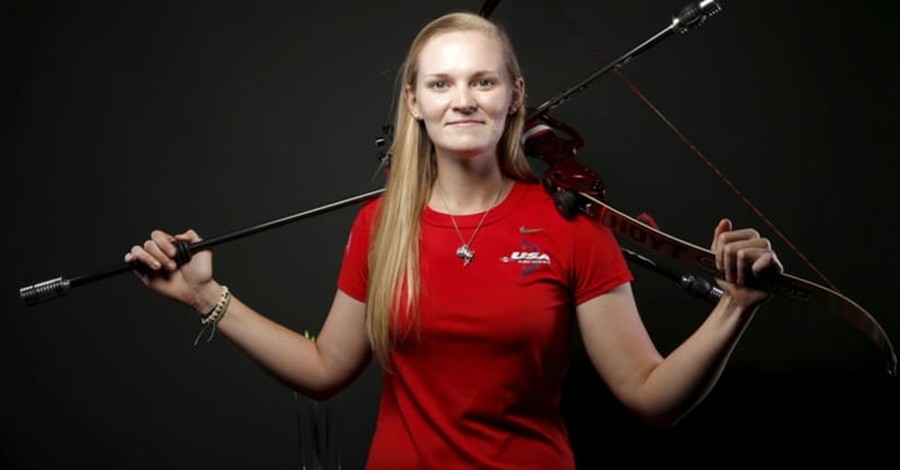 ---
Mackenzie Brown may be the only woman on Team USA's archery squad, but she is just one of the guys in another way: Like her coach and many of her fellow bowmen, Brown, 21, is an evangelical Christian.
"I am so beyond ecstatic to be going to Rio this summer for the Olympic Games!!" Brown said in a tweet after qualifying for the team in July. "I'm so grateful for all of the support and love from y'all! God is so good all the time!"
No one doubts Brown's right to a place on the team — she is ranked fourth in the world. But it has refocused attention on Team USA's archery coach, Kisik Lee, who has come under scrutiny in the past for blending his Christianity with his coaching.
He has been involved in the baptism of at least seven Olympic-bound archers, including 2016 team member and 2010 silver medalist Brady Ellison. At the 2008 Olympics in Beijing, Lee reportedly ran a morning hymn-sing and Bible study and regularly worshipped with athletes at the interfaith center.
"I just want to show them who I am," Lee told The New York Times in 2008. "I'm the witness of Jesus, not just an instructor. So I have to encourage them how, how we can change in Christ."
In 2007, Lee was warned by United States Olympic Committee officials to separate his evangelism from his coaching. He reportedly no longer holds Bible study classes at the sport's Chula Vista, Calif., training center, where athletes come to live and train. His personal website has numerous references to his faith and draws links between religious faith and performance.
Christianity has long been associated with archery. A verse in Genesis reads, "And God was with the lad; and he grew, and dwelt in the wilderness, and became an archer." Many archers compete with Genesis brand bows, many participate in Christian archery ministries such as On Target for Christ, and there is even an archery program at the Creation Museum in Kentucky.
So Brown should fit right in.
"There is nothing better than seeing your kid do something that she loves," her mother, Stacey Brown, told the Tyler (Texas) Morning Telegraph. "This is a God-given ability she has."
Courtesy: Religion News Service
Photo: Archer Mackenzie Brown poses for a portrait at the U.S. Olympic Committee media summit in Beverly Hills, Calif., on March 9, 2016.
Photo courtesy: REUTERS/Lucy Nicholson
Publication date: August 8, 2016