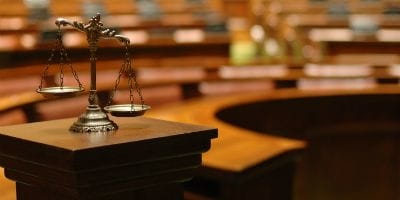 A jury of six women found George Zimmerman not guilty Saturday evening of second-degree murder. Ending nearly three weeks of deliberations, the former neighborhood watch volunteer was acquitted of all charges in the February 26, 2012, shooting of 17-year-old Trayvon Martin.
Zimmerman, 29, was in a confrontation last year in a Sanford, Fla., gated community. The Hispanic Florida resident pleaded not guilty, claiming he shot Martin in self-defense.
While Zimmerman may have won his defense case, on Sunday the Department of Justice announced it would further evaluate whether Zimmerman committed civil rights violations.
According to a statement released by the DOJ: "As the Department first acknowledged last year, we have an open investigation into the death of Trayvon Martin. The Department of Justice's Criminal Section of the Civil Rights Division, the United States Attorney's Office for the Middle District of Florida, and the Federal Bureau of Investigation continue to evaluate the evidence generated during the federal investigation, as well as the evidence and testimony from the state trial. Experienced federal prosecutors will determine whether the evidence reveals a prosecutable violation of any of the limited federal criminal civil rights statutes within our jurisdiction, and whether federal prosecution is appropriate in accordance with the Department's policy governing successive federal prosecution following a state trial."
During remarks Monday before a luncheon of the Delta Sigma sorority's national convention, Attorney General Eric Holder confirmed an investigation is ongoing.
"The Justice Department shares your concern. I share your concern," Holder told the sorority delegates who responded with a booming applause. "We must not — as we have too often in the past — let this opportunity pass," he added.
Defense attorneys maintain, however, the evidence for the case hasn't changed. Documents filed with the FBI don't indicate Zimmerman displayed racial bias. Records released last week reveal that after interviewing nearly three dozen people in the murder case, the FBI uncovered no evidence that racial prejudice motivated the shooting of Trayvon Martin.
Lisa Fritsch, a member of the national advisory council for the Project 21 black leadership network, says the DOJ's civil pursuits highlight obvious inconsistencies in the department.
"Before they pursue a civil case with George Zimmerman they would need to look at all the murders that happened to all the young black kids in Chicago over the last two years," said Fritsch. "It doesn't make any since to pursue prosecution because Zimmerman is Hispanic and white. If it is about civil rights we should be grieving for the families of those murdered by perpetrators whose hands were brown as well."
Fritsch, who is also the author of Obama, Tea Parties and God: What it Means to Be an American, a conservative and a Christian, said many of her liberal colleagues unnecessarily create discord in the aftermath of tragedy.
"A bunch of 'leaders' incite communities to this notion of always feeling like they should be angry," said Fritsch. "This is not a time to be angry. This is a time to put our heads together and see what we can do so young men like Trayvon Martin don't find themselves in situations like this. He wasn't just having Skittles and a soda pop. When you punch someone and it gets violent you are inviting trouble."
White House Press Secretary Jay Carney said President Obama would not get involved in the DOJ probe.
Some claim, however, it's too late for the president to be mum on the subject. A month after his shooting, Obama commented on Martin's death in March 2012 during a press conference in the Rose Garden where Martin's parents were in attendance.
"If I had a son, he'd look like Trayvon," Obama said. "And I think they are right to expect that all of us as Americans are going to take this with the seriousness it deserves, and that we're going to get to the bottom of exactly what happened."
Advocacy Groups and Political Figures Respond
The Zimmerman verdict brought demonstrators in several cities across the nation. Protestors turned out in mostly large urban areas like Washington, D.C., Los Angeles and Oakland. As of noon on Monday, the National Association for the Advancement of Colored People had received some 350,000 signatures on its petition calling for a federal prosecution of Zimmerman.
The National Black Church Initiative (NBCI), a faith-based coalition of 34,000 churches comprised of 15 denominations and 15.7 million African Americans, is pressuring Attorney General Eric Holder to initiate a civil rights case against Zimmerman in what it believes was a racially motivated crime. The group held a rally Monday in front of the Justice Department headquarters in Washington, D.C., to protest the verdict.
"The church wants to make it very clear that we will not tolerate any violence at the end of this trial from any community — justified or not. Our purpose is to lead people to God through our Lord and Savior Jesus Christ," said Rev. Anthony Evans, president of the NBCI, in a press release. "It is not to seek revenge. This is why we urge everyone to pray for justice in this case and to pray for the soul of our nation — a place where this young black boy was found guilty of being a young black boy in America. Our young black boys must not believe that someone [white] will kill them for being a young black boy. There cannot be any justice until you secure the peace. In this case there was no justice so there will be no peace."
Dr. Alveda C. King, daughter of the late slain civil rights activist Rev. A. D. King and niece of Dr. Martin Luther King, Jr., contends the verdict further exposes a grievous and deep vein of disharmony and racial tension in the nation.
"A trial like this causes public debate, and people have forgotten what is right anymore," said King. "Now Trayvon's tragic death is obscured and Mr. Zimmerman is a public spectacle. The lines of what is right and what is legal & lawful have also been blurred and this trial exposes that."
Like several of her black counterparts, King noted that random killings have reached all time highs in Chicago and how African American Tonya Reaves recently bled to death for five hours in a Planned Parenthood abortion clinic where no arrests were made.
"Now in the wake of Trayvon's senseless death and Mr. Zimmerman's acquittal many people are angry at the tragic loss of life and what some perceive to be a shun on the Black race," said King. "For the record, Acts 17:26 teaches that there is one blood and one human race, not multiple races, so racism is based on a lie."
King calls on Americans for a nonviolent response that might promote healing.
"We must now use this controversy as an opportunity to help educate our future generations as to how to act and how to react in similar situations; then maybe young Trayvon's death will not be in vain," said King.
Russ Jones is a 25-year award-winning journalist and correspondent. He is co-publisher of various Christian news sites such as ChristianPress.com, ChristianNewsService.comand a media consultant to a number of political and cause-oriented campaigns. He is also a freelance correspondent for the American Family Radio Network, a regular contributor for ReligionToday.com and various Christian TV networks. He has been a guest on such programs as the Mike Gallagher Show, the Dennis Prager Show and Sandy Rios in the Morning. Jones holds degrees from the University of Missouri-Columbia and St. Paul School of Theology. Russ is married to Jackie and together they have four children. He may be reached at [email protected] or Facebook.com/russjones.
Publication date: July 15, 2013