Terry Eastland
| The Weekly Standard
| Wednesday, December 6, 2006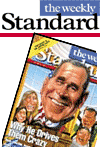 On the last day of May, at 5:30 P.M., Building 5 of the Ellsworth Correctional Facility is filled with joyful noise. More than 200 prisoners--roughly a quarter of the inmates at this state prison--have gathered for the midweek worship service. They're taking part in a program run by InnerChange Freedom Initiative, an affiliate of Prison Fellowship, its purpose being to effect such change in the heart of a prisoner that he will, upon release, go and commit crime no more. The men, clad in the standard correctional attire of blue jeans and blue shirt, many holding well-thumbed Bibles, are serving time for crimes such as assault, battery, and rape. Led by a band of fellow inmates, they've been singing praise and worship songs. They reach the end of Mark McCoy and Andy Park's "I See the Lord" when a special visitor arrives, accompanied by an intense late afternoon thunderstorm. Wearing a blue shirt and red tie, Sam Brownback, Kansas's senior senator, soon steps to the front. He begins speaking with an ease that suggests he has been here before, which he has, three times.
"So good to see you guys, and so good to see this program," says Brownback, who moves quickly to his main points. The country spent the '80s and '90s building more prisons and incarcerating more criminals, he says, noting that "we needed to do that." But now the U.S. prison population exceeds two million, "the biggest number we've ever had." Once released, most go back to "the old group"--to the "bad company that corrupts good morals," he says, using a passage from the first letter to the Corinthians. Many are rearrested and wind up back in prison. Brownback mentions a Justice Department finding that almost two-thirds of those released from prison are rearrested within three years. He says he'd like to see that number, the recidivism rate, cut in half over the next five years.
The senator talks about how to achieve that goal by pointing to the program his audience knows well. IFI and other prerelease programs, says Brownback, can help inmates break their "bondage" to the past and prepare for a new life with people who can "pull you up, and not down." He also discusses his Second Chance Act, which would authorize $40 million to help newly released prisoners with housing, drug treatment, counseling, job training, and education. Brownback says reducing the recidivism rate is not only about turning around the lives of those who have committed crimes but also about "breaking the generational curse . . . so that it doesn't go to your kids and grandkids."
During the Q&A, some prisoners choose to make statements, especially about the importance of IFI, which includes daily Bible and life skills classes. Brownback listens intently, occasionally posing questions. At one point he brings up "another topic I've been working on," namely "how the welfare system actually penalizes [poor] people for getting married." Brownback finds this perverse, since studies show that if you get married and stay married, you are less likely to remain poor. Brownback mentions the hearings he's held on this topic, and how he'd like to eliminate from federal law what he calls "the disincentives" to marriage. The session ends with more than a dozen men crowding around Brownback, praying. And Brownback's visit has only just begun.
After a dinner prepared by one of the inmate chefs, Brownback visits a work area, where prisoners fix broken bikes and renovate wheelchairs and learn to build houses. Then it's over to Building 4, where InnerChange prisoners are assigned. The building is laid out in "pods"--several individual cells, locked at night, arranged around a common area. Brownback moves from pod to pod. Sort of a meet and greet. Many of the inmates are watching Game 5 of the Eastern Conference Finals, between the Pistons and the Heat. You can see on their shelves various books, including Bible concordances and commentaries.
Leaving Building 4, Brownback goes to the spacious (9,167 square feet) Spiritual Life Center, recently built to accommodate a growing inmate demand for religious programs. On its website, the Kansas Department of Corrections describes the center as providing "opportunities for inmates from diverse faiths to develop and restore relationships with God, their families, and crime victims." In a conference room, Brownback engages a dozen inmates in an hour-long conversation about their post-prison hopes. He tells one who calls him "Mr. Brownback" to change that to "Sam." And "Sam" it is. To another prisoner he says, "Your experience sounds like my own. You don't recognize temptation when you should." A prayer by Brownback closes the meeting, and then the senator retraces his steps to Building 4 and then to G-pod, cell 42, where, locked down, he spends the night.
You might not expect someone weighing a presidential run in 2008 to spend a dozen hours in a state prison; it's not exactly the best place to go in search of campaign dollars or volunteers. But once you grasp Sam Brownback's political vision, his visit to the Ellsworth Correctional Facility seems less odd.
Earlier this year, Brownback gave a lecture at Kansas State, his alma mater. He chose as his topic "American exceptionalism"--the idea, as he explained it, that our country is a "special place" and that it has a "special destiny for mankind." Brownback said that the source of American exceptionalism lies in "our fundamental goodness," and that while we have had our problems and "often get things wrong," we eventually find our way, because "some movement based on goodness and fixing what's wrong" starts up and doesn't stop until the problem is fixed. Like the abolitionist movement, which settled in Kansas "with a heart to end slavery." And the civil rights movement, which sought to end segregation. Those movements, said Brownback, fought for "the inherent dignity" of every person, for "righteousness and justice." In our time, he continued, we must carry on this fight by reaching out to people who need help--"the poor and dispossessed," including prisoners and their families. We need to defend the dignity of people "no matter where they are, no matter what they look like, no matter what their status." And not just here at home. Brownback pointed to the sub-Saharan region of Africa, where he said 60 percent of the children have malaria; to Darfur, where the genocide continues; and to the Congo, where "an estimated 1,000 preventable deaths" occur every day.
Brownback didn't use his speech to offer a complete inventory of the people he thinks Americans should be reaching out to. But interviews with Brownback leave little doubt that it is a long list. It includes "the unborn," meaning the roughly 25 percent of the unborn who are aborted in the United States. And people who are physically and mentally disabled. And poor immigrants, including those here illegally. And people overseas who are persecuted for their political and religious beliefs; who are discriminated against and killed because of their race or ethnicity; who are sold into slavery; who are stricken with malaria and AIDS.
Not limited government, but compassionate government is Brownback's chief preoccupation. His focus on compassion comes, he says, from his Christian faith--specifically from the Second Great Commandment, which is to love your neighbor as yourself. "I have that up on my office wall, on a page, framed," he says. Brownback points out that the First Great Commandment is to love the Lord your God with all your heart and soul and mind, and it is "love for the divine" that "animates and gives you love for others." Brownback often uses Biblical terms to refer to those in need--such as "widows and orphans," "the least of these," and "foreigner in the land."
In his neighbor-love emphasis, Brownback resembles no politician so much as he does George W. Bush, who ran for president as a compassionate conservative. But Brownback believes that compassionate conservatism is "an area that lacks development," by which he means that the compassion part hasn't been extensive enough in its reach and that it needs to be broadened, particularly "toward the poor, in this country and internationally." He sees a "growth opportunity" here for conservatism and in turn for the Republican party.
Indeed, Brownback thinks the country is changing in a way that would make it more responsive to a more compassion-driven GOP. Since the mid-1990s, the nation has been undergoing what he calls "an awakening." You can see it "in poll numbers, in people's attitudes," he says. "It's an active faith, a very meaningful thing in people's lives." He points to a factory worker he met at the GM plant in Kansas City who was wearing "a ball cap that says 'God loves you.'" He mentions the people who come up to him saying, "I'm praying for you."
Brownback describes the awakening as "spiritual," not just religious or Christian. He points to "the 150 college kids who [in late April] walked two miles in the rain to the state capital" in Topeka "to recognize the plight of children in northern Uganda." Brownback is referring to children who walk up to 20 miles a day to find a safe place to sleep, where the rebel army won't abduct them. This has been going on for two decades. But "what hasn't been happening" until now, Brownback says, "is college students in the United States saying, 'This is wrong and I'm going to do something about it.'" Both Christian and "non-faith-oriented" students, says Brownback, made the two-mile walk (as did he). "A liberal bleeding heart group, and a Christian bleeding heart group. . . . And that's the beauty of it. The two groups are finding each other."
Brownback may be one of the few Republican politicians who believe that compassionate conservatism is still the ticket to the White House. National security issues are likely to remain dominant through 2008. And many conservatives are wary of compassionate conservatism, seeing it as a stimulus to government expansion and a seductive path to misguided policy. Brownback's "compassionate" position on immigration--he voted for the Senate bill, which would create a guest worker program and create a path to citizenship for illegal immigrants--has drawn fire from Republican colleagues in both the House and the Senate, and from publications like Human Events.
The senator says he will decide whether to run for president before the elections this fall and then announce his decision soon afterwards. Right now he gets one to two percent in surveys of Republican voters. His candidacy would have to be considered a long shot. But it would satisfy certain threshold tests.
Brownback, who will turn 50 in September, has executive and legislative experience, and is well versed on national security issues. Thoughtful and well respected in both parties, he is politically shrewd and a proven vote getter. Of importance especially to Republican primary voters, he is a committed tax cutter and free trader. He has supported the war on terrorism and championed the cause of human rights and democracy abroad. Outspoken in behalf of the need to appoint judicial conservatives, he was one of the first Republican senators to question the merits of the Supreme Court nomination of Harriet Miers. Few Republican politicians are as close as Brownback is to leading religious conservatives, a key part of the Republican coalition. Tony Perkins, head of the Family Research Council, says of Brownback, "Many have the right voting records, but he has leadership." It's not a stretch to think that the Kansas Republican could appeal to conservative voters in the nearby Iowa caucuses, which will kick off the 2008 primary season.
Like another famous Republican, President Dwight D. Eisenhower, Sam Brownback comes from Pennsylvania farmers of German descent who moved to eastern Kansas after the Civil War. His parents still run the family's 800-acre farm, which is near Parker (pop. 281), itself a few miles from Osawatomie, where evangelical abolitionists congregated during the Bleeding Kansas of the 1850s. Admitted to the Union in 1861, Kansas has proved to be one of the nation's most Republican states, having last elected a Democratic senator in 1932. Not surprisingly, Brownback's parents were Republicans. But they weren't involved in party politics. "They thought it was okay to do, but don't let it get in the way of work." And young Brownback liked the work. He liked farming.
In high school he was elected state president of Future Farmers of America, and became a national officer of the organization. Brownback credits his time in FFA with getting him interested in politics. In 1976, while at Kansas State, he campaigned for Ronald Reagan in his failed bid to wrest the nomination from President Gerald Ford. After finishing college in 1978, Brownback took a job as a farm broadcaster, hosting a half-hour radio show at noon on weekdays. "I'd grown up listening to farm broadcasters," he says. "Conversation stopped around our table when the broadcaster read the markets. . . .It stirred my interest in international affairs, since what was going on in the Soviet Union or Brazil or Australia affected our markets for wheat and soybeans."
In 1979, Brownback enrolled in the law school at the University of Kansas. In 1980, he again volunteered for Reagan. "I just thought Reagan got it right," he says. "Here was finally somebody who made a whole lot of sense to me, who understood the difference between right and wrong, and who was willing to stand up for what's right." He recalls when he first heard about Reagan's famous 1983 speech in which the president described the Soviet Union as an "evil empire." Brownback says he was out in a field on a tractor, the news coming over the radio. "I was beating on the dashboard, saying, 'That's right. That's right.' And then I heard commentators saying this was dangerous, that it was a bad move to call the Soviet Union an evil empire. But that's what it was."
Taking his law degree in 1982, Brownback practiced for four years in Manhattan, Kansas. In 1986, he was appointed secretary of the state board of agriculture, a position he held until 1993. In 1990, on his second try, he was accepted as a White House Fellow. It was his first taste of Washington, and he spent the year working for the special trade representative, Carla Hills.
In 1994, Brownback ran for Congress. The Second District, which takes in much of eastern Kansas, opened up, and Brownback beat out two competitors in the Republican primary and then defeated John Carlin, the former Democratic governor, by an almost two-to-one margin, carrying every county. Across the country, of course, the GOP had a hugely successful Election Day. The party captured both the House and the Senate for the first time in 40 years. And the new House Republican members were fired with excitement. "I had never lived under a GOP Congress," says Brownback, who was part of what he calls "the hard core," its great ambition to reduce the size and scope of the federal government. "We were going to change the world and do it in six months." It didn't happen. The hard core targeted for elimination four cabinet agencies, Housing, Energy, Education, and Commerce, all of which are still standing today.
In 1996 Brownback moved to the Senate. The senior senator from Kansas, Bob Dole, had resigned in June to run for president on the GOP ticket, with more than two years remaining in his term. Appointed to fill the vacancy was the Republican lieutenant governor, Sheila Frahm, who enjoyed the support of the Dole organization. Brownback challenged Frahm in the primary and won 55 to 42 percent. Brownback credits Pat Robertson with an assist. In his 1988 presidential run, Robertson, competing against Dole, had mobilized many religious conservatives not previously active in politics. Brownback believes their votes helped secure his victory over Frahm. In the general election, Brownback easily won, having promised Kansans that he would serve no more than two terms. He has understood that promise to refer to the two full terms he won by large margins in 1998 and 2004. In the 2004 election, Brownback captured more votes than anyone who had ever run for any office in Kansas.
Brownback's voting record contains almost no sur prises. "Yes," to impeach President Clinton, outlaw partial birth abortion, phase out the estate and gift taxes, authorize permanent trade relations with China, approve the Bush tax cuts, permit oil and gas development in the Arctic National Wildlife Refuge, authorize the use of military force against Iraq, approve the Medicare prescription drug benefit, and confirm John Roberts and Sam Alito. But "No," to enact McCain-Feingold, the campaign finance law, extend the ban on the sale and possession of assault weapons, and restrict deployment of a national missile defense system.
Brownback has spent much of his time in the Senate on life and family issues. Besides opposing Roe v. Wade, he has sponsored the Unborn Child Pain Awareness Act, the Prenatally Diagnosed Conditions Awareness Act, and the Human Cloning Prohibition Act. Brownback's longstanding campaign to hold the media industry accountable led in June to enactment of the Broadcast Decency Enforcement Act, which increases tenfold the fines that the Federal Communications Commission can levy for a single incident of indecency, such as Janet Jackson's "wardrobe malfunction" during the halftime show at the 2004 Super Bowl. Brownback also has supported the constitutional amendment that would define marriage as between a man and a woman and thus ban "same-sex marriage."
Brownback probably keeps track of issues of concern to social conservatives more keenly than any other senator. He runs the weekly meetings of the Values Action Team, attended by representatives of 30 to 40 organizations, including the Family Research Council, Concerned Women for America, Eagle Forum, Christian Coalition, National Right to Life, Prison Fellowship, and the American Center for Law and Justice. Brownback meets with no other group so regularly, nor is it possible to find many causes advanced by social conservatives that he hasn't supported. Brownback's deep interest in the social issues agenda was evident when I asked him what his big idea will be if he runs for president: "Mine is going to be to rebuild the culture and the family."
Along with that, he is an ardent humanitarian. Brownback has concentrated on the difficult situations in Iran, Afghanistan, Sudan, Uganda, the Congo, Pakistan, Ukraine, China, North Korea, and Vietnam. Arguably no senator has done more to press for human rights and democracy, or to confront the spread of deadly disease, such as malaria, which kills roughly 800,000 children in Africa every year. He has made a habit in this arena of cosponsoring laws with Democrats, teaming up, for example, with Evan Bayh on the Iran Democracy Act, Ted Kennedy on the North Korea Human Rights Act, and the late Paul Wellstone on the Trafficking in Victims Protection Act. According to his close friend and colleague Jim DeMint of South Carolina, Brownback knows that "if you get a few Democrats to work with you, you have a much better chance of getting something done."
You also are probably not going to be known for attacking Democrats. "I'd be surprised if he's said a negative word about anyone," says DeMint. Actually, rare is the interview, or appearance--including the one in the Spiritual Life Center at the Ellsworth prison--in which he does not confess to having negatively judged Kennedy or Hillary Clinton for their wrongheaded views. But "I'm with Mother Teresa," he says. "If you're too busy judging people, you can't love them."
Brownback wins praise from liberals for his engagement on international issues--New York Times columnist Nick Kristof seems to compose an encomium to Brownback every six months or so. Liberals also admire his work with House Democrat John Lewis to win authorization for the African-American Museum on the National Mall, and with Sen. Byron Dorgan on a resolution apologizing to Native Americans for wrongs committed against them by the federal government. The purpose of the museum and the apology, says Brownback, is to "educate, talk about the past, and help us move toward reconciliation" with two groups that "didn't feel like America had been fair to them."
Reflecting on his 12 years in Washington, Brownback says, "I came in as a staunch conservative in favor of balancing the budget and cutting taxes." He says he still strongly supports those positions (he can talk at length about the flat tax he favors), but his real passion lies elsewhere. "With the cancer in 1995"--he was found to have melanoma on his back and underwent successful surgery--"I did a lot of internal examination. My conclusion was that if this were to be terminal, at that point in time I would not be satisfied with how I had lived life. I had tried to be a Christian, but I had failed."
Brownback says he decided to trust God "a lot more, and let that love of His animate what I would do." He drew inspiration from the political career of William Wilberforce, the 18th- and 19th-century evangelical member of parliament whose great achievement was the abolition of the slave trade. Brownback read biographies of Wilberforce and was especially impressed with Wilberforce's A Practical Christianity. Brownback says he became "concerned about the poor, the downtrodden, those without a voice, those in difficult circumstances." Compassion became his agenda. "That [explains] my focus on Africa, the poor, on racial reconciliation." In legislating against human trafficking, Brownback says he found himself challenging a modern form of "the same slave battle" that Wilberforce fought. Not surprisingly, he calls the anti-trafficking law he cosponsored with Wellstone his "most significant legislative achievement."
Brownback is a Catholic, but he didn't grow up as one. "Parker had one church and it was a Methodist church, and that's where we went," unless "we were planting and harvesting." When he and his wife Mary were first married, they went to mainline Protestant churches. Five years ago, the Brownbacks and their five children--the two youngest are adopted, one from China, the other from Guatemala--started going to Topeka Bible Church, mainly because of its youth programs. It was a year later that Brownback was received into the Roman Catholic Church in a ceremony in Washington, D.C. Brownback, who helped secure bipartisan support for awarding a Congressional Gold Medal to Mother Teresa in 1997, says that he just felt gradually pulled to the Catholic faith. He flies home to Topeka every weekend, and on Sundays he goes to mass early and then joins his wife and children at Topeka Bible.
That's an unusual Sunday morning schedule, to say the least. TBC is a large, evangelical congregation, believing, as stated on its website, that "salvation is by grace through faith in Christ as personal savior and sin bearer and is entirely a free gift of God. It cannot possibly be achieved by man's works." Suffice it to say, the Catholic Church does not teach the same thing. The doctrine of salvation, after all, is what the Reformation was mainly about. Asked how evangelicals and Catholics get along in Kansas, a state still overwhelmingly Protestant, Brownback says, "It's not bad," adding that "it's the rare Sunday" when the messages conflict. "I can't remember anyone saying, 'this group teaches this and we teach that.'"
A generation ago, Brownback's status as an adult convert to Catholicism would probably have been a major handicap in a run for the Republican presidential nomination. In recent decades, however, evangelicals and Catholics have worked together in the practical arena of politics, in support of many positions the senator holds. Today, his straddle of the two faith communities might well be his most potent political asset.
In particular, his international focus could appeal to a growing number of evangelical Protestants. Evangelical churches continue to send a large number of missionaries into the Third World, where Christianity has grown dramatically (while weakening in the West). And thanks to modern technology, churches stay in much closer touch with their missionaries, and they hear from them about many of the very issues that concern Brownback. "A religious community that 50 years ago would have been associated with isolationism in the heartland," says University of Oklahoma political scientist Allen Hertzke, "is more internationalist than other communities." This perspective is well represented at the table when the Values Action Team meets. As one Senate staffer told me, sex trafficking and the genocide in Darfur are prominent among the issues the group discusses.
Brownback would be the nation's fourth and the GOP's first Catholic presidential nominee. In 1960, when John F. Kennedy was the Democratic nominee, 71 percent of Catholics favored the Democratic party. By 2004, the percentage had dropped to 44, with 41 percent identifying with the GOP. Catholics have become "a crucial swing vote," says Hertzke, noting that in the last two presidential elections "the story as much as anything was about how the Democratic candidate lost key Catholic voters." Bush won 47 percent of Catholic voters in 2000 and 52 percent in 2004.
Of course, a critical percentage of those voters could swing to the Democratic nominee in 2008, and there is survey evidence that some Catholics who voted for Bush in 2004, as political scientist John Green of the University of Akron told me, "have now grown unhappy." He says that Brownback, because of his compassion agenda, is the sort of politician who "could make them happier." Green says mainline Protestants who like the idea of "doing good things in the world" also could warm to Brownback. And so, he adds, could black and Hispanic churchgoers.
Brownback's notion that his compassion agenda might constitute "a growth opportunity" for the GOP isn't farfetched, especially given the prevalence of religion in our political discourse today. Green says such an agenda "wouldn't completely change the nature of the Republican coalition," but it might "grow support among certain [religiously identified] communities."
While Brownback says love for God leads to love for neighbor, he also thinks you can be compassionate toward others without being a person of faith. Theist or atheist or agnostic, Christian or whatnot, you can stand with equal conviction with whoever is in need. "That's the beauty of the moment," he says, a phrase he often uses. "There can be this coming together of left and right on these topics and there can be a lot of effective things happening."
Brownback's compassion agenda is still in development. The senator recognizes that "people can have good hearts," but "come out a lot of different ways" on policy means and ends. Brownback allows that policy abroad, whatever else it may achieve, is supposed to further the national interest. Asked why America should be so deeply concerned about Africa, he says we can't deny our interest in a part of the world with so much suffering, especially when we have the capacity to address it, and especially when, if we aren't there, making positive relationships, we will be ceding Africa to the Chinese, who are "all over" the continent in search of natural resources, and also to terrorists looking for headquarters. Neither of those prospects, he says, can be in our national interest. Meanwhile, Brownback tends to address the question of means from the standpoint of efficiency. For example, he wants to make sure that dollars appropriated to combat malaria are used not for conferences and meetings, but for bed nets and insecticide sprays.
Regarding the domestic side of the compassion agenda, Brownback shows the influence of his late colleague Daniel Patrick Moynihan, who famously said: "The central conservative truth is that it is culture, not politics, that determines the success of a society. The central liberal truth is that politics can change a culture and save it from itself." Brownback agrees that politics can change a culture, and he believes that poverty can best be addressed through a politics that (in general outline) encourages people to get married, get a job, and not to have children out of wedlock. He wants policies with "measurable results" and cautions against ones that create "dependency." Here he may be trying to distinguish his compassion agenda from that being discussed among Democrats, at least some of whom (John Edwards, Barack Obama) are now invoking religious faith as the motivation for new action against poverty.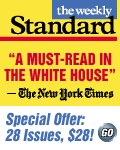 Faith-based programs are decidedly among those Brownback expects to produce measurable results. For example, a program like Prison Fellowship's InnerChange Freedom Initiative must reduce the recidivism rate. A study of IFI at a Texas prison indicated that it had cut the rate considerably. But still, "we don't know very much" about the impact of these programs, says Baylor University's Byron Johnson, who conducted that study. He says that it takes time and money to collect the necessary data, and that until recently government hasn't been interested in having such programs, much less in studying their effectiveness. Which faith-based programs are constitutional is another outstanding question, underscored two days after Brownback's visit to Ellsworth when a federal judge in Iowa found a similar IFI program in that state to violate the First Amendment's ban on establishing religion.
Brownback would need to raise $6 million to $10 million to have a shot at winning the Iowa caucus in early 2008. The field will be big--probably at least nine candidates--so it may take no more than 25 percent of the vote to win. And Brownback is the next best thing to a native son. He's from a nearby state, and can get there often. Also, Iowa, like Kansas, is an agriculture state, and roughly 30 percent of the caucus voters are social conservatives.
The former Kansas agriculture secretary and chair of the Values Action Team in the Senate should have no trouble finding topics of interest to caucus voters. Attorney Chuck Hurley, a longtime friend of Brownback's and former state legislator, now head of the Iowa Family Policy Center, says Brownback has also "built respectful, trusting relationships with [Iowa] moderates." He thinks Brownback's Iowa support could reach "into the 40s."
No Republican presidential nominee has failed to finish in the top three in Iowa. But Brownback might have to finish first to attract the money necessary to make more than a token effort in New Hampshire, where other candidates will be better positioned, and to campaign hard for Super Tuesday, when he might have better prospects.
Mike Murphy, the veteran GOP strategist, contemplates an Iowa caucus in which Arkansas governor Mike Huckabee and Brownback contend for the support of social conservatives--and split their votes, leaving both out of the top three finishers. At best, if Brownback wins the Iowa caucus, Murphy thinks it's likely he'll "get some attention and then fade out."
Professor Hertzke wonders whether Brownback's "understated quality . . .is made for the rough and tumble" of the GOP primaries. "He's uncomfortable with the tenor of talk radio. He's not a culture warrior." He "may play better in a general election when there is scrutiny of character" and the candidates often pitch to the political middle.
And Brownback's own take on what's ahead? "In 1980, the message and the moment and the person came together in Reagan," he told me over breakfast at K.C.'s Diner, across the street from the Ellsworth prison. "That's what's required for a presidential run. Maybe I get into it to develop this philosophy, to lay it out, like Reagan did [in 1976]. I'd say, 'I think this is the way we ought to go.' And if people aren't ready for it yet--well, that could be the case. Then four years later, they might say, 'That's exactly what we need to do.'" Brownback sounds like a man about to run, and prepared to run again.

Terry Eastland is publisher of THE WEEKLY STANDARD.
---
© Copyright 2006, News Corporation, Weekly Standard, All Rights Reserved.