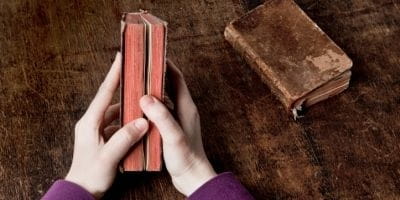 ---
(WNS) -- Maly is eating a plate of Mee Ka Tang — wide rice noodle, Chinese broccoli, straw mushroom, and shrimp dripping with gravy sauce — at a Cambodian restaurant in southern California. With jet black hair, a small frame, and eyes that easily crinkle to a smile, she shows me photos of her grandchildren. It's hard to believe where the 68-year-old Maly has been in her lifetime: She moved in the highest echelons of Cambodian society, worked in fields under the Khmer Rouge, traversed Cambodia's jungle with two young children in tow, was captured in a Thai prison separated from her children, and was exiled to Long Beach as a refugee.
Now Maly (WORLD changed her name to protect her identity) is working to create the only audio recording of the Bible in Khmer. She began the project because she found it comforting to read Scripture out loud and record it for later listening. Now she uses the recordings to help illiterate Cambodians hear the gospel.
The Khmer Rouge killed most of Cambodia's educated class — nearly 2 million between 1975 and 1979 — and Maly knows her life has been spared for a purpose: "I never thought I'd survive Communism and survive persecution and escaping to Thailand. ... God keep me alive because He loves those people, He kept me alive for my people who can't read."
Born in the southern city of Kampot and reared a Buddhist like most Cambodians, Maly was sent to live with an aunt, who gave her little to eat and treated her like a maid. In desperate hunger, Maly would sometimes eat the food she was supposed to feed to her 2-year-old cousin. She felt guilty but told herself that once she went back to live with her mother, she would spoil her cousin. Before she could do that, her cousin died. Maly felt that she had to do good works to pay penance and started studying to ease her guilt. But a college scholarship and two years at an administration and financial institute — as only the third woman in Cambodia to reach that level of education — didn't ease that guilt.
She went to work for the government in Phnom Penh for 10 years and learned to enjoy the good life — married with kids, a house, and a car, a luxury owned by few Cambodians. Then in 1975, the Khmer Rouge took over the country, pushing people in the cities out to the countryside to create a new agrarian society. The regime suspected anyone with an education of "involvement in free-market activities" and killed 2 million professionals, intellectuals, minorities, and even people within their own party suspected of being traitors.
Maly and her family moved to the northwestern mountains to clear the jungle for agricultural fields. The Khmer Rouge fed them one spoonful of rice a day and rounded up Maly's husband for a work camp, where he died, she would eventually learn. Maly also discovered later that the Khmer Rouge shot her sister after a former student identified her as a school teacher. Maly said one of the most heart-breaking experiences was watching as her mother starved to death, her body emaciated and skin breaking apart.
Maly survived. She pretended to be uneducated, quietly working in the fields and taking care of two small children. As the years passed, infighting among Khmer Rouge groups led to less oversight of the people, and Maly tried escaping with her sons. Soldiers caught her and sent her to the village chief for interrogation.
"I said at the time I thought maybe my ancestor's spirit helped or [it was] good luck, but actually God spared my life," Maly said. "I couldn't have saved myself from the situation, the chief of the village almost killed the three of us, but He interfered."
Less than a year later she escaped along with her young sons, though one could not yet walk and the other was barely able to stumble along. They trudged through jungle and fields, away from a main road to avoid detection. Maly scavenged for food in the jungle and hid when soldiers were close by. She searched for other family members and almost drowned crossing Cambodia's great lake Tonlé Sap, a muddy swamp during the dry season.
She found her brother, who helped carry her sons to her mother-in-law's house. An attempt to sell her gold jewelry to buy food at the Thai border led to her arrest, but she was released after a month. She knew she had to get out of the country. By now, food in Cambodia had become so scarce that many refugees were heading to the Thai border to find food. It was safe to walk along the road and talk to others and discover what had happened to loved ones.
When Maly went to a refugee camp, leaving her boys at a border trading post where refugees bought food, Thai police captured her for illegally entering the country. They threw her into prison, then took her to a UN refugee camp. She pleaded with guards to allow her to find her sons, but they wouldn't allow it. Depressed, Maly started sharing her story with the missionaries at the refugee camp, hoping they could help her. She began translating for a missionary from Denmark. Although the missionary constantly shared the gospel with her, she rejected it, saying she had her own religion.
Then one night, Maly felt God saying, "Maly, you have been trying to do good, and don't be afraid, when I'm with you, you will do even better." Suddenly she realized the guilt for taking her cousin's food had been forgiven. The next day she told the missionary she was ready to believe and become a Christian.
Soon afterward, she received a letter from her brother saying he had her two sons. The missionaries who had heard her story posted signs with her photo and information on trees near the border and a relative saw it and told her brother. "Even now," she says of the news, "it still feels like a good dream."
Reunited with her sons, they obtained refugee status in the United States. At one time she wanted to go to France. But now: "I didn't care about America before, but once we got persecuted by the Communists, I realized it's the most free country in the world."
Maly became one of the first Cambodian refugees to settle in 1980 in Long Beach, Calif., a city that's now home to 50,000 Cambodians. Maly joined an American church that reached out to the influx of Cambodian refugees. She worked in real estate. But trials returned in the form of a failed remarriage and she lost custody of a daughter after her husband claimed that the Khmer Rouge had mentally damaged her. For comfort Maly started recording herself reading the Bible in 1988, starting in the New Testament. She listened to the recordings in her free time to remind herself of the goodness of the Lord.
For 12 years after arriving in the United States, she didn't want to return to Cambodia. But she said she also wondered, "What kind of Christians would we be if we don't help our country people, especially if we know very well what condition they live in?" Maly eventually returned to Cambodia to translate for missionaries and help with an orphanage.
Only 1 percent of Cambodians claim to be Christians, but the number is growing. Maly said she noticed on her trips that while many of the older generation have kept to their Buddhist traditions and ancestral worship, the younger generation has lost faith in Buddhism because of the Khmer Rouge. They are more receptive to Christianity as they see local Christians and missionaries living differently from most Cambodians.
Christians in Cambodia sometimes face persecution from the Buddhist majority, but more and more missionaries are coming from the United States and East Asian countries, many to do medical work. Many local churches meet in homes, but in Phnom Penh there are large churches like New Life church, which has about 300 congregants.
Maly found the significance of her Bible recording one day when she got a phone call from a Cambodian woman living in the United States who had little education. She had just become a Christian but had trouble reading the Old Testament in Khmer because of its difficult words. Maly played her a recording of her Bible reading over the phone, and her friend started crying and saying, "Sister Maly, you are so smart, so educated." But Maly responded, "God loves you, and knowing that people like you and your sister can't read the Bible, so He kept me alive and I have this voice so you can hear God's Word." Maly continued recording the Bible over the years and now has almost completed the entire Bible, except for some books in the Old Testament.
With Maly's audio recording online, people from all over the country and the world have been able to download her recordings. She is working with several churches on producing a CD with the entire Bible in Khmer, which will be available to missionaries headed to Cambodia to reach illiterate Khmer people.
Despite the devastation caused by the Khmer Rouge, Maly believes the horror opened the country to Christianity, especially through the work of missionaries in refugee camps and the settlement of Cambodian refugees in the United States. Before the Khmer Rouge, Maly had never heard the gospel. "God was sovereign over the Khmer Rouge," she said. "People said then, 'Oh, Communism is the solution to social problems,' but He showed that only Christ is the solution to social problems."
c. 2012 WORLD News Service. Used with permission.
Publication date: January 7, 2013